CORONA VIRUS/COVID-19 Updates 16/3/21
As most members will know, Broome A.S. is a member of the Angling Trust and as such we are following the guidelines set down by them regarding the laws and interpretations of the laws that will apply to the new lockdown restrictions.
Following the Prime Ministers announcement on the "Road map out of Lockdown" we have published, below, the latest news from the Angling Trust issued 25/3/21.
Fishing from March 29th in England – Angling Trust guidelines
Updated: March 25th, 202
These guidelines have been produced by the Angling Trust in our capacity as the recognised national governing body for all forms of recreational fishing in England. They have been drawn up following extensive dialogue with relevant Government departments and our colleagues in the Environment Agency to help anglers, fishery owners and managers to better understand what is permissible as the current lockdown regulations are lifted from March 29th.
The guidelines follow on from the Angling Trust's Fishing out of Lockdown submission on February 11th to the Cabinet Office making the case for a relaxation of travel restrictions and a return to all forms of angling including night fishing, charter boat angling and match fishing. Please note, however, that the statutory close season for coarse fishing on rivers remains in place from March 15th to June 15th inclusive.
The regulations have now been published by the Government and they are in line with both our guidelines and those issued by Sport England. They confirm the following from March 29th:
Fishing will remain as a legitimate outdoor recreation or exercise for up to 6 people, or in a larger group if everyone present is from the same two households. A 'household' can include the support bubble linked to that household [if eligible].
Outdoor recreational activities and exercise may take place at night so you may fish into or through the night. There are no time limits on outdoor recreation. However, you may not go on holiday to go fishing or use fishing as a pretext for a camping trip. Formal campsites and self-contained holiday accommodation cannot open until April 12th (Step 2).
Angling clubs and fisheries should take steps to ensure that the gathering limits (Rule of 6) are adhered to and that social distancing is not compromised by the enthusiasm of anglers to resume fishing on March 29th. As it is currently permissible to fish into the night it would be entirely possible to fish through the night of March 28th and into the next day. However, fisheries may want to consider opening up in a manner which limits any larger gatherings in car parks or outside the fishery in order to minimise the risk of infection transmission. As long as social distancing is maintained there are no legal limits on the numbers attending any fishery but sensible local management measures will be important.
Match fishing (in freshwater and at sea) can go ahead as an organised outdoor sports gathering from March 29th. Organised outdoor sports will not be subject to the gatherings limits but must be compliant with guidance issued by national governing bodies to ensure appropriate steps, including risk assessments, are taken to make it Covid secure in line with the law. At this stage, these gatherings must only include participants – not spectators.
Private boat fishing under the Rule of 6 and charter boats operating in accordance with Covid precautions should now both be allowed. However, where fishing takes place on a partially enclosed boat (e.g with a cabin or lounge area) with the exception of the skipper, those outside the household support bubble must not go indoors (except for access to/use of the toilet).
The statutory stay at home restriction will be lifted but the guidance will encourage you to minimise travel outside of your local area. This means avoiding making unnecessary journeys, combining trips and avoiding travel at peak times where possible. People should avoid travelling further than is reasonably necessary to take part in, or during, their activity.
Tackle shops and other 'non-essential retail' can fully open at Step 2 (April 12th) but can continue to offer click/call and collect until this point. Fisheries offering self-contained accommodation such as campsites and holiday lets, where indoor facilities are not shared with other households, can also reopen at this point.
Throughout, anglers must also ensure they are in possession of a valid fishing licence, adhere to fisheries bylaws, including the close season for coarse fishing on rivers, and have permission of the fishery owner.
To Read the full text please visit
https://anglingtrust.net/covid-19/
---
News 2021
Lost Tackle 8/4/21
Club Member, Garry Thurman, has lost some tackle at Frisby Complex. He is missing a Rod pod with two bite alarms and a large round landing net. He left them on Jurassic lake recently.
If anyone has found them please get in touch with me or any of the committee and we will put you in touch with Garry.
All contact numbers email adresses etc. are in your membership book.
---
Cost Cutter Match Report 1/4/21
The over 60's matches were resumed last Thursday, with the first taking place on a cold and windswept Smiggies lake.
Rob Smith came out on top with a weight of 8lb, followed by Chris Shore with 4lb 9oz. Third was Mick Farmery with 1lb 7oz.
Although the weights were low, around 50 trout weighing 70-80lb in total were also caught. As they were immediately returned to the water they did not count in the match.
Next weeks match will be held on Jasons if possible, but if too busy it will be switched to Colver.
Alan
---
Tony's Pike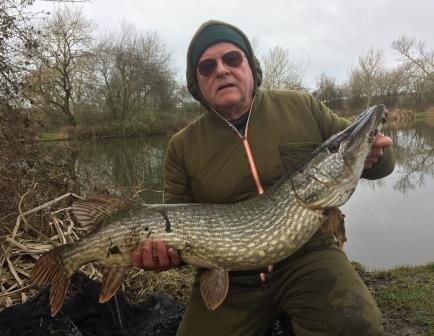 I had a nice St Patrick's day Pike from Jurassic, she weighed 16lb 12oz. Well worth waiting for after not being able to get out on the banks during lockdown. Jason Farmery took the picture for me.
---
Frisby Shop
The owner of Frisby Lakes has asked me to let everyone know that he has now opened a shop on site. At present they are only selling bait but hope to move on to tackle in the near future.
---
Closed Season
Today, 14th March 2021, is the last day of the coarse fishing season on rivers and some canals. This means that from midnight tonight all of our rivers venues will be closed until 15th June 2021. Namely, River Soar at Flash Farm and all of the Rivers venues named on Leicester AMAL book that comes with your Broome A.S. Membership.
All of our still water venue's will remain open as usual.
---
Trout at Frisby Update
Club Chairman, Alan Smith, has asked me to post this update regarding the stocking of trout at Frisby Complex
As part of the ongoing efforts to control crayfish numbers in Smiggies and Colver, a number of rainbow trout have been introduced in both lakes. Unfortunately these fish become very stressed when caught, especially in warmer weather, so whilst we are not banning the use of keepnets for trout at this stage we are asking members to return them to the water immediately after catching whenever possible. We will monitor the situation in the short term to ascertain a course of action in the future.
Alan Smith
---
Sad News
It is with great sadness that we have to announce, today, the passing of one of our long standing Members, Tony Branston.
Tony had been a member of the Society for many years, with most of them served on the committee as Head Bailiff. He also set up the website that you are looking at now and gave me a great deal of help when he handed the reigns over a few years ago. he will be sadly missed.
Myself and the rest of the committee offer our deepest condolances to Tony's friends and family at this sad time.
RIP Big Man.
---
Trout at Frisby
Club Chairman Alan Smith has asked me to publish the following statement regarding the stocking of trout in Smiggies and Colver
As part of the ongoing work to keep crayfish under control at Frisby, trout are being introduced in both Smiggies and Colver over the coming days. These fish, weighing between 1 and 3lb, are proven to eat crayfish eggs and young. They must be returned to the water the same as all other species in the lakes and anyone caught killing them and taking them away will be expelled from the club forthwith.
These fish can be delicate when caught, especially in the warmer months, so please use extra care if retaining them in keepnets, and when returning them to the water.
Alan Smith
---
All Broome Venues to Remain Open 7/1/21
As stated above in the Covid-19 advice given by the Angling Trust after consultation with the UK Government.
---
Broome Matches Cancelled 1/1/21
All Broome A.S. Matches are cancelled with immediate effect until further notice. This is because of Government Covid-19 tier 4 restrictions.
---
Fishing Tackle Found
Jason Farmery has let me know that some fishing tackle has been found at Frisby complex, close to Jurassic Lake. It has been put in our lock-up container so it is safe.
Obviously, we want to return the lost tackle to the rightful owner so if you can let either myself or Jason know what you have lost and it matches what has been found then we will be pleased to re-unite you.
If you don't see Jason around the complex you can email me at
webmaster@broomeanglingsociety.co.uk
I will then put you in contact with Jason.
---