Barry Smithson Collection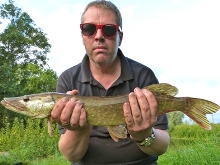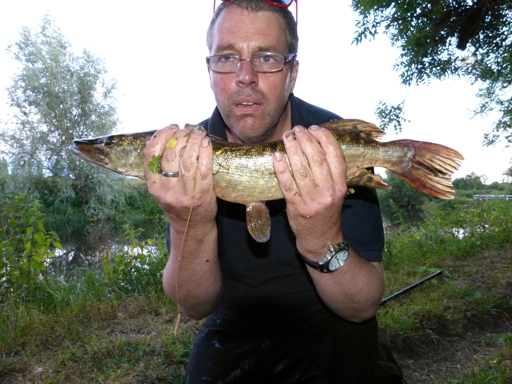 I fished at Kilworth a while back and after packing away I got chatting to a guy fishing with a pole, he had a netful of Carp. I had been fishing on Admirals and he was fishing on the big pond behind me, the one with an island in the middle.
He was asking how I had got on in the Admirals lake, I told him that I had been targeting the Tench. He put me onto a good water on the outskirts of Loughborough (Dishley Pool). This is a Charnwood Borough Council administered water. I asked him about Flash Farm and the Soar there and it was he that directed me to it, when I caught the Trout and two Chub (Pictured below).
He told me that Rothley was worth fishing and that there was a few Pike in the river at the moment, so I got my 9' spinning rod and wobbling rig together and headed off to Rothley on Tuesday evening.
It took a bit of finding but I pulled in and started to unlock the gate. As I was struggling with the lock another member was approaching the gate from the fishery, I did not realise that there is a button on the lock bottom that needs pressing so he got out of his car and showed me how to unlock it. He had been fishing presumably for the Bream etc but had not caught.
I parked in the field and fished the two swims next to the footbridge over Rothley Brook. I was soon into the spirited little jack that only went to about 2lbs or so but it was a typical angry little river Pike. It went for a wobbled dead Perch. There only seems to be maybe four fishable pegs there? I am assuming it does not get fished much?. I had a wander up the bank and past the moorings and the pegs above are not looking to have been fished this season. A scythe and machete would soon sort the weeds and nettles out on the bank there.
The second Pike was caught on the bit of bank between the footbridge and the gate to the moorings.
---
After an uneventful day fishing on Admirals Lake at Kilworth. I found my way to Flash Farm with the intention of having a look at the upper Soar there. I ended up going back to my car and I rigged up my 12' float rod and Ariel centrepin and headed off to have a crack at fishing it...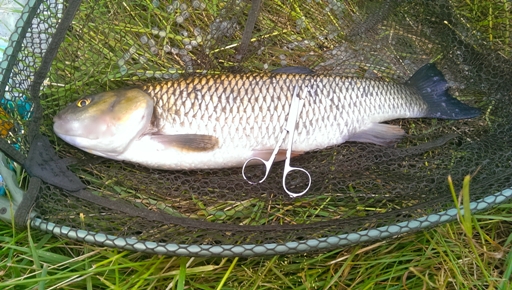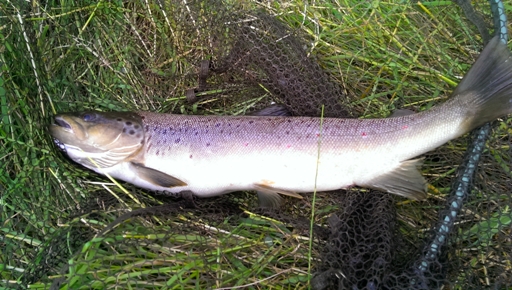 It is a tricky little river to fish but there are some cracking fish in there! I caught them all on my sweetcorn leftovers from earlier in the day, including the Trout! That was a beauty, it was as big as the Chub, I my first Chub to be about 4lb and the pictured Chub, with the forceps next to it, to be about 5lb. I met and spoke to the farmer, he was very obliging and helpful.
I enjoyed Admirals lake though it is very weedy, I had a good session there three weeks ago with Carp to about 6lb and a Tench of 8oz and a few skimmers.
I am enjoying being a member very much. By the way, the Chub and the Trout were PB's!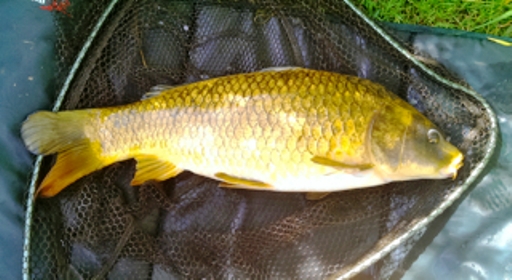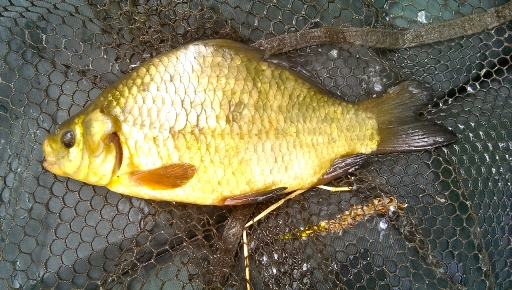 A couple more that I caught, this time from Jasons Pond at Frisby on my first session on a Broome water, the Crucian was a cracking little fish that was about 12oz.