All The News from 2020
Peatling "D" Lake 27/12/20
Six members arranged a "knock-up" on Peatling fisheries "D" lake on Sunday 28th December. It was very tough going with only Paul Edwards recording a reasonable weight, winning the day with 34lb from peg 29. Kev Hirons took the runner-up spot with the only other double figure weight, 12lb 4oz from peg 6. Third placed Gavin Norton weighed 8lb 6oz from peg 4.
---
Fishing Tackle Found
Jason Farmery has let me know that some fishing tackle has been found at Frisby complex, close to Jurassic Lake. It has been put in our lock-up container so it is safe.
Obviously, we want to return the lost tackle to the rightful owner so if you can let either myself or Jason know what you have lost and it matches what has been found then we will be pleased to re-unite you.
If you don't see Jason around the complex you can email me at
webmaster@broomeanglingsociety.co.uk
I will then put you in contact with Jason.
---
Cost Cutter Match Report 24/12/20
This week's cost cutter match was held on a cold and windswept Colver Lake. After having a downpour the day before, and an overnight frost, everyone anticipated a hard day. And so it proved. Rob Smith needed only 1lb 13oz to land the spoils, followed by Mick Nash 1lb 8oz and Chris Shaw 1lb 6oz.
Next week's match (New Years Eve) will be on Sanctuary Lake.
Alan
---
Cost Cutter Match Report 17/12/20
This weeks over 60's cost cutter match was held on Jason's. As pleasure anglers were already fishing on the top end we decided to fish the low numbers, although it is the least productive side currently. Mick Farmery again came out on top with 3lb 7oz, followed by Chris Shaw on 1lb 15oz.
Next Thursday (Christmas Eve) we will be running the match as usual, on Colver
Merry Christmas to all our members
Alan
---
Cost Cutter Match Report 10/12/20
This weeks costcutter match was held on a coloured Sanctuary lake, due to the recent heavy rains. Fishing was again difficult with Mick Farmery walking away with the match with a low weight of 4lb 14oz. He ended well clear of runner up Chris Shore who only managed to take 14oz to the scales.
Next weeks match will be held on Jasons so lets hope for some better weights for a change.
Alan
---
Cost Cutter Match Report 3/12/20
The over 60's cost cutter matches resumed today after the lockdown and guess what, nothing changes. The weather was diabolical with the rain never letting up for the whole five hours. We held the match on Colver in the hope of a few bites but no one managed to land a carp. Mick Farmery did foul hook one but it broke free very quickly.
In the end yours truly won the day with a modest 3lb 15oz, with Pete Hearne second on 2lb 9oz and Mick Farmery third on 2lb 7oz
Next weeks match will be held on Jurassic if the roach are still feeding. If not we will switch it to Sanctuary
Alan
---
Broome Matches to resume
With the all clear given to restart competition fishing from 2nd December, Broome Official Matches will start again. The first of which, on our waters, will be the Pike League Match on Sunday 6th December on Jurassic. For more info regarding the Pike Match contact Pete Felstead
The Away League, also scheduled for the 6th December, will also now be fished with the venue at Peatling Fisheries Lake "D". To book in contact Keith or Paul.
Furthermore, club chairman Alan Smith, will be running one of the "Cost Cutter" matches on Thursday 4th December on Colver Lake. If you want to book in for the "Cost Cutter" Match contact Alan, who's number is in your membership book (As is Keiths Pauls and Petes).
Please note that Colver will be open for other members to fish on Thursday.
---
Trout to Smiggies
Our Water Officers Terry Branston and Brian Toon have asked me to publish the following notice to all members.
Trout are to be introduced to Smiggies so they can combat the crayfish and their eggs. Under no circumstances must they be put in a keep net as crayfish or eggs could be spread into other waters, they must be returned to the lake immediately and must remain in Smiggies only!!
There will be no exceptions to this ruling. ANYONE found moving, or removing any of these trout will be banned.
Terry and Brian
---
Poles on Colver
We have been informed that some members, when fishing on Colver pegs 21,22 and 23, have been shipping back their Poles, over our fence and therefore causing a hazard to cyclists and other traffic on the Frisby Road.
This problem has arisen in the past when a cyclist was knocked off of his bike whilst swerving to avoid a fishing pole suddenly appearing over the hedge.
This matter was reported to the Police. The Police, who regularly patrol Frisby Road, told the club that if they see any fishing equipment i.e. Poles appearing past the Broome A.S. border (the hedge) they will prosecute the offender.
So please BE AWARE. If you are fishing Colver pegs 21,22 or 23 you MUST break down your Pole at least twice to avoid crossing our hedge or you could end up causing an accident, getting prosecuted or both!
---
Broome Matches Cancelled
In line with the new lockdown restrictions all Broome A.S. Matches are now cancelled until the lockdown finishes, hopefully on December 2nd. If there are any changes to this we will publish updates on this page.
---
Broome new Committee Member/Social Media
The Club would like to welcome Steve Mark Kilbourne who has joined the committee to help with the social media responsibilities. We have opened an official facebook page so that members can share their experiences, chat with other members and find out any info that they may require etc.
We are going to link it to the website so that it gives easy access from one to the other.
The facebook page will be open to members only and we would encourage members to join. As you would expect we will not tolerate offensive language or any form of racism, bullying or trollism.
We are a family friendly club and we know that the vast majority of our members wish us to remain that way.
We hope that you find the facebook page both useful and entertaining.
---
Cost Cutter Match Report 29/10/20
This week's cost cutter over 60's match was held on a wet and windy Sanctuary Lake. The rain never let up once all day and, at the moment, this weather seems to be the norm when we have these get togethers.
The fishing itself was dire as the fish refused to get their heads down to feed, and weights proved to be very low.
Kevin Hirons came out on top with 1lb 14oz, thanks mainly to two decent sized perch. Runner up was Chris Shore with 1lb 7oz and third your truly again with 1lb 5.5oz.
Next weeks match will be on BJ's.
Alan Smith
---
Cost Cutter Match Report 22/10/20
This year's first over 60's cost cutter match was held on a blustery Smiggies lake yesterday 22nd October.
Everyone experienced a lot of problems with the resident crayfish as the numbers seem to have exploded this year.
Pete Hearne eventually came out on top with a respectable weight of 9lb, followed by Mick Farmery with 3lb 12oz then yours truly with 2lb.
Next week's match with be on Sanctuary draw 9.00am and fish 10am till 3pm.
Alan Smith
---
Pike Matches on Jurassic
The first Pike Match of the season was fished last sunday, but unfortunately there were three members bivvied up, fishing, on Jurassic. When the Piker's informed the members they moved ....no problem, but as anyone who sets up for a carping session will know; there was a lot of gear to move!!
The Piker's have exclusive rights on the days booked for Pike Matches on Jurassic and the future dates are:
8th November
6th December
10th January
7th February
Please check your membership book before fishing to avoid having to shift your gear when venues have been booked for matches.
---
Treasurer Required
Our current club Treasurer, Mick Winn, is unable to carry on performing the job and will be leaving his committee position at the end of the year.
This leaves a very important vacancy on the club committee. In fact it is such an important position that the club will struggle to carry on without this position being filled as soon as possible.
If you would like to considered for the job, in helping the club carry on its smooth financial duties then please contact either Alan Smith or Keith Macfarlane. Contact details for both are in your membership book.
---
Away League Match Cancelled
The Away League Match that was scheduled for 27th/10/20 has had to be cancelled due to the venue being fully booked. No other venue's being available at short notice.
We apologise for any inconvenience caused.
---
Sad News
It is with great sadness that we have to report the passing of one of our stalwart members. Peter Hyden, passed away recently after a short illness.
Peter had been a member of Broome A.S. for more years than anyone can remember. He was one of those who attended every meeting and could always be relied on to be there whenever the club needed help at the work parties and other such events, even when he was well into his eighties.
Our thoughts are with his family at this sad time.
R.I.P. Peter
---
Lost and Found
Member, John Atkins, has lost the top two sections of his Pole whilst fishing on Colver Lake. He was fishing on peg 3 and when he was packing away he realised that they were missing. He thinks that they possibly got blown into the lake. If you do come across them please let me know at:
webmaster@broomeanglingsociety.co.uk
Hopefully we can reunite John with his Pole sections.
---
Lost and Found
A Member has retrieved a rod and reel from Currans Loop at Kilworth. If you have lost the items get in touch email webmaster@broomeanglingsociety.co.uk or ring Keith Macfarlane and we will try to reunite you with your kit.
As this message has been on the website for a few weeks now we have decided if the rod and reel is not claimed within the next two weeks (by 7th August 2020) The items will be donated to a young angler.
Obviously we would prefer the items to go to the rightful owner but we cant expect the finder to hang on to them forever. So if you have lost them please claim them.
*Keith's number is in your membership book.
---
Draining of Admirals
At last we have a bit of good news. The draining and fish retrieval at Admirals lake went very well with everything going to plan. Holes were dug into the partially drained lake for the water and the fish to move into after the weed was pulled back to allow a channel of water to feed the bore holes.
There were 31 Carp from 3-7lb, 100 small carp, around 2000 silvers including a Chub of 3lb+ and 4 Tench. Numerous Perch were netted including a couple around the 3lb mark and countless Gudgeon. All of these fish have been temporarily moved to Brian's lake.
Another good thing is that there were several new faces who took the time to come and help out, and it made all the difference. A big thank you goes out once again to everyone for their efforts, it is very much appreciated by the Membership.
---
Broome Matches
The scheduled Broome AS matches will continue as detailed in your membership books. They will be temporarily run by Paul Edwards who lives outside of the restricted area.
Please be aware though that you should only attend the matches if you live outside of the restricted area as the government has ruled that essential travel only is allowed within the restricted area.
---

Work at Kilworth
As an update to the message below regarding weed clearance at Buffalo and Admirals. Sadly things didn't go quite as planned. It seems that, inadvertently, a pump may have been left running overnight and when the volunteers arrived on Saturday morning to help remove the fish, they found that the lake was virtually dry and most of the weed had collapsed; with obvious consequences. They did manage to rescue about a dozen decent carp and around 400 or so silver fish.
We would like to thank all of those who, once again, turned up to help the club out over the weekend and on both Monday and Tuesday. We say "once again" as these are the members who always turn up when help is needed. Whether it be work parties or times like these, where, in the first instance, through no fault of their own, there was nothing they could do. These people are the backbone of our club, and the committee, on behalf of the membership, would like to thank them for their efforts.
---
Work on Buffalo and Admirals
The land owner at Kilworth Sticks fishery is carrying out some work that he has agreed to do for us in clearing out Buffalo Loop and Admiral Lake. Both lakes are being drained, a digger is going to be used to clear all of the weed and also the silt, making Buffalo loop weed free and also deeper.
Obviously we are going to have to temporarily move the fish when the water is low enough to do this safely.
We are looking to carry out the fish removal on Saturday (27/6/20). If you feel you would be able to offer some assistance in the fish removal we would be very grateful. In the first instance if you do want to help could you please ring Keith Macfarlane to let him know, as we can't have too many people there because we still have to observe social distancing rules.
Keith's number is in your membership book.
---
Sunglasses Found
A pair of sunglasses has been found on Colver Lake close to peg 43. If they are yours please get in touch with Keith Macfarlane or email the website and we will get them returned to you.
---
Away Day at Peatling Pools
Den Porter recorded a megga bag on Sundays away day on Lake "B" at Peatling Pools. Drawn on peg 43 Den netted 175lb 13oz for the win. It was a pretty good day for Phil Sansby as well. Phil took second place in the field of thirteen with an impressive 115lb 9oz from peg 35.
Section 1 went to Malc Spring with 69lb 6oz and it was another "ton bag" from Geoff Harper with 105lb 1oz from peg 45 to take Section 2.
---
Lock Number Changes Tuesday 16/June /2020
We have another message from Terry Branston. A very important reminder that our combination lock number will change on 16/6/20.
To all new and existing members. We have had five locks broken in the last seven days due to the incorrect number being put into the lock, then the lock being forced when it won't open.
The combination of all of our locks will be changed tomorrow (16/6/20). Make sure you check your membership book for the new number from tomorrow onwards. Putting the current number in will not work once the locks have been reset. Please don't break any more locks, they are there for the security of you and your fishery.
Terry Branston Water Officer
---
Crayfish on Colver
We have had a reports of more crayfish being caught on Colver. Terry Branston has asked me to publish the following message
To all new members and existing members, The crayfish traps will be set on Colver as from next week. Please DO NOT interfere with them or move them so that you can fish the swims that they are in.
Thank you.
Terry Branston Water Officer
---
Reward offered!!
We have had a report from the Managing Director of Frisby Lakes, who we have just negotiated with to gain access for our Members to fish Frisby Lakes.
A Broome Member went into the small Car Park (On Frisby Road) and hit and damaged two cars that were already parked there. Then left without leaving their name. We know it was almost certainly a Broome Member because the Broome lock was locked onto the closed end of the Frisby Lock with the Broome number still showing.
Broome A.S. has taken the view that this is very serious and are prepared to offer a £200.00 reward to anyone who can identify the culprit. The culprit will then be reported to the police for leaving the scene without reporting the incident and anything else that may be appropriate. Also the culprit will receive a lifetime ban from Broome A.S.
Fortunately Frisby Lakes have CCTV around the Lakes and the staff are checking to try to identify the vehicle involved.
If you have any information please inform any committee members. (contact details are in your membership book)
---
Work Party's
With the government ruling that gatherings of people from different households are still not to take place. It has been decided that the two remaining Work Party's scheduled for 7/6/20 and 14/6/20 will both be cancelled.
---
Away day at Peatling 31/5/20
With Competition fishing now allowed some of the Broome matchmen booked in a Peatling Fisheries for an away day match. They booked two lakes, Crane and Canal.
Both lakes fished pretty well with some decent weights recorded. Paul Edwards was top weight on Canal with 88lb 6oz from peg 18. Second place in the field of nine was Ady Gavacole on peg 4 with 64lb 9oz. Den Porter taking third netting 54lb 7oz from peg 16.
Over on Crane it was Phil Dayman who took the honours putting 79lb 8oz on the scales for first place from peg 1. Geoff Harper second from peg 10 with 66lb 14. From the next peg and just a few ounce behind was Malc Spring with 66lb 1oz on peg 12.
---
Frisby Lakes (Formally Celtic Lakes)
Just to answer a couple of queries regarding where members can fish on Frisby Lakes (Formally Celtic Lakes), on your Broome ticket.
Basically you will only need to produce your Broome book to the bailiff to be able to fish from the Clubhouse right around the lake to the pegs with the River Wreake running behind you. It used to be peg 49 for anyone who knows it.
You may also fish the "point pegs" 1,2,3,and 4. The pegs through the woods and the pegs on the Island. BUT to fish these pegs you will have to produce your Broome book and also pay an extra £5.00.
The normal day ticket price is £10.00 so your Broome book will enable you to fish virtually half the lake for free and the other pegs, as mentioned, for half the normal cost.
There is NO night fishing allowed with the Broome book as a syndicate pay an extra cost for that privilege.
There is no fishing allowed on what is known as the Boys Pit (where the Log Cabins are being constructed).
There are two parking areas. The main car park in the area around the club house and the small car park which is a little further along the Frisby Road, heading toward Frisby from the main car park.
The gate to the SMALL car park must be locked as soon as you have either entered or left the venue.
The gate to the LARGE car park (opposite the Broome A.S. gate) is to be left open if it is already open when you first arrive. But locked if it is locked when you arrive. The same applies when leaving.
---

Hand Sanitisation at Broome Gates
It seems that some members that are accessing our waters have been dousing the locks in neat bleach!! This has caused members who follow them through the gate later on in the day to the bleach all over their hands causing burning.
For those members who are not sure of the best way to protect themselves from the risk of coming into contact with coronavirus, the best way is to:-
Sanitise your hands before you open the lock.

Sanitise again before you drive through the gate.

Once through, re-lock the gate and sanitise your hands once more.
Please do NOT attempt to sanitise the lock, gate or chain.
As we have stated previously, leave at least one vacant peg between yourself and anyone else who may be fishing. And maintain a 2 metre distance between yourself and anyone else who may be at the fishery.
If these rules are followed then we should all be able to carry on fishing whilst keeping the risk of infection to a minimum.
---
Jasons to close for two Days
We are very sorry that just after re-opening we have to tell members that Jasons Lake will have to close for some work that was booked in before the lockdown measures were brought into force. Terry Branston asked me to publish the following notice.
On Tuesday 19th May and Wednesday 20th, next week. The fallen tree in Jason's Lake is to be removed plus four other trees are to be either removed or dangerous leaning branches to be dropped into the water prior to being pulled onto the bank and cut up. So please remember that there will be no fishing allowed on Jason's those on those two days in line with the Tree Surgeons Insurance health and safety policy.
Thank you Terry Branston (Water Officer)
---
Frisby Lakes (Formally known as Celtic Lakes)
We have some good news (for a change). We have secured another years fishing at Frisby Lake (opposite Broome A.S. Frisby Complex). With angling allowed again from Wednesday 13th May, albeit within the guidelines as set down by the Angling Trust and UK Government.
There are a few extra conditions for our members to adhere too
Fishing not allowed from the island or the "Point" pegs (1,2,3 & 4). UNLESS a payment of an extra £5.00 is made to the owners. (This is half the cost of a normal day ticket).

The gate to the SMALL car park MUST be kept locked at all times.

The gate to the LARGE car park (opposite the Broome A.S. gate) is to be left open if it is already open when you first arrive. But locked if it is locked when you arrive.
Failure to adhere to these few simple rules may result in us losing the water and will defiantly cost the offender their membership.
---
Work Parties 2020
With the Covid-19 lockdown still in force as our Work Party season is due to start, it has been decided the Sunday May 10th Work Party will be cancelled.
With the Prime Minister due to address the Nation on Sunday evening (10/4/20) we will see whether anything he announces will have any effect on the future situation regarding Angling and the possibility of carrying out maintenance work at our fisheries.
We will update our advice and publish on the website next week when, hopefully, we will be better informed regarding the latest advice
---
Angling Trust Government proposal 28/4/20
If you would like to read the full report that the Angling Trust has submitted to the Government with the aim of getting us back fishing in a safe environment click on the link below.
https://joinanglingtrust.net/wp-content/uploads/2020/04/FULL-REPORT-TO-GOVERNMENT-MINISTERS-FINAL-1.pdf#page=1
---
Cost Cutter Match 19/3/20
We apologise for the cost cutter match report being a bit late but we have the results for you now.
The match was fished on Colver Lake with five members taking part. Top rod on the day was Kevin Hirons. Kev, drawn on peg 13, put 28lb on the scales to take the win.
Rob Smith was not too far behind on peg 25 with 25lb to take second place. third was Chris Shore with 10lb from peg 16.
Jeff ? came in fourth from peg 16 with Mick Farmery not troubling the scales man on peg 22!
Sadly, this will be the last Cost Cutter Match until further notice due to the Government restrictions.
---
Winter Away Day at Holly Farm 22/3/20
It was another Broome/Open match with the Broome members filling the top three places on Gills Lake at Paul Cooke's Holly Farm.
Julian Stretton took the honours on the day with 50lb 3oz from peg 20. Not too far behind came Paul Edwards. Paul on peg 7 took the runner-up spot with 48lb 13oz. Gavin Norton completed the frame in third place from peg 13 weighing in with 40lb 6oz.
Shaun Weed, Keith Macfarlane, Glenn Ribbons and Adam Townsend all were section winners in the 25 peg competition.
---
2020 Broome AGM Cancellation
We are informing members that because of the current health situation and in line with government advice this years AGM has been cancelled. We will still be sending out the annual News Letter as normal. Membership renewal forms will, also, be sent out as usual.
There was a notice of motion to be discussed at the AGM as to whether to do away with the Half Yearly Meeting. As member attendance at the Half Yearly has been so low (As few as ten or eleven members) the committee feel that it is a waste of time and money to hire the venue when hardly anyone attends. This notice of motion will stand, meaning there will no longer be a Half Yearly meeting.
The committee
---
Cost Cutter Match 12/3/20
This week's cost cutter match was held on a cold and windswept Sanctuary lake.
Unfortunately, we had a frost the night before after several very mild days which obviously did not help matters. A few fish were caught however with Mick Farmery (again) coming out on top with a respectable 30lb. The catch was made up of 6 carp, 4 tench, a bream and several smaller fish.
Runner up, albeit a long way behind with 4lb 13oz, was Rob Smith.
Chris Shore will be running the matches for the next couple of weeks.
Alan
---
Winter Away Day at Holly Farm 8/3/20
It was a Broome/Open match with the members faring well amongst some venue regulars on Paul Cooke's Gills lake at Holly Farm. Member Cliff Hodgkiss coming out on top with a great weight of 79lb 4oz from peg 24. Second place going to Gav Norton on the next peg, 20, just short of Cliff with 73lb 8oz. Match Secretary, Keith Macfarlane took third from peg 48 with 71lb 6oz. Completing a very close top four was Tony Maddock 70lb 1oz, from peg 3.
Paul Edwards with 54lb 9oz, Tom Waldock with 61lb 6oz and Glen Ribbond with 68lb were the three section winners in what was a very tight competition.
---
Cost Cutter Match 5/3/20
This week's cost cutter match was held on a bitterly cold and windy Colver lake. No change there then !!. At least we only had one short shower of rain to contend with.
Mick Farmery came out on top with 22lb 8oz, which included a 7lb 8oz carp, with Chris Shore managing the runner up spot with 10lb.
Next week's match will be held on Sanctuary.
Alan
---
Cost Cutter Match 27/2/20
This week's cost cutter match was held on a windswept and freezing cold Jasons Lake.
The lake had been fishing earlier in the week but with the sudden drop in temperature, and sleet the previous night, weights were again hard to put together.
Mick Farmery came out on top with 8lb 15oz, thanks primarily to two 3lb ide. Chris Shore was second with 6lb 1oz of skimmers.
Next weeks match is on Colver.
Alan
---
Winter Away day at Holly Farm 9/2/20
On yet another day of high winds and driving rain eight members fished a match on Trotters lake, Holly Farm. It was decided to fish a "Rover" where each angler picks the peg they want to fish. The first pick going to the angler who draws the lowest number, and so on.
Picking out peg 9 Paul Edwards won what was a very close match with 61lb 4oz. second place went to someone else who wanted to sit facing the gales, in Keith Macfarlane, Keith picked next peg, 7, and was just short of Paul with 58lb 2oz.
Section 1 went to Den Porter with 53lb 13oz from peg 16. Steve Beckhurst taking Section 2 from peg 29 with 52lb 10oz.
Cost Cutter Match 20/2/20
This week's cost cutter match was due to be held on Smiggies lake, but on arrival at Frisby we found we could get nowhere near the lake due to the flooding. Even the path around the lake was under a foot of water. All the other lakes except Colver were the same!
As there was also a gale blowing we opted to fish a chocolate brown Sanctuary lake, albeit sitting at the side of the track as again all the swims were under two feet of water. Even the track was flooded.
Surprisingly some good fish were landed, with yours truly coming out on top with 30lb 1oz. Chris Shore was runner up with 15lb 8oz thanks to fish coming on the feed in his swim in the last couple of hours.
Next week's match will be on Jasons, weather permitting.
Alan
---
Cost Cutter Match 13/2/20
This week's cost cutter match was held on a wet and windy Colver Lake (no change there then). Mick Farmery again came out on top having managed to locate 8 or 9 skimmer bream for 7lb 15oz.
It was noted though that several of the chub introduced earlier in the week did make a showing in other nets.
Next week's match will be held on Smiggies lake so let's hope the weather is kinder to us.
Alan
---
Winter Away day at Peatling Pools 9/2/20
With the high winds and torrential rain battering the country in the form of storm Ciara, yes....you've guessed it seven members fished an away day match on Harrow lake at Peatling Pools.
It fished quite well actually and there was only 11lb or so between the top five. It was new member Luke Perkins who came out on top though with 76lb 9oz from peg 24. Simon Blackwell was only 5lb behind in the runner-up spot netting 71b 6oz on the next peg, 22.
---
The Catwalk Calls
We have Chris Shore to thank for capturing this rare photo of our esteemed Water Officer.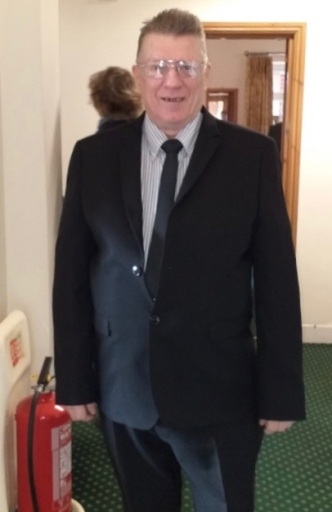 After having a make over by his beautician daughter, Terry recently unveiled his new look. It has been rumoured that several London Model agencies are vieing to employ the debonair chap to show off there new summer collections. Sadly the illusion is somewhat shattered when he opens his gob!!!!
.
Sorry Terry ...
we all luv you mate XXX
---
Cost Cutter Match 6/2/20
This week's cost cutter match was held on a dour Smiggies Lake. As usual the weather was again against us with the whole landscape white over and thermometer registering -3 when we arrived. Needless to say the fishing was terrible with Mick Farmery and yours truly accepting a draw as we each had 2 small fish which would only have weighed a couple of ounces all together.
Next week's match will be on Colver in an effort to bring a few fish to the scales for a change!!
Alan
---
Cost Cutter Match 30/1/20
This week's cost cutter match was held on Jasons Lake on what was a much better day weather wise.
Having said that weights were still disappointing, although better than of late. Mick Farmery came out on top for the second week running with a weight of 6lb 13 oz made up of a good size ide plus several skimmers and roach.
Next week's match will be on Smiggies.
Alan
Winter Away day at Peatling Pools 26/1/20
There were nine starters at Peatling Pools, Harrow Lake, for Sundays Away Day Match.
Julian Stretton was top on the day with a weight of 74lb 13oz from peg 5. Second place going to Paul Edwards on peg 22 with 59lb 2oz.
Gav Norton took Section 1, netting 53lb 12oz from peg 9. Luke Perkins winning the Section 2 prize with 58lb from peg 16. In what turned out to be a very close contest.
---
Cost Cutter Match 23/1/20
The latest cost cutter match was held today, 23rd January, after a break for Christmas, and time away to get over my cataract op.
The match was held on Sanctuary lake in what were improved weather conditions for a change. However results were still poor as the lake had still not recovered from being frozen earlier in the week.
Mick Farmery came out on top with a catch of small roach and skimmers totalling 1lb 14oz.
Next weeks match will be held on Jasons.
Alan
Venue Alteration for Winter League
Could members please note that, regarding next Sundays (19/1/20) Winter League Match that is Scheduled to be on Jasons Lake, and one half of Colver. Pegs 1-18 are now being used on Colver instead of 21-46 (As appears in your membership book).
We apologize for any inconvenience.
---
Winter Away day at Holly Farm
Twelve members fished a match on Trotters Lake at Holly Farm on Sunday 12/1/20. Given the time of year the lake fished well with eleven of the twelve starters registering double figure weights.
Top on the day was Chris Crane. Drawn on peg 20 Chris had a fine days fishing catching 72lb 2oz of Carp and F1's. Steve Beckhurst took the runner-up spot with 53lb 14oz from peg 38. Steve caught Carp and F1's on the Long Pole with Pellet and added five big Carp from the margins. Third place went to Den Porter. Den had most of his 42lb 10oz on the tip from peg 7.
Gavin Norton took Section 1 with 41lb 10oz from peg 10. Section 2 going to Phil Sansby fishing on peg 2, Phil netted 32lb.
---
Frisby lakes
Club Chairman, Alan Smith, has asked me to publish the following notice regarding Frisby Lakes
Members please note. Whilst fishing Frisby Lakes please do not give anyone the combination of our lock. Day ticket anglers have approached our members asking for the combination so that they can get in, but they need to phone the owner and pay for their day ticket if the gate is locked.
Alan
---
Sad News
We have two very sad items of news to report. That is the loss of two long standing members, within the last few days, in Geoff Taylor and Ted Whiter.
Geoff was a former committee member, serving for many years in senior roles. Also, Geoff had been carrying on helping by auditing the clubs financial accounts prior to the AGMs.
Ted was serving committee member, serving as Juniors Assistant, but in fact performed numerous activities in helping to run our club.
Both will be sadly missed and our thoughts are with both families during these difficult times.
---
Frisby Lakes Updated News
Following on from the news that we have been allowed to fish the Frisby Clubhouse Lake on a trial basis from Jan 1/1/2020 until may 31/5/2020 (full details below).
We have been asked to let members know that if they wish to fish the Clubhouse lake (across the road from our entrance gate), they must:
Leave the Clubhouse gate open if it is open when you get there.

Lock the gate if it is locked when you arrive, or locked when you depart.
This is because there is a yoga club that uses the Clubhouse and they leave the gate open whilst they are using the facilities.
Thank you, Alan Smith.
Frisby Lakes
We have some potentially great news from our Chairman Alan Smith. He has asked me to publish the following:
An agreement has been reached with Frisby Lakes that our members, on a trial basis, between 1st January and 31st May, can fish the big club house lake, on production of your Broome membership book. This agreement comes with certain conditions that our members must adhere to :-
1) No night fishing. Fishing dawn till dusk only.
2) No fishing from the island or the point beyond the club house
3) The toilet is currently being used by a female yoga club so can only be used by our members IN EXTREME CIRCUMSTANCES
4) Parking is available at both car parks. The gates are kept locked most of the time but one of the locks will be a combination lock with the same number as our other locks
As already stated this agreement is a trial only, so I would urge members to be on their best behaviour at all times. Also be aware, in case you are asked, that there is no reciprocal arrangement for members of Frisby lakes.
If you need any more info please contact myself.
Alan Smith