News 2019 Archive

Frisby Lakes Updated News
Following on from the news that we have been allowed to fish the Frisby Clubhouse Lake on a trial basis from Jan 1/1/2020 until may 31/5/2020 (full details below).
We have been asked to let members know that if they wish to fish the Clubhouse lake (across the road from our entrance gate), they must:
Leave the Clubhouse gate open if it is open when you get there.

Lock the gate if it is locked when you arrive, or locked when you depart.
This is because there is a yoga club that uses the Clubhouse and they leave the gate open whilst they are using the facilities.
Thank you, Alan Smith.
---
Cost Cutter Match 19/12/19
Club Chairman Alan Smith has organised a series of Cost Cutter matches for the 60's and over. These matches are held on a Thursday and if you would like more details contact Alan and he will be able to help you (Alan's number is in your membership book). Read below Alan's report of the ninth in the series.
This week's cost cutter match was held on Jasons lake, on what was a much better day at the start. However the heavens opened during the last half hour of the match. Annoyingly whilst we packed up. So again we all went home soaked to the skin. Must be a record as it has happened virtually every week so far.
At least the fishing was a little better and Mick Farmery came out on top with 9lb 14oz thanks to a few welcome skimmers.
The next match is not until 9th January due to Christmas and the New Year. Probably fishing Sanctuary subject to flooding etc.
I would take this opportunity to wish all our members a very happy Christmas.
Alan
---
Frisby Lakes
We have some potentially great news from our Chairman Alan Smith. He has asked me to publish the following:
An agreement has been reached with Frisby Lakes that our members, on a trial basis, between 1st January and 31st May, can fish the big club house lake, on production of your Broome membership book. This agreement comes with certain conditions that our members must adhere to :-
1) No night fishing. Fishing dawn till dusk only.
2) No fishing from the island or the point beyond the club house
3) The toilet is currently being used by a female yoga club so can only be used by our members IN EXTREME CIRCUMSTANCES
4) Parking is available at both car parks. The gates are kept locked most of the time but one of the locks will be a combination lock with the same number as our other locks
As already stated this agreement is a trial only, so I would urge members to be on their best behaviour at all times. Also be aware, in case you are asked, that there is no reciprocal arrangement for members of Frisby lakes.
If you need any more info please contact myself.
Alan Smith
Cost Cutter Match 12/12/19
Club Chairman Alan Smith has organised a series of Cost Cutter matches for the 60's and over. These matches are held on a Thursday and if you would like more details contact Alan and he will be able to help you (Alan's number is in your membership book). Read below Alan's report of the eighth in the series.
Another Cost Cutter match and yet another cold and miserable day with none stop rain from beginning to end.
This week's match was held on Jurassic, and to say the fishing was difficult is an understatement. Yours truly managed to come out on top with 15 fish for a grand total of 12oz which in itself was 4oz clear of the next weight.
Next week's match will be on Jason's and let's hope for some improvement in the weather.
Incidentally 200 1lb+ bream have been stocked into BJ's this morning.
Alan
---
Ropes on Colver and Smiggies
We would like to thank Chris Shore, Terry Branston, Ted Whiter and Phil Sansby for helping to replace the ropes on Colver and Smiggies lake's today. There had been a noticeable increase of cormorant activity on these lakes since the ropes were removed to enable the weed cutting to take place.
Now that they have been replaced the cormorant activity should be reduced. That is what the ropes are there for. Please do NOT remove them, they are their to help preserve fish stocks.
The committee
---
Cost Cutter Match 5/12/19
The latest cost cutter match this week was held in a bitterly cold wind on Jason's Lake. To make matters worse the lake was frozen over and ice breakers needed to be used on several pegs.
Although the fishing was rock hard at least everyone caught, albeit mainly small roach. Kevin Hirons came out on top with 5lb 6oz, mainly due to a 4lb+ pike picking up his single pinkie hook bait. Mick Farmery edged out Chris Shaw for second with 2lb 11oz.
Next weeks match will be held on Jurassic.
Alan
---
Cost Cutter Match 28/11/19
The latest cost cutter match was held today on yet another soggy rain filled day, leaving everyone soaked by the end. At least we are getting used to it now as it has happened almost every week!!
This week's venue was a highly coloured Sanctuary lake and, although weights were low, everyone caught some fish throughout the day. Chris Shore came out on top with 6lb 12oz, with Mick Farmery taking the runner up spot with 5lb 11oz.
Next weeks match is being held on Jasons.
Alan
---
Cost Cutter Match 21/11/19
The 5th Cost cutter match was held today (21/11) on a cold, damp Colver lake, with water levels still a foot above normal. At least the rain held off for a change.
After the poor weights recorded in the Chairman's League match result on Sunday no-one was expecting big weights. So it proved to be the case.
Everyone opted to fish for silvers as the carp are not showing at present. I was lucky enough to win with a low weight of 5lb 11oz, thanks mostly to a 4lb carp. Incidentally that was the only carp caught in the match. Chris Shore and Rob Smith were joint runners up with 2lb 8oz.
Next weeks match is to be held on Sanctuary, subject to water levels and conditions being back to something like normal.
Alan
---
Pike in Colver
Club Chairman Alan Smith has asked me to publish the following message regarding Colver lake.
Disturbing news that eight pike up to 5lb have been caught in Colver lake in the last week. Four last Saturday 16/11, two on Friday and two earlier in the week.
This follows on from several caught earlier in the year including a 10lb specimen. All were removed and transferred to Jurassic.
Members are reminded that pike were never intentionally stocked into Colver and indeed there should be none in there. That being the case if any pike are caught in the lake please transfer them into Jurassic.
DO NOT return them into Colver.
Alan Smith
---
Cost Cutter Match 14/11/19
The fourth over 60's Cost Cutter Match was held today on a flooded and rain drenched Jason's Lake at Frisby. It seems these Thursday matches are jinxed by the weather at present.
On arrival the lake was already over its bank and none of the pegs appeared fishable. However the path on the far bank was just about out of the water so we decided to peg along that bank only. It preceded to pour down with rain while we were setting up and never ceased for the whole 5 hours. At the end instead of sitting on a dry piece of grass we finished sitting in between 6'' and a foot of water depending on which swim you were on. Water was pouring into the lake from the ditch at the back turning the water chocolate brown.
One consolation was that weights were slightly better, with everyone getting bites throughout the day. Mick Farmery came out on top with 27lb 13oz with yours truly finishing runner up with 10lb 13oz.
Next week's match will be on Colver weather permitting.


Cost Cutter match 31/10/19
The third cost cutter match in the series on 31st October was held in near impossible conditions on Jurassic Lake. The lake was still flooded and chocolate brown with all pegs around the lake under water. To top it all we also had a frost when we arrived. Rather than call it off we decided to fish the bank with our backs to the field as at least we could sit on the path and fish over the pegs.
Needless to say the fishing was dire and Chris Shaw needed only 13oz to win.
As Age Concerns AGM is being held next Thursday (7/11/19) we will not be holding a match on that day but will resume the week after (14/11/19) on Jasons Lake.
---
Kilworth Toilets Closed
Just to let everyone know, the toilet at Kilworth Fishery has now been closed for the winter. This is to prevent the risk of frost damage over the cold months. It is usually reopened in the spring.
---
Cost Cutter Match 24/10/19
The second of the new cost cutter matches was held today on a miserable, rain sodden, B J's lake. The downpour never stopped all day and to make matters worse the only fish feeding were small perch and the very odd roach. Yours truly won the day with around 40 perch and half a dozen roach for 3lb 6oz.
Let's hope for better weather next Thursday, when we tackle Jurassic. Good catches of roach and skimmers have been coming out recently so let's hope they feed next week.
---
Cost Cutter Match 17/9/19
The first of the new Thursday over 60's cost cutter matches was held on 17th October at Frisby. As all the lakes were flooded except Colver and Smiggies we needed to switch the match from BJ's to Smiggies. The prospects were made even worse as we experienced the first real frost of the winter. The lake fished hard to say the least but Mick Farmery managed to find several bream for a winning weight of 15lb 1oz.
Next Thursdays match will be held on BJ's if the water levels are back to something like normal.
---
Rod Found
We have some good news. Barry Page reported an unfortunate incident when he lost his rod and reel whilst fishing on BJ's lake recently.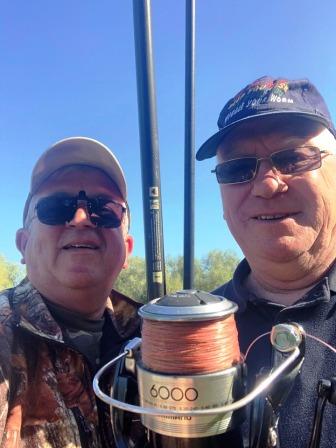 One of our "long time" members Dimitar Dimitrov was fishing on BJ's and after hooking into a "bite" he was very surprised when he landed the aforementioned rod and reel!!

.
Barry is delighted to be re-united with the tackle, that he thought he had seen the last of!!



. Many thanks to Dimitar

.
---
Net Drying
You may have noticed that on the front page of the Website we issue a notice asking members to ensure that their keepnets, landing nets, carp sacks, unhooking mats etc. Are thoroughly dry before you start fishing.
We do not request this to be awkward or sticklers for rules and regulations. We are trying to prevent the carrying of disease or transfer of invasive species from one water to another.
This includes moving between lakes on our own waters.
There have been local outbreaks of the carp disease KHV.
So please lay out your nets for at least 30minutes before starting to fish at any water you may be fishing. And, if possible, dry your nets in the sun when you get home.
---
Lost Feeder Rod
Barry Page had an unfortunate incident whilst fishing on BJ's about a week ago. Barry was fishing the feeder on the Smiggies side of the lake and whilst getting off his box to answer the call of nature his rod flew off into the lake....Fishing rod that is!!!

. Before he could get to it the rod reel and fish had disappeared.
So if you do come across this rod and reel Barry would be most grateful for it's return. If you do find it please return it to Barry or contact me on webmaster@broomeanglingsociety.co.uk and I will put you in touch with Barry.
---
Lily Pad Removal (Updated)
The work to remove the lily pads on Colver will take place on Tuesday 30th July. There will be large machinery involved in this operation, Therefore pegs 16, 17, 18, 21, 22, and 23 plus the two disabled pegs (19 and 20) will be closed to all until the work has been completed. Also the access at that end of Colver will also be closed until the work has been completed and the machinery removed from site.
I have had a message from Terry Branston that Smiggies Lake will also be closed on 30th July as the contractors are going to remove the lily pad roots from there as well.
We apologise for any inconvenience caused.
---
Matrix Pairs
The Matrix pairs Match, sponsored by Paul Edwards, to be fished on Sunday 28th July has been switched to Holly Farm, Gills Lake. If you would like to fish this match please contact either Keith or Paul.
Work Party at Frisby Complex
The sixth and final Work Party for this season was completed last Sunday (9/6/19) and it was probably the best attended of all!! It was mostly a case of finishing off jobs from previous days. most of the work was on BJ's lake and on Jurassic. The far bank swims on Jurassic have been cleared and are now fishable. The swims at the back of BJ's were also cleared. We have employed a new contractor to do the grass cutting and he should be going round in July once that is completed the whole place will look a lot tidier.
The Knock-up was, this week, on Colver lake and there were nine competitors on what was the last of the days with decent weather to date. The lake fished quite strangely really with some decent weights coming out whilst others struggled for bites. In form Paul Edwards won his eighth match on the bounce with 67lb 9oz from peg 13. Paul caught steadily for most of the day using hard 6mm pellet, Pole fished toward the far bank. He cut it fine this week though as second placed Keith Macfarlane was only 7oz behind with 67lb 2oz on peg 1. Keith fished his favourite dead maggot bait, and after a bit of a slow start the peg was flying in the closing stages.
Geoff Harper took Section 1 with 57lb 5oz from peg 11. Section 2 going to Steve Beckhurst on peg 31 with 57lb 8oz.
---
Locks
The Locks on all of our fisheries have all been re-programmed with the new combination that is written down in pages 20 and 22 of your new membership book. Last seasons blue books are now invalid.
---
Work Party at Kilworth Sticks
Once again thank you to all those that attended the Work party last week at Kilworth on Sunday (2/6/19). It was a finishing off day. All those tidy up jobs and the lakes are looking a treat now.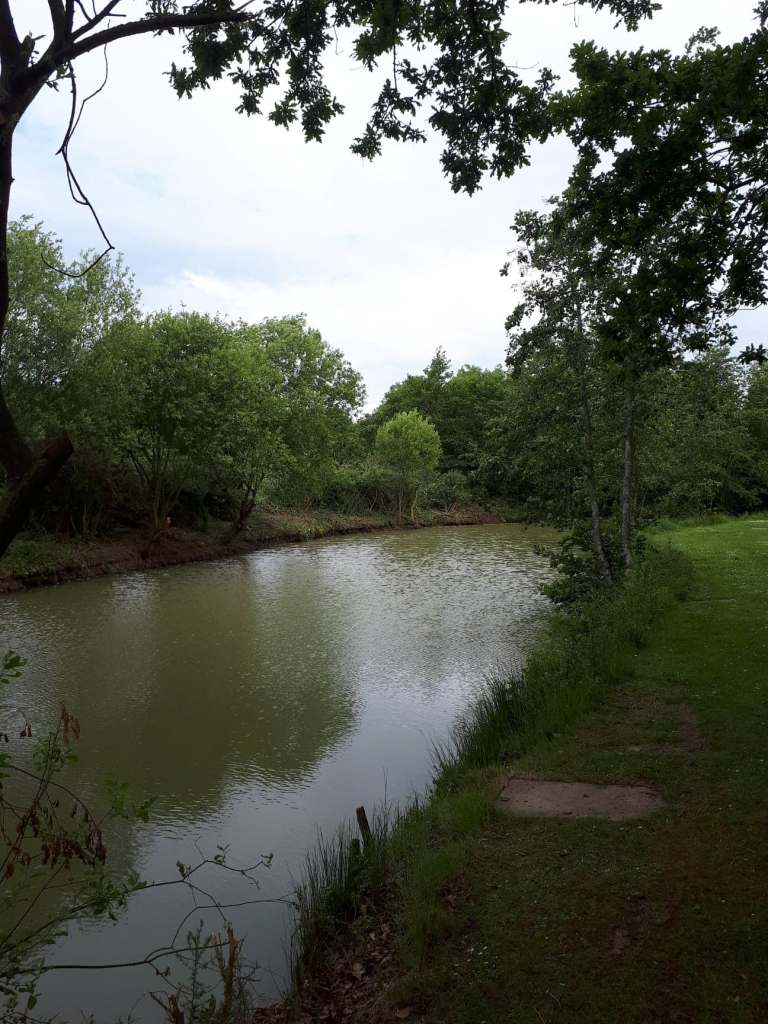 We have, below a picture of a couple of our young apprentice's hard at work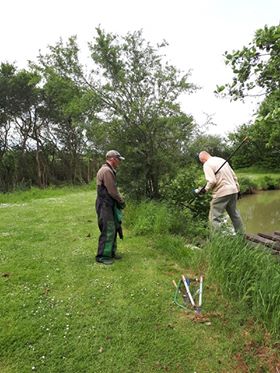 The match for last week was on Currans Loop. The lake fished quite well with the lowest weight being 22lb. It was Geoff Harper who came out on top though, fishing on peg 9 Geoff netted an impressive 61lb 10oz to take the first prize. there were only five fishing so there was plenty of room foe everyone. Mark Akiens took the runner up spot with another good weight, putting 42lb 7oz on the scales.
---
Membership Books for 2019/20 season
Our Club Membership Secretary, Malcolm Shooter has asked me to post the following:
Membership books for the 2019/20 season were posted on Wednesday 29th May to both current members and new members whose applications were received through the post by Wednesday 29th May. Everyone who sent their applications in good time should have their new books before the start of the new season on Saturday 1st June.
All further applications received this week will be sent out ASAP.
Current members are reminded that they can fish on their 2018/19 book till the locks change on 8th June 2019.
Enjoy your fishing
Malcolm Shooter (Membership Secretary).
Work Party at Frisby (Colver & Jasons)
Once again thank you to all those that attended the Work party last week at Frisby on Sunday (26/5/19). There were a few more members who attended last week and really did help with what was able to be completed. Swims that were getting overgrown were cleared and the Island had a major haircut on Colver. The Colver peg numbers were all repainted. More underwater snags and weed etc. were cleared out from Jasons and tree branches cut and cleared.
The Work Party match was again held on Jasons, with a lot better turn out of ten taking part. There were five pegs on each half of the lake and the results were pretty close on each half but south lake was the better one to be on!!
First and second both came from the south lake with Malc Spring coming out top with 49lb 4oz on peg 21. Gav Norton was on the next peg to Malc, 19, and Gav took the runner-up position with 47lb 6oz. It was all pretty close here with just a fish or two separating the top three. Geoff Harper taking the Section with 41lb 5oz.
The north half of the lake was not quite so good with Cliff Hodgkiss landing the top weight in that half of the lake, 25lb 10oz from peg 3 winning the Section.
---
Work Party at Kilworth (Currans & Lizzies)
Thank you to all those that attended the Work party at Kilworth Sticks last Sunday (19/5/19). The numbers were very low again with only about a dozen or so attending. Those who helped out managed to clear all of the Gorse bushes from the back of Currans, really opening some of those pegs up. Its a shame that we can't get a few more to attend as so much more could be accomplished.
There was the usual Match for those interested, who had helped out at the work party. With only five fishing Lizzies fished well everyone netting some decent Carp. Out on top was Mark Akiens who drew peg 12 and put 65lb 14oz on the scales for the win. Malc Spring was not too far behind, Malc taking the runner-up spot with another good weight of 52lb 10oz from peg 22. Keith Macfarlane lost six good Carp on the mussel bed in peg 25 but still had a few to finish with 35lb 4oz. Alan Smith netted 33lb 6oz from peg 14 and Phil Sansby drew peg 19 for 23lb 1oz.
---
Work Party at Frisby (Jurrasic & Smiggies)
Thank you to all those that attended the Work party at Kilworth Sticks last Sunday (12/4/19). The numbers were pretty low but those that turned up worked really hard and a lot of swim clearing and tree cutting/pruning was accomplished with most of the work being concentrated on Jurrasic and Smiggies Lakes.
We have John Caunt to thank for the following images of some of the work being carried out on Jurrasic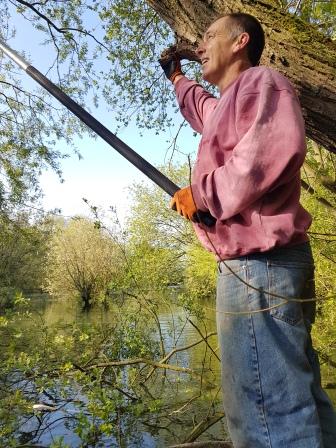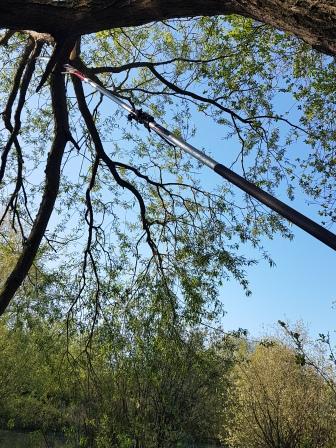 Jason in his favoured position of late...halfway up a tree!!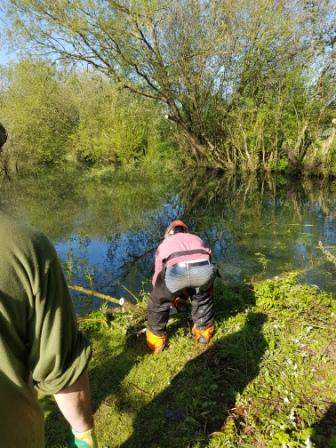 Another errant tree getting the treatment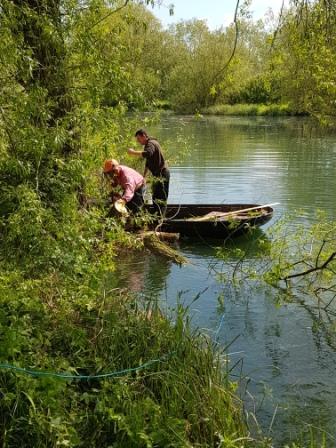 The amphibious section in full swing! And the next pile is started.
There were only six who wanted to fish the "knock up" so the lads voted to move it to Jason's instead of Colver. It was surprisingly hard considering the fine warm weather and only having three angler's on each half of the lake. Only the "in form" Paul Edwards managed to catch throughout the afternoon. Fishing at around sixteen meters on the long Pole, Paul targeted surface cruising Carp with pellet fished about a foot deep to land around eight Carp and a few silvers for a winning weight of 52lb 1oz from peg 19. Steve Beckhurst took the runner up spot netting two good Carp in the first hour or so, also fishing shallow, on banded pellet. Steve added about 10lb or so of skimmers to put 22lb on the scales from peg 9.
Work Party at Kilworth
Thank you to all those that attended the Work party at Kilworth Sticks last Sunday (5/4/19). The numbers were pretty low but those that turned up worked really hard and a lot of swim clearing was accomplished with Currans Loop being the main area of attack.
There was the usual "Knock -up" after the work was finished for the day with seven taking part. The seven went on Lizzies lake and everyone had plenty of room. It fished pretty hard really and the water was deceptively clear.
Paul Edwards was the only one to net many fish, with twelve Carp for a winning weight of 52lb 13oz. Paul fished method feeder toward the island on peg 10 with Pellet being the best bait. Second place went to Mariusz Kosakowski, fishing his first Broome match. He had four lovely Carp, again using method feeder, for 27lb 12oz on peg 19.
There were three or four carp for almost everyone, and it was good to see Gav Norton following our advice to dry your nets before fishing. Gav laid out all four of his nets on the bank before the start. But sadly by the end of the match they were very dry indeed as there was nowt to put in any of them!!


---
AGM Colver Sweepstake
After this years AGM the traditional match was on Colver. Sadly though there were only six participants!! Perhaps those who didn't turn up to fish knew something

, as it was a bit of a struggle for most. Paul Edwards sat down in his usual spot on peg 46, and after paying the milkman, reading his mail and checking to see if his newspapers had been delivered he set about dong a bit of fishing!!


. With a weight of 65lb 5oz Paul won the match comfortably. Second place went to Keith Macfarlane making it a one, two, for the Match Secretary's with 37lb from peg 7.
---
Away Day at Peatling Pools
It was Pool D that was the chosen venue for the latest Away Day match. it was a pretty packed field with fifteen at the draw on a fine Easter Sunday morning. with a weight of 68lb 11oz it was Malc Spring who took the honours on the day. Drawn on peg 4 Malc caught steadily throughout the day for his match winning total.
Runner up spot went to the in form Paul Edwards, Paul, weighed in with 49lb 5oz from peg 2 to take second place. Simon Blackwell securing third place with 35lb 6oz from peg 27.
Gavin Norton took Section 1 with 24lb from peg 1, with Den Porter winning Section 2 with 27lb 13oz from peg 16.
---
Away Day at Holly Farm
There was a good turnout of fourteen members to fish the latest Away Day match (7/4/19). It was a return to Holly Farm's Trotters Lake. With fourteen fishing it gave everyone plenty of room. Sadly, though, one half of the lake fished very well but the other was pretty terrible with many not weighing in.
Top rod on the day was Gavin Norton. As with everyone in the first couple of hours Gav was struggling for a bite of any description. It was a change to his favourite method of fishing shallow with the Long Pole that made the difference. With a Carp within fifteen minutes or so Gavin added fish at regular intervals to put 81lb 13oz on the scales from peg 18 to take first prize.
It was a pretty close battle with Steve Beckhurst, on peg 11, Steve switched to a shallow fishing method after seeing it work for Gavin and was soon into some decent Carp. Catching not so many, but bigger fish, it was pretty close right to the last half hour when Steve's peg somewhat died. Gavin put another three fish in the net in the latter stages to pull away. Steve had to settle for the runner-up spot with 74lb 13oz.
Third place went to Den Porter, next to Steve, on peg 9. Den had most of his fish by fishing the tip across to the Island, with a few late on in the margins. Den netted more fish than Steve but again they were slightly smaller. At the whistle Den put 66lb 8oz on the scales to take the last frame place.
Simon Blackwell caught fairly consistently on both the tip and the Long Pole to take Section 1 with 55lb 11oz from peg 20. Section 2 going to Geoff Harper. Geoff had most of his fish on the tip for 52lb 12oz from peg 39.
---
Apologies from the Webmaster
Just a message to say sorry for the website not being updated last week. The pages had all been updated as usual but, unbeknown to me, they had failed to publish on our web server!! It wasn't until today that I found out after getting harangued by Keith!!

. Anyway its all sorted now and the pages are now viewable on the site.

Cheers, Steve Beckhurst
---
AGM Notice of Motion Error
Some Members may have noticed on the Agenda of the AGM that was sent out with your News Letter that item 13 on the Agenda shows a Notice of Motion regarding Floating Baits. Please ignore this as it was added in error.
The Notice of Motion was voted on last year and the members voted to allow Floating Baits to be used on society waters except in Official Club Matches.
Away Day at Peatling "B Lake"
There were 14 starters on the latest of the Away day matches (24/3/19) and "Lake B" at Peatling Pools was the venue. On a fine spring morning it was surprisingly slow fishing in the first half of the match with just the odd fish coming out around the lake.
It was around the two hours to go mark when the decisive action started to happen. Phil Dayman made use of a good draw on the day by putting 96lb 11oz on the scales to win by a distance. Most of Phil's fish coming from the inside margins of peg 23 to take the top prize.
Malc Spring was one of the few who caught reasonably well through most of the day. his fish, mainly, smaller F1's came from close in beneath a overhanging tree on peg 41. Malc's 62lb 5oz enough to take second place. Paul Cooke marked his return to fishing by carrying out his normal habit of drawing a flyer

. Loads of fish were next to the corner island and Cookie netted 60lb 12oz by catching them on the straight lead from peg 21.
Kev Hirons took Section 1 with 47lb 8oz from peg 6. Section 2 going to Mark Akiens, on peg 45 with 53lb 7oz.
---
Away Day at Peatling "C Lake"
The latest of the Away Days (10/3/19) once again went to Peatling Pools Fishery. Probably owing to the weather conditions there were only seven starters on "C Lake". It was a good day for Mark Akiens, though, who won by a good distance. Weighing in with 89lb 14oz he took the win by a wide margin from peg 20. Phil Sansby was his closest challenger, Phil taking second place on the day with 46lb 14oz from peg 10.
---
Away Day at Peatling "E Lake"
The original plan was to have an Away day at Gilmorton Lakes but after having booked the pegs required in advance, when the lads turned up for the draw there were carp anglers bivvied up on three of the pegs!!! Even though there were signs up saying that the pegs were booked.
It was a hasty switch to nearby Peatling Pools where, fortunately, Lake E was free. Vinnie Logie took the honours in a close battle for the top prize. Vinnie netted 71lb 4oz from peg 24 to finish just 1lb 3oz in front of Paul Edwards. Paul, drawn on peg 12, had to settle for the runner-up spot with 70lb 1oz.
Section 1 was won by Keith Macfarlane weighing in with 30lb 2oz from peg 10. Gavin Norton took home the Section 2 prize from peg 22 with 18lb 2oz.
---
Away Day at Peatling "E Lake"
Twelve anglers fished in the latest Away Day match, once again Peatling Pools was the venue and "E" Lake was the chosen water.
For the second Away day match in succession it was Julian Stretton who came out on top. Drawn on peg 26 Julian weighed in with 43lb 6oz to take the first prize. Also, once again, it was Paul Edwards who finished second. Paul netting 34lb 6oz from peg 16.
Phil Dayman took Section 1 from peg 4 with 29lb 5oz. Section 2 going to Phil Sansby, Phil weighing in with 24lb from peg 18.
---
Away Day at Peatling "D Lake"
Lake "D" at Peatling Pools was the venue for the latest Away Day match. Thirteen were present for the draw on a very cold day.
Justin Stretton pulled out the fancied peg 29 and made good use of it. His 66lb 13oz was enough to take first prize on the day. Over on peg 2 Paul Edwards continued his good run of form, taking the runner-up prize with 52lb 6oz.
Section 1 was won by Simon Blackwell from peg 6 with 16lb 5oz. Den Porter taking Section 2 from peg 26 with 42lb.
---
Away Day at Peatling
In the first "Away Day" match of 2019, twelve members fished at Peatling lake "C". On such a prolific venue the results were a little disappointing and it just goes to show that the fishing is pretty tough wherever you go at the moment

.
Kevin Hirons took the top spot on the day with a respectable weight of 33lb 15oz. It was quite a close battle with Mick Nash though. With Kev on peg 11 and Mick on peg 23 it was touch and go throughout. Kev just pulled ahead in the dying moments to leave Mick in the runner-up position 3lb or so behind with 30lb 1oz.
Section 1 went to Den Porter on peg 12. Den weighing in with 18lb 6oz. Keith Macfarlane's 26lb 5oz from peg 13 was enough to take the Section 2 prize.
---
Colver Sweepstake
In the dying embers of 2018 twelve members fished a Sweepstake match on Colver. The winner and second place coming from adjoining pegs! The rather bizarre thing was that they were actually nine pegs apart!!! There was a rumour circulating the matchmen that Keith had been at the cooking sherry that morning, as Den Porter, on peg 31, had nine empty pegs on either side if him...


.
One person who wasn't complaining, though, was Den!! Weighing in with 59lb 10oz Den ended the year on a high with an easy win. Runner-up was Gavin Norton. Gavin caught well from the off on peg 21 and it looked as if it would be a close battle with Den. But in the last couple of hours the fish dried up leaving Gav with 41lb 11oz for second place.
It was good to see Mick Davis back on the bank again after a difficult year and he took the top weight on the low numbered bank. His 26lb 7oz of bread caught fish earning him the Section 1 prize from peg 4. Steve Beckhurst taking section 2 from peg 18 with 22lb 8oz.
---