Results
P.D.F. Cup 18/6/17
Shearsby Valley, Alders
| | | | |
| --- | --- | --- | --- |
| Place | NAME | Peg | Weight |
| 1st | Mark Akiens | 42 | 62lb 10oz |
| 2nd | Paul Cooke | 36 | 56lb 14oz |
| 3rd | Dean Myatt | 28 | 53lb 8oz |
| 4th | Malc Spring | 35 | 46lb 10oz |
| 5th | Simon Pepper | 31 | 44lb 12oz |
| Sec 1 | Den Porter | 34 | 23lb 8oz |
| Sec 2 | Jason Farmery | 43 | 42lb 10oz |
| Sec 4 | Geoff Harper | 47 | 18lb 8oz |
19 Fished
Mark takes the PDF Cup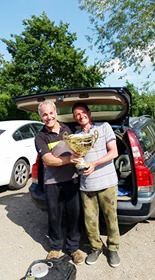 Mark Akiens took the PDF Cup with a fine 62lb 10oz from peg 42 at Alders lake on the Shearsby Valley Complex. Pictured above accepting the Cup from Match Sponsor Paul "Cookie" Cooke. All of Marks fish were caught on the Long Pole on what was a difficult day for most with hundreds of Carp basking in the blazing sun and not really interested in feeding.
PDF Match Sponsor Cookie just missed out on winning his own Cup again falling just a couple of fish short, on peg 36, with 56lb 14oz. Again Long Pole was the successful tactic, Paul catching on Worm and maggot.
It looked like Dean Myatt was going to walk away with the top prize for the first half of the match as he was flying on end peg 28. An unfortunate incident where Dean lost the top half of his Pole in the Lake and having to retrieve it from the area he was catching from certainly put paid to his chances. But with 53lb 8oz on the scales dean still had enough to take third place.
Malc "Mugger" Spring
, was struggling for the first half of the Match, but a change of tactics in the latter half of the competition proved to be a good move. By fishing a poly ball at about 3 inch deep Malc started to catch some of the sunbathing Carp and finished in fourth place with 46lb 10oz from peg 35.
Last in the frame Simon Pepper fished across all day and picked up fish regularly in an inviting gap between the far bank trees. It was hard work in the stifling heat but he eventually put 44lb 12oz on the scales to take fifth place.