Results
P.D.F. Cup 17/6/18
Colver Lake
| | | | |
| --- | --- | --- | --- |
| Place | NAME | Peg | Weight |
| 1st | Paul Cooke | 7 | 77lb 11oz |
| 2nd | Chris Crane | 5 | 63lb 10oz |
| 3rd | Den Porter | 14 | 50lb 15oz |
| 4th | Jason Farmery | 42 | 46lb 4oz |
| Sec 1 | Keith Macfarlane | 1 | 24lb 15oz |
| Sec 2 | Tony Smith | 18 | 21lb 3oz |
| Sec 3 | Paul Edwards | 30 | 34lb 15oz |
| Sec 4 | Mark Akiens | 44 | 34lb |
Cookie takes the PDF Cup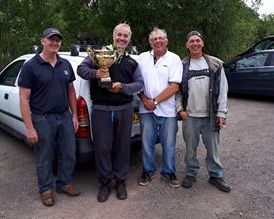 The top four from left to right Chris, Paul, Den, Jason
It seems that PDF Cup Sponsor Paul Cooke doesn't really want anyone else to take his cup home as he won the competition for about the fourth or fifth time!!
.
It was a decent morning but the strengthening wind did not help with bait presentation for most of the nineteen starters. with a couple of anglers not turning up to fish it made for a huge gap between pegs 7 and 14. The Anglers drawn there took full advantage and filled the top three positions in the match.
Match Sponsor, Paul Cooke, drawn on peg 7, took home his cup once again. Feeding maggot Paul caught regularly all day with plenty of Carp and Silvers coming to his Pole fished maggot. some decent carp from the Margins towards the end of the Match pulled him away from his nearest challengers to finish on top with 77lb 11oz.
Next peg, 5, Chris Crane had a slower start than Cookie and put up a good challenge but could never really close the gap from the opening hour. Chris, fishing similar tactics to Cookie, had to settle for the runner-up spot with 63lb 10oz.
At the other end of the gap on peg 14 Den Porter was to rue his error in fishing pellet for too long, as a change to fishing maggot on the Long Pole brought immediate results. Den caught well on the maggot but probably left it too late to catch the top two. Den netted 50lb 15oz for third place.
Jason Farmery took the top weight on the high numbered bank (21-46) with a commendable 46lb 4oz. Jason elected to fish his favourite, pellet, and one was of the only anglers to catch a decent weight with the bait, finishing in fourth place.
Many thanks to Cookie for once again sponsoring this popular event

.