New Members Please Read
The Committee are asking all new members to read the Club Rules BEFORE fishing. We have already had incidents of rules being broken at our waters, parking on the road near to Jurassic and Sanctuary, Someone with three rods out whilst fishing the whip!! and someone using boilies on BJ's (only allowed on Jurassic). These were all new members stating that they were not aware of the rule. All of the club rules are in your membership book. To avoid falling foul of our Bailiffs,
MAKE SURE YOU ARE AWARE OF THE RULES

.
2018/19 Membership Books
Malcolm Shooter has asked me to send out the following message regarding this seasons Membership Books
Membership books for the 2018/19 season were posted on Tuesday 29th May to both current members and new members whose applications were received through the post by Tuesday 29th May. So everyone who sent their applications in good time should have their new books before the start of the new season.
All further applications received this week should be sent out by Saturday 2nd June.
Current members can fish on their 2017/18 book till the locks change on 8th June 2018.
Enjoy your fishing
Malcolm Shooter (Membership Secretary)
Frisby Work Party
The work party last Sunday (27/5/18) was back at Frisby Complex. Once again many thanks go out to all those who gave up a few hours of their Sunday to help out. It really is appreciated and it would be pretty tough without your help

.
There was a match on Jasons Lake for all those, interested, that helped out on the day. A great day it was too, specially for Steve Kinch who topped the ton with 115lb 10oz from peg 19 to go home with the top prize. There were, also, some good back-up weights with Gavin Norton taking the runner-up spot from peg 14 with 46lb 14oz. River Soar Winter league expert, Simon Pepper, took 40lb 15oz from peg 6 to claim last in the frame third place.
With twelve members taking part, Phil Sansby won Section 1 weighing in 13lb 5oz from peg 2. Section 2 going to Paul Edwards netting 35lb 8oz from peg 17.
Kilworth Work Party
The work party last Sunday (20/5/18) at Kilworth was very productive. sadly there were not as many helpers as we would have hoped but those who made the effort really did get stuck in!! There were plenty of the trees overhanging Currans (on the island) cut back to open up the early numbered swims. Pegs were cleared on Currans, Lambies and Buffalo. If you go up to Kilworth you will see what a good job has been done. Many thanks to all those who turned up to help

.
There was a match on Lizzies after the work was completed and ten of the volunteers joined in the fun!!
. Geoff Harper won the day with a fine weight of 62lb 5oz from peg 5. Geoff fished a small method feeder up to the Island to net 10 or 11 Carp, using pellet on the hook. Second place went to Malc Spring, who was keeping up a battle with Geoff throughout the day. Malc ended up just one decent fish short, but had a great days fishing on peg 2, netting 56lb 8oz.
Gav Norton took Section 1 with 24lb 9oz from peg 14. With Keith Macfarlane taking Section 2 from peg 25 with 50lb 8oz.
Illegal Pike Gag
Terry Branston has asked me to post this message on the website:-
Found today by me on Jurassic. This instrument is banned by the E. A. as its classed as being Illegal.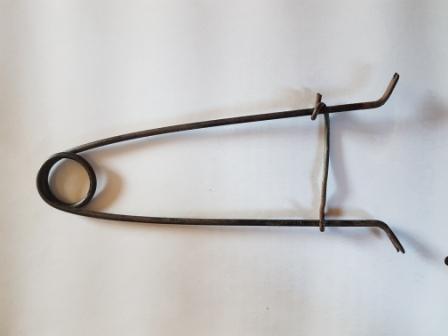 If your caught by the E. A. Officer using this, they will prosecute you. If caught by one of our Bailiff's you will face being expelled from Broome A.S. So please be aware.
Terry Branston (Water Officer)