Frisby/Kilworth Work Party's 2017
There was a much better attendance at last weeks Frisby work party. With the main focus on BJ's, Jurassic and Smiggies lakes. Again, overgrown swims were cleared, overhanging tree branches were cut back some weedy swims cleared. The pot holes on the main drive were filled in and the entrance was cleared. There is still quite a bit that needs doing but those who attended did a great job; many thanks to all of you

.
The after work match was held on Colver Lake, and with just six taking part it was decided to use the North end pegs, as that was where the wind was blowing too.
It was a good decision for Mark Akiens who finished the shortened match with 95lb from peg 1. Mark caught all of his, match winning, fish using Long Pole. Mick Farmery took the runner-up prize with another good weight, 71lb 8oz, from peg 40. With Jason Farmery coming in third with 32lb 12oz. Jason included 16lb of Skimmers in his catch, all caught about 3meters from the near bank on peg 4.
Kilworth/Frisby Work Party's 2017
Last weeks work party at Kilworth was, sadly, pretty poorly attended with only about twenty or so of our membership turning out. However those who did turn up did a great deal of work at the venue. Tree branches were pruned, swims cleared, brambles on the islands cut back etc. Many thanks to all those who attended.
The after work match was held on Lizzies Lake with six taking part. Because of the low numbers the pegs wert pretty well spread. After quite a slow start for most it was Paul Cooke who was first into action with the odd Carp coming to his legered bait up against the island. It was in the final hour, though, that Cookie pulled away from the field finishing with ten Carp for a winning weight of 52lb 10oz. Paul Edwards would probably have beaten Cookies weight but five lost fish, in the end, cost him. He did well though, in peg 1, amongst the tree roots, to get five out to take second place with 34lb. Third place weight went to Jason Farmery, who drew on the point peg. Jason also lost a few foul hooked Carp but the four that he landed weighed in at 30lb.
There has been a lot of work carried out at Frisby apart from the Work Party's.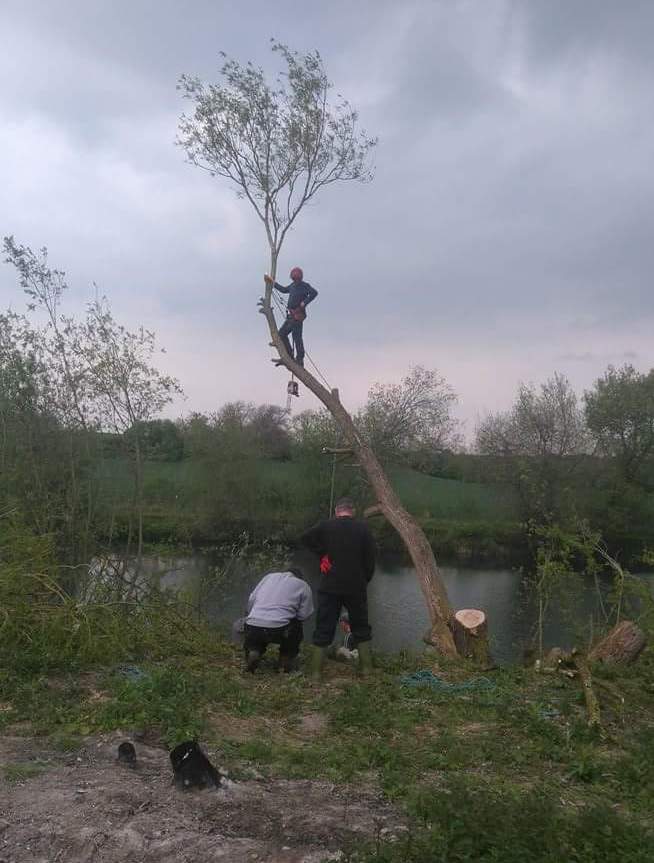 We have Jim Tolton to thank for sending us this picture of some of the guys removing some of the overhanging trees on Jurassic and B.J.s.
AGM Sweepstake
As is now traditional there was a sweepstake match arranged after this years AGM. There were eleven members who took part in the match on Colver and leaving the AGM with a barrow load of trophies must have inspired Paul Cooke as he won the event with 89lb from peg 25. It seems as if Colver is getting back to some good form as weights seem to be improving each week. Paul Edwards came in second with 45lb 8oz from peg 39. Section 1 went to Keith Macfarlane with 41lb 14oz and Jason Farmery took Section 2 from peg 35 with 43lb 6oz.
Sweepstake on Jasons
Thirteen members had a sweepstake match on Jasons Lake last Sunday (23/4/17). After all the weather forecasts predicting arctic conditions it was nice to see they were wrong as usual. With a warm sun and a cool breeze it was a fine spring morning.
Sadly, though, the fish didn't want to play and it was only pegs 4 and 6 that any regular action. Jason Farmery was on peg 6 and a good start put him well ahead in the early stages. Fishing up to the reeds Jay eventually finished up with 43lb 8oz to take first prize.
Mark Akiens did his best to catch up, on peg 4, but a few lost fish cost him in the end. But he did well to wrestle some of his Carp from the reeds to end the match in second place with 36lb 8oz.
Phil Sansby, on peg 1, started well enough with a few silver fish on the Pole. It was two big Carp both approaching double figures that pushed his weight up to 23lb 4oz and gave him third place.
Section 1 went to Keith Macfarlane with 5lb 8oz from peg 2, with Paul Cooke taking Section 2 netting 16lb 4oz from peg 12.
AGM and Renewal Information
There are a couple of points to bring to the attention of members.
The Committee needs to inform members that due to an error by our printer, they have only supplied 500 of the ordered 1000 Membership Renewal Forms. That's why some of you may not yet have received the Newsletter and Renewal Form through the post. If you have access to a printer a Renewal Form can be printed from the

Join

page. Forms will also be available to members at the AGM next Sunday (30/4/17).

As stated above the AGM will be held next Sunday (30/4/17) at Birstall Social Club 9.45am prompt. PLEASE NOTE due to circumstances beyond our control the Broome AGM will be held in the first floor Function Room NOT in the Concert room.
Colver Sweepstake
Seventeen members fished a sweepstake match on Colver last Sunday (9/4/17). With a welcome return of sun the lake showed good signs of a return to form and most anglers catching a few fish.
With the top weight of 83lb 2oz Mark Akiens took first prize. After a couple of hours with not much sign of a bite, the Carp started to feed on Marks pellet offerings. it was pretty steady for the rest of the match and good weight from peg 1 which has been a bit iffy of late.
Steve Beckhurst netted four Carp in the first hour on bread from peg 38. After the early action the bites petered out, and a switch to Pellet presented on the pole to the far bank turned things around. Steve caught steadily with this method for the rest of the day to finish in the runner-up position with 62lb 6oz.
Next but one, on peg 43, Jason Farmery took the third place prize. Jason also fished pellet, and also found the far bank to be the best area. Jay netting 48lb 8oz, again, using Long Pole method.
Section 1 went to Paul Cooke with 38lb 6oz from peg 7. Vinnie Logie taking section 2 with 40lb from peg 21, and Mick Farmery netted 29lb 12oz from peg 41 to win Section 3.