Lizzies Ghostie
Member Simon Beal has shared a photo of a stunning Ghost Carp that he caught on Lizzies lake at Kilworth Sticks recently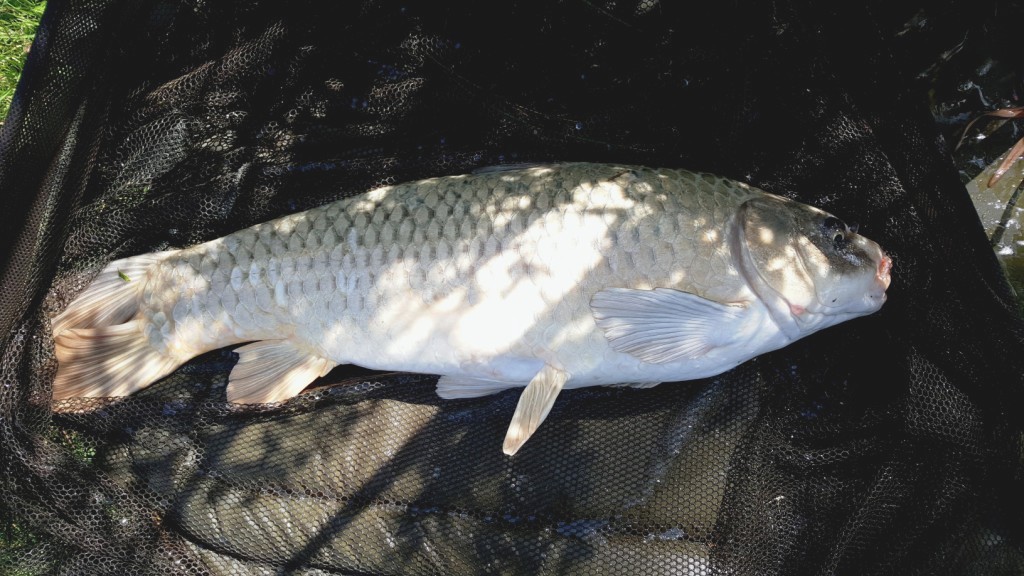 It weighed in at 15lb 7oz and Simon says it fought like a fish twice it's size!! It was taken on a particle bait over a bed of sweetcorn.
Sad Loss
Sadly we have to report the loss of one of our Members Barry Lineker who passed away on Sunday afternoon. Condolences to all of his family and friends at this sad time.
R.I.P Barry from the committee and all of our members.
Lost Landing Net
Member Jim Tolton has lost his landing net head somewhere near to BJ's lake last Saturday night (19/8/17). It a spring type specimen net. Jim left it on the bank accidentally whist packing up in the dark. If you do find it please contact the website or any of the committee (Phone numbers in your membership book) and we will see that he gets his net back.
Police Warning Update
We have been told of another incident with Pole sections encroaching onto the road behind Frisby Complex. It has been reported that this happened with someone fishing on peg 15 or 16 on Jasons lake.
Apparently a pole was pushed through the hedge, onto the road and was smashed by a van travelling by. Needless to say the van driver was not very happy.
It is imperative that you DO NOT let your Pole, or any other equipment for that matter, Pass the hedge. It must stop BEFORE it reaches the border of our property.
If you are not sure CHECK before you start fishing.
Partners Match Venue Change
Due to popular demand the Husband & Wife/Partners Match scheduled for 19th August has been switched from Sanctuary lake to Jasons lake. So please be aware that Jasons will be closed to all other members from 11am until 6pm on Saturday 19th August.
Police Warning!
We have had a warning from the Police that a cyclist had to swerve to avoid a Pole that had been pushed through the hedge at Frisby. This happened last week and could only have been by caused by someone fishing on pegs 21, 22 or possibly 23 on Colver.
It hasn't been alleged that this was done deliberately, but the police have told us that we, and any individual concerned, would be libel for any accident caused by anything (i.e. a Pole section) protruding our boundary fence.
So please be aware that when Pole fishing on these pegs you will have to break down the Pole before the edge of our boundary is reached.
Pole Roller Claimed
The Pole Roller that was found behind Peg 17 on Colver has been claimed and is now with its rightful owner

.
Fishing License Found
A Fishing Rod License has been found at Frisby with the surname "Skinner" on it if you have lost your license and you are named Skinner contact Keith Macfarlane or me
webmaster@broomeanglingsociety.co.uk
and we will endeavour to get you your license back. Keith's number is in your membership book.
Age Concern
Please remember that Colver will be closed all day on Thursday 29th June for the annual Age Concern Match.
Lost Bivvy!!
I don't quite know how he managed it but member Steven Moore lost a brand new bivvy whilst fishing on Colver, peg 3, on Sunday 18th June. If you have found it please email me webmaster@broomeanglingsociety.co.uk and I will inform Steven and, hopefully, we can re-unite him with his bivvy.
Good News, Steven has told me that he has been re-united with his bivvy

.