Away Day at Holly Farm
The away day match that Keith organised was at Holly Farm, Ashby Magna, on Trotters Lake (12/11/17). It was quite a popular choice as there were nineteen starters. It was probably not quite so popular for most, though, by the end of the match
.
It seemed as if all of the fish had moved to the back of the lake and the other half was pretty barren with most struggling for a bite.
Steve Beckhurst was drawn in the middle of the back half on peg 30 and four carp in the first hour, close to the island on the bomb, showed that there were obviously a few fish feeding in the area. It was a change to Pole that really made a difference though. Feeding a few pellets every five minutes or so Steve eventually finished with twenty four carp, for 79lb 8oz and the win.
With Phil Sansby having to make an early withdrawal from the competition with a bad back, Den Porter was the next peg to Steve on 35. Den also employed ledger and Pole methods, and to underline the fact that there were a few to be had in the area, Den took the runner up spot with 33lb 12oz.
Third place went to Gavin Norton on peg 39. Gav had to fish out at 13meters on the Pole to keep them interested and was just one fish behind Den at the all out with 30lb 14oz. Just eight ounce behind was Simon Blackwell on peg 28. Simon had two decent Carp in the net before most had even started!! But it seems that his fish drifted away somewhat Simon picking odd fish for the rest of the day to take fourth spot with 30lb 6oz.
Section 1 went to Geoff Harper with 22lb 7oz from peg 7. Steve Roberts took Section 2 with 12lb 2oz from peg 24. Malc Spring won Section 3 by quadruple default
, with 7lb 11oz from peg 37.
Away Day at Peatling
Fourteen of the match regulars arranged an away day match on Harrow Lake at Peatling Parva Fishery.
Mark Akiens won the day with 40lb 10oz from peg 3. He was just in front of Gavin Norton, who took the runner-up spot from peg 28 with 37lb 2oz. Third place going to Malc Spring with 30lb 6oz from peg 5.
The weights were not quite as good as most would have hoped for but the blustery conditions certainly did not help.
Keith Macfarlane took Section 1 with 28lb 4oz from peg 11 with Pete Heane netting 22lb 6oz from peg 19 to win Section 2.
Broome Away Day
The regular match anglers had an away day at Peatling Parva Pools last Sunday. Fishing on Lake C, there were fourteen starters, which according to the Peatling regulars was just about the right number.
After a quite start for most the fish started to come, with Barbel and Carp the target species. Den Porter caught all through the day, starting on the tip, close to the island, to put a few quick fish in the net. It was a switch to the Pole that proved decisive though as his maggot feed kept the fish coming. Dens 104lb 8oz from peg 20 just enough for top spot.
Paul "Cookie" Cooke was very close in the runner-up spot with 100lb from peg 12. Although listening to his constant moaning everyone thought he must have about 2lb!!
. Cookies thanks go to Malc Spring who gave him "on lake" Coaching throughout the match
.
Third place went to Paul Edwards on peg 4 with 72lb it was very close for the third spot with Vinnie Logie, peg 8; and Malc Spring on peg 13 both were section winners with 69lb apiece

.
Sam's Carp
Sam Sharp caught this fantastic Carp recently, whilst on a session at Frisby Complex.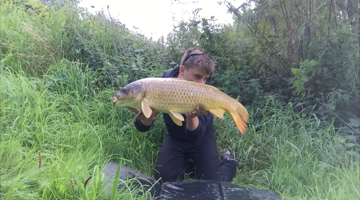 I had a 14lb Ghosty from BJ's a couple of weeks ago, lovely fish and an amazing fight.
Fur & Feather 2017
The annual Fur & Feather Match takes place on Sunday 1st October. Anyone wanting to fish this Match MUST book with Keith Macfarlane in advance. The Tickets are £5.00 for full members and £3.00 for Concessions and must be paid to Keith in advance. All participants will receive a prize

.
Keith's number is in your membership book.
Charnwood Teach-In Days
Sorry for this report being a little "after the event" but this is due to circumstances beyond our control.
The event was fished over two Fridays, the 28th of July and the 4th of August, both on Colver Lake. The youngsters enjoyed themselves and everyone caught some fish. It did cause some confusion on the second day of the event as Charnwood sent nineteen participants where as there were only ten sent for the first day!
Ted Whiter and Kevin Hirons, the Juniors Secretaries, both had very busy days but coped well with the extra numbers. They have asked me to thanks all those members who turned up to offer a helping hand. It would be virtually impossible to run the event without this extra help

.
Kevin, Ted and the rest of the committee also want to offer a big thank you to Mr Paul Cooper, of Coopers Tackle, Netherhall. Paul very kindly supplied all of the bait for both days completely free of charge. Thank you Paul! The club and the youngsters very much appreciate it

.
Seat Box Leg Found
Club member Jess Richardson has found a seat box leg close to peg 4 on Jasons Lake. If you have lost this item send me an email.
webmaster@broomeanglingsociety.co.uk
And I will put you in touch with Jess.