News 2019

Work Party No3 (Kilworth)
The third work party will be back at Kilworth sticks Complex on Sunday 19th May. Please come along and give a helping hand. Sadly the attendances have been pretty poor so far so any more help would be greatly appreciated!!

. As we always say many hands make light work!!
The Work will begin at around 8.00am and there will be refreshments provided for all. Even if you can only help in handing tools to other workers or light work, that's perfectly ok every little helps.
Please remember that the Kilworth Complex will be closed to all other members for fishing until 1.00pm and anyone who is already fishing will be asked to vacate until 1.00pm.
There will be NO exceptions to this rule.
All other of our still water venue's will be open as usual.
There will be a fishing match on one of the Kilworth lakes for all those who have attended the Work Party, if they are interested, once the work is complete.
---
Work Party at Frisby (Jurrasic & Smiggies)
Thank you to all those that attended the Work party at Kilworth Sticks last Sunday (12/4/19). The numbers were pretty low but those that turned up worked really hard and a lot of swim clearing and tree cutting/pruning was accomplished with most of the work being concentrated on Jurrasic and Smiggies Lakes.
We have John Caunt to thank for the following images of some of the work being carried out on Jurrasic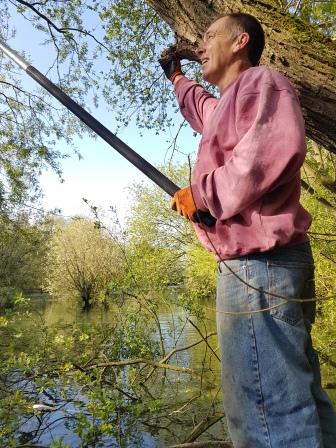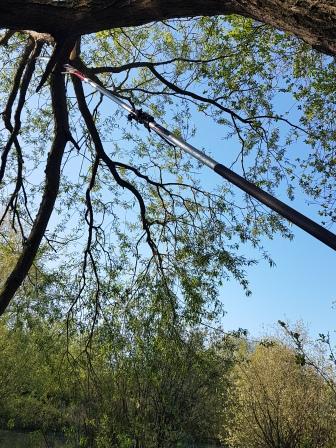 Jason in his favoured position of late...halfway up a tree!!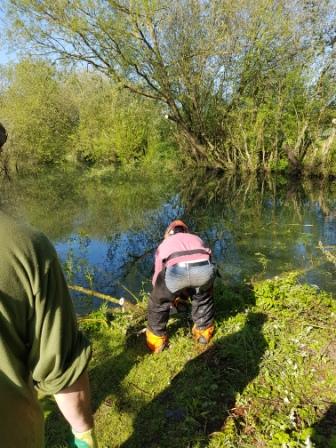 Another errant tree getting the treatment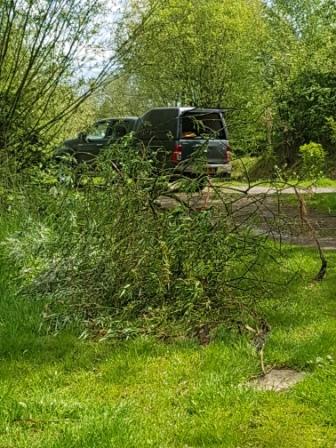 The amphibious section in full swing! And the next pile is started.
There were only six who wanted to fish the "knock up" so the lads voted to move it to Jason's instead of Colver. It was surprisingly hard considering the fine warm weather and only having three angler's on each half of the lake. Only the "in form" Paul Edwards managed to catch throughout the afternoon. Fishing at around sixteen meters on the long Pole, Paul targeted surface cruising Carp with pellet fished about a foot deep to land around eight Carp and a few silvers for a winning weight of 52lb 1oz from peg 19. Steve Beckhurst took the runner up spot netting two good Carp in the first hour or so, also fishing shallow, on banded pellet. Steve added about 10lb or so of skimmers to put 22lb on the scales from peg 9.