News 2020

Winter Away day at Holly Farm 9/2/20
On yet another day of high winds and driving rain eight members fished a match on Trotters lake, Holly Farm. It was decided to fish a "Rover" where each angler picks the peg they want to fish. The first pick going to the angler who draws the lowest number, and so on.
Picking out peg 9 Paul Edwards won what was a very close match with 61lb 4oz. second place went to someone else who wanted to sit facing the gales, in Keith Macfarlane, Keith picked next peg, 7, and was just short of Paul with 58lb 2oz.
Section 1 went to Den Porter with 53lb 13oz from peg 16. Steve Beckhurst taking Section 2 from peg 29 with 52lb 10oz.
---
Cost Cutter Match 20/2/20
This week's cost cutter match was due to be held on Smiggies lake, but on arrival at Frisby we found we could get nowhere near the lake due to the flooding. Even the path around the lake was under a foot of water. All the other lakes except Colver were the same!
As there was also a gale blowing we opted to fish a chocolate brown Sanctuary lake, albeit sitting at the side of the track as again all the swims were under two feet of water. Even the track was flooded.
Surprisingly some good fish were landed, with yours truly coming out on top with 30lb 1oz. Chris Shore was runner up with 15lb 8oz thanks to fish coming on the feed in his swim in the last couple of hours.
Next week's match will be on Jasons, weather permitting.
Alan
---
Cost Cutter Match 13/2/20
This week's cost cutter match was held on a wet and windy Colver Lake (no change there then). Mick Farmery again came out on top having managed to locate 8 or 9 skimmer bream for 7lb 15oz.
It was noted though that several of the chub introduced earlier in the week did make a showing in other nets.
Next week's match will be held on Smiggies lake so let's hope the weather is kinder to us.
Alan
---
Winter Away day at Peatling Pools 9/2/20
With the high winds and torrential rain battering the country in the form of storm Ciara, yes....you've guessed it seven members fished an away day match on Harrow lake at Peatling Pools.
It fished quite well actually and there was only 11lb or so between the top five. It was new member Luke Perkins who came out on top though with 76lb 9oz from peg 24. Simon Blackwell was only 5lb behind in the runner-up spot netting 71b 6oz on the next peg, 22.
---
The Catwalk Calls
We have Chris Shore to thank for capturing this rare photo of our esteemed Water Officer.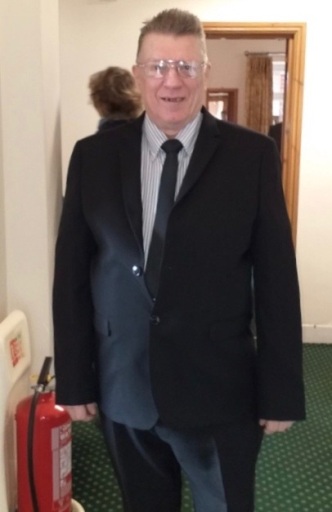 After having a make over by his beautician daughter, Terry recently unveiled his new look. It has been rumoured that several London Model agencies are vieing to employ the debonair chap to show off there new summer collections. Sadly the illusion is somewhat shattered when he opens his gob!!!!
.
Sorry Terry ...
we all luv you mate XXX
---
Cost Cutter Match 6/2/20
This week's cost cutter match was held on a dour Smiggies Lake. As usual the weather was again against us with the whole landscape white over and thermometer registering -3 when we arrived. Needless to say the fishing was terrible with Mick Farmery and yours truly accepting a draw as we each had 2 small fish which would only have weighed a couple of ounces all together.
Next week's match will be on Colver in an effort to bring a few fish to the scales for a change!!
Alan
---
Cost Cutter Match 30/1/20
This week's cost cutter match was held on Jasons Lake on what was a much better day weather wise.
Having said that weights were still disappointing, although better than of late. Mick Farmery came out on top for the second week running with a weight of 6lb 13 oz made up of a good size ide plus several skimmers and roach.
Next week's match will be on Smiggies.
Alan
---
Winter Away day at Peatling Pools 26/1/20
There were nine starters at Peatling Pools, Harrow Lake, for Sundays Away Day Match.
Julian Stretton was top on the day with a weight of 74lb 13oz from peg 5. Second place going to Paul Edwards on peg 22 with 59lb 2oz.
Gav Norton took Section 1, netting 53lb 12oz from peg 9. Luke Perkins winning the Section 2 prize with 58lb from peg 16. In what turned out to be a very close contest.
---
Cost Cutter Match 23/1/20
The latest cost cutter match was held today, 23rd January, after a break for Christmas, and time away to get over my cataract op.
The match was held on Sanctuary lake in what were improved weather conditions for a change. However results were still poor as the lake had still not recovered from being frozen earlier in the week.
Mick Farmery came out on top with a catch of small roach and skimmers totalling 1lb 14oz.
Next weeks match will be held on Jasons.
Alan