Results
MATRIX Pairs Match 24/7/2019
Holly Farm Gills Lake
Individual
| | | | |
| --- | --- | --- | --- |
| Place | Name | Peg | Weight |
| 1st | Chris Crane | 39 | 115lb 9oz |
| 2nd | Vinnie Logie | 29 | 101lb 6oz |
| 3rd | Paul Edwards | 9 | 96lb 3oz |
Pairs
| | | | |
| --- | --- | --- | --- |
| Place | Name | Pegs | Points |
| 1st | Simon Blackwell & Paul Edwards | 34 & 9 | 4pts |
| 2nd | Chris Crane & Mick Nash | 39 & 18 | 6pts |
| 3rd | Den Porter & Phil Sansby | 43 & 21 | 6pts |
| 4th | Vinnie Logie & Wayne Strachen | 29 & 1 | 8pts |
Thanks to Paul Edwards for sponsoring the Matrix Pairs Match. Also thanks go to Paul Cooke for the donation of his lake for the days fishing.
Well done to all fourteen who took part in such horrendous conditions. At least all were rewarded by a great days fishing.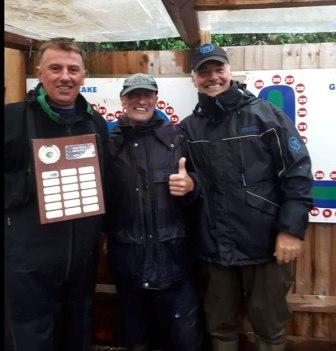 This years winners Simon Blackwell and Paul Edwards pictured with Paul Cooke.