Big Fish 2019-2020 season
In each season between 1st March and 28th February, at the discretion of the Committee, a trophy will be awarded for the heaviest fish of each species caught by a member on rod and line in Society waters. Each entry must be weighed and witnessed by two other persons and details sent to the Webmaster or Secretary. Please return such fish alive to the water.
The Big Fish competition is now up and running for the 2019-20 season so it's all clear again for entries from 1st March 2019. To see what won last year click here
We have the first entry for the new season Big Fish league and it comes from John Caunt with a Carp from Jurassic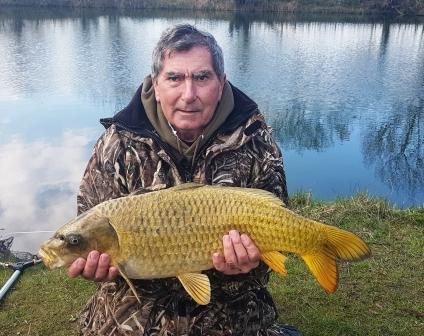 It put up a good fight on 15mm and 12mm double boilie. Just got a pike in the net when carp rod roared off.
---
Keith Macfarlane has started the, usually popular, Perch catagory off with a 2lb 1oz specimen caught whilst fishing a match on Currans Loop at Kilworth after a Work Party.
---
Lee Norris has taken over the lead in the Carp category with a 18lb specimen caught from Jurrasic.
---
We have a new entry in the Chub Section with Mark Akiens netting a fine 2lb 15oz specimen whilst fishing a Sunday League Match on Currans Loop at the Kilworth Complex.
This seasons list
| | | | |
| --- | --- | --- | --- |
| Fish | Weight | Name | Venue |
| Carp | 18lb | Lee Norris | Jurassic Lake |
| Bream | - | - | - |
| Tench | - | - | - |
| Chub | 2lb 15oz | Mark Akiens | Currans Loop |
| Perch | 2lb 1oz | Keith Macfarlane | Currans Loop |
| Pike | - | - | - |
| Roach | - | - | - |
| Barbel | - | - | - |
| Crucian Carp | - | - | - |