News 2017 Archive

New Locks
There has been a new lock fitted today (4/12/17) at Kilworth Sticks. Unfortunately the locks we are using at present are no longer made so a new type has been fitted at Kilworth.
The combination numbers must be lined up along the CENTRAL line and THEN depress the button on the base of the lock to open and enter. Close the gate then snap the lock shut and rotate the number tumblers.
MAKE SURE THAT THE NUMBERS ARE COMPLETELY ON THE CENTRAL LINE OR THE LOCK WILL NOT OPEN.
Thanks Terry Branston (Water Officer)
Away Day at Peatling Pools
There was another good turnout as we had twenty members for the Away Day match arranged for Peatling Pools Boat Lake (A), last Sunday (26/11/17).
Vinnie Logie pulled out fancied peg 26 and made no mistake, well actually two mistakes both ending up with his rig stuck in a tree after hook pulls!!
. Catching at regular intervals throughout the day Vinnie netted some decent Carp, mostly on the Long Pole, using pellet and corn on the hook. At the "all out" he put 52lb 1oz on the scales to take first place.
Probably a couple of fish behind Keith Macfarlane, on peg 35, took the runner-up spot with 44lb 2oz. Switching between Long Pole and method feeder Keith caught Carp and F1's to keep him ahead in what was a pretty close competition with Den Porter who used the same methods on peg 28 to net a similar catch. Falling just 3lb or so behind Den had enough for third place.
Paul Cooke took section 1 with 28lb 2oz from peg 4. Section 2 going to Paul Edwards with 36lb 6oz from peg 16. Mark Akiens needed 38lb 4oz to win Section 3 and Steve Kinch made his comeback taking Section 4, catching 40lb 3oz from peg 37.
Colver Pegs Required for Chairman's League
Because of the numbers booked in to fish the Chairman's League on December 3rd 2017, Pegs 21 to 46 of Colver lake will be required as well as the whole of Jasons Lake.
Pegs 1-18 of Colver Lake will still be open to all other members as normal. We are sorry for any inconvenience that this may cause.
Away Day at Holly Farm
The away day match that Keith organised was at Holly Farm, Ashby Magna, on Trotters Lake (12/11/17). It was quite a popular choice as there were nineteen starters. It was probably not quite so popular for most, though, by the end of the match
.
It seemed as if all of the fish had moved to the back of the lake and the other half was pretty barren with most struggling for a bite.
Steve Beckhurst was drawn in the middle of the back half on peg 30 and four carp in the first hour, close to the island on the bomb, showed that there were obviously a few fish feeding in the area. It was a change to Pole that really made a difference though. Feeding a few pellets every five minutes or so Steve eventually finished with twenty four carp, for 79lb 8oz and the win.
With Phil Sansby having to make an early withdrawal from the competition with a bad back, Den Porter was the next peg to Steve on 35. Den also employed ledger and Pole methods, and to underline the fact that there were a few to be had in the area, Den took the runner up spot with 33lb 12oz.
Third place went to Gavin Norton on peg 39. Gav had to fish out at 13meters on the Pole to keep them interested and was just one fish behind Den at the all out with 30lb 14oz. Just eight ounce behind was Simon Blackwell on peg 28. Simon had two decent Carp in the net before most had even started!! But it seems that his fish drifted away somewhat Simon picking odd fish for the rest of the day to take fourth spot with 30lb 6oz.
Section 1 went to Geoff Harper with 22lb 7oz from peg 7. Steve Roberts took Section 2 with 12lb 2oz from peg 24. Malc Spring won Section 3 by quadruple default
, with 7lb 11oz from peg 37.
Away Day at Peatling
Fourteen of the match regulars arranged an away day match on Harrow Lake at Peatling Parva Fishery.
Mark Akiens won the day with 40lb 10oz from peg 3. He was just in front of Gavin Norton, who took the runner-up spot from peg 28 with 37lb 2oz. Third place going to Malc Spring with 30lb 6oz from peg 5.
The weights were not quite as good as most would have hoped for but the blustery conditions certainly did not help.
Keith Macfarlane took Section 1 with 28lb 4oz from peg 11 with Pete Heane netting 22lb 6oz from peg 19 to win Section 2.
Broome Away Day
The regular match anglers had an away day at Peatling Parva Pools last Sunday. Fishing on Lake C, there were fourteen starters, which according to the Peatling regulars was just about the right number.
After a quite start for most the fish started to come, with Barbel and Carp the target species. Den Porter caught all through the day, starting on the tip, close to the island, to put a few quick fish in the net. It was a switch to the Pole that proved decisive though as his maggot feed kept the fish coming. Dens 104lb 8oz from peg 20 just enough for top spot.
Paul "Cookie" Cooke was very close in the runner-up spot with 100lb from peg 12. Although listening to his constant moaning everyone thought he must have about 2lb!!
. Cookies thanks go to Malc Spring who gave him "on lake" Coaching throughout the match
.
Third place went to Paul Edwards on peg 4 with 72lb it was very close for the third spot with Vinnie Logie, peg 8; and Malc Spring on peg 13 both were section winners with 69lb apiece

.
Sam's Carp
Sam Sharp caught this fantastic Carp recently, whilst on a session at Frisby Complex.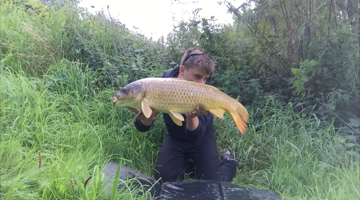 I had a 14lb Ghosty from BJ's a couple of weeks ago, lovely fish and an amazing fight.
Fur & Feather 2017
The annual Fur & Feather Match takes place on Sunday 1st October. Anyone wanting to fish this Match MUST book with Keith Macfarlane in advance. The Tickets are £5.00 for full members and £3.00 for Concessions and must be paid to Keith in advance. All participants will receive a prize

.
Keith's number is in your membership book.
Charnwood Teach-In Days
Sorry for this report being a little "after the event" but this is due to circumstances beyond our control.
The event was fished over two Fridays, the 28th of July and the 4th of August, both on Colver Lake. The youngsters enjoyed themselves and everyone caught some fish. It did cause some confusion on the second day of the event as Charnwood sent nineteen participants where as there were only ten sent for the first day!
Ted Whiter and Kevin Hirons, the Juniors Secretaries, both had very busy days but coped well with the extra numbers. They have asked me to thanks all those members who turned up to offer a helping hand. It would be virtually impossible to run the event without this extra help

.
Kevin, Ted and the rest of the committee also want to offer a big thank you to Mr Paul Cooper, of Coopers Tackle, Netherhall. Paul very kindly supplied all of the bait for both days completely free of charge. Thank you Paul! The club and the youngsters very much appreciate it

.
Seat Box Leg Found
Club member Jess Richardson has found a seat box leg close to peg 4 on Jasons Lake. If you have lost this item send me an email.
webmaster@broomeanglingsociety.co.uk
And I will put you in touch with Jess.
Lizzies Ghostie
Member Simon Beal has shared a photo of a stunning Ghost Carp that he caught on Lizzies lake at Kilworth Sticks recently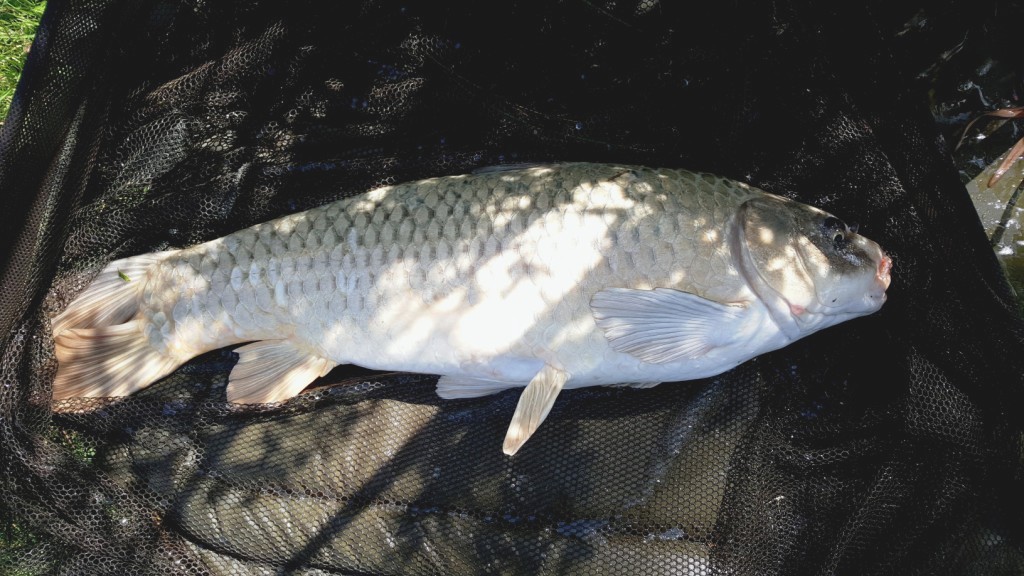 It weighed in at 15lb 7oz and Simon says it fought like a fish twice it's size!! It was taken on a particle bait over a bed of sweetcorn.
Sad Loss
Sadly we have to report the loss of one of our Members Barry Lineker who passed away on Sunday afternoon. Condolences to all of his family and friends at this sad time.
R.I.P Barry from the committee and all of our members.
Lost Landing Net
Member Jim Tolton has lost his landing net head somewhere near to BJ's lake last Saturday night (19/8/17). It a spring type specimen net. Jim left it on the bank accidentally whist packing up in the dark. If you do find it please contact the website or any of the committee (Phone numbers in your membership book) and we will see that he gets his net back.
Police Warning Update
We have been told of another incident with Pole sections encroaching onto the road behind Frisby Complex. It has been reported that this happened with someone fishing on peg 15 or 16 on Jasons lake.
Apparently a pole was pushed through the hedge, onto the road and was smashed by a van travelling by. Needless to say the van driver was not very happy.
It is imperative that you DO NOT let your Pole, or any other equipment for that matter, Pass the hedge. It must stop BEFORE it reaches the border of our property.
If you are not sure CHECK before you start fishing.
Partners Match Venue Change
Due to popular demand the Husband & Wife/Partners Match scheduled for 19th August has been switched from Sanctuary lake to Jasons lake. So please be aware that Jasons will be closed to all other members from 11am until 6pm on Saturday 19th August.
Police Warning!
We have had a warning from the Police that a cyclist had to swerve to avoid a Pole that had been pushed through the hedge at Frisby. This happened last week and could only have been by caused by someone fishing on pegs 21, 22 or possibly 23 on Colver.
It hasn't been alleged that this was done deliberately, but the police have told us that we, and any individual concerned, would be libel for any accident caused by anything (i.e. a Pole section) protruding our boundary fence.
So please be aware that when Pole fishing on these pegs you will have to break down the Pole before the edge of our boundary is reached.
Pole Roller Claimed
The Pole Roller that was found behind Peg 17 on Colver has been claimed and is now with its rightful owner

.
Fishing License Found
A Fishing Rod License has been found at Frisby with the surname "Skinner" on it if you have lost your license and you are named Skinner contact Keith Macfarlane or me
webmaster@broomeanglingsociety.co.uk
and we will endeavour to get you your license back. Keith's number is in your membership book.
Age Concern
Please remember that Colver will be closed all day on Thursday 29th June for the annual Age Concern Match.
Lost Bivvy!!
I don't quite know how he managed it but member Steven Moore lost a brand new bivvy whilst fishing on Colver, peg 3, on Sunday 18th June. If you have found it please email me webmaster@broomeanglingsociety.co.uk and I will inform Steven and, hopefully, we can re-unite him with his bivvy.
Good News, Steven has told me that he has been re-united with his bivvy

.
Final Frisby Work Party 2017
The final Work Party of this season has now been completed With the Island on Colver completed. The reeds on peg 4,5 and 6 in Jasons cut right back. Most of the roots have been removed so that we can keep the growth under some sort of control.
We apologize for any inconvenience caused but the work done is essential in the upkeep of your fishery.
There has been a low turnout for all of the sessions this year which is disappointing, but those who have given a helping hand have worked very hard indeed!! A heartfelt thank you goes out to each and every one of you from all our members

.
There was a work party "Knock-up" on Colver for those helpers interested and it was quite a close affair with Paul Cooke coming out on top with 56lb 12oz from peg 17. Jason Farmery on next peg, 14, was just 5lb or so behind with 51lb 10oz. Section 1 went to Steve Beckhurst on peg 34, Steve weighing in with 50lb 10oz. Den Porter completing the prize winners with 46lb 8oz from peg 7 to take Section 2.
Final Work Party 2017
It will be the final work party of the season this coming Sunday (11/6/17). There has been a lot of work done at Frisby so there isn't a great deal left to do. But please come along and help out.
As usual Frisby Complex will be closed until 1pm for anyone who has not helped with the work. But Kilworth will be open as normal.
There will be a match on Colver for anyone interested who has helped out on the day.
Last weeks match was on Colver and was won by Keith Macfarlane with a good weight of 85lb 13oz from peg 31. Phil Sansby must have a golden drawing arm at the moment as he drew Keith's peg for him as well as his own...Phil taking the runner-up position with 73lb from peg 28!!
. Third place went to Mark Akiens with another good weight 56lb from peg 7.
Section 1 went to Steve Beckhurst who netted 35lb 14oz from peg 12 and Den Porter weighing in with 50lb 2oz from peg 43 to take Section 2.
Membership Books For New Season
Membership books for the 2017/18 season were posted on Tuesday 30th May to both current members and new members whose applications were received through the post by Saturday 27th May.
I'll try and deal with all further applications within a couple of days of receiving them.
If you don't receive your book, please wait a couple of days before contacting me in case it's just a delay with the post.
Current members who have not received their new books can fish on their 2016/17 book till the locks change on 8th June 2017.
Enjoy your fishing
Malcolm Shooter (Membership Secretary)
Frisby Work Party 2017
With the work at Kilworth Sticks now complete all of the remaining Work Party's will be at Frisby Complex.
There was a good turn out for last Sunday (28/5/17). With the concentration on Jasons, Colver and Sanctuary. Half of the Island on Colver was cleared and trees were pruned up on Jasons. There is still quite a lot of work to be done but the complex is already looking in a lot better shape. Once again a big thank you goes out to all those you turned up to lend a hand.
This week saw eleven fishing the knock-up on Jasons Lake after the work had been completed for the day. Mick Farmery took first place with 39lb 12oz from....yes you guessed it....peg 4
. It was also a familiar story for the runner-up place with Malc Spring netting 27lb 3oz from Peg 6.
Section 1 was won by Mark Akiens from peg 9 with 24lb. Paul Edwards winning Section 2 with 22lb 10oz from peg 14
Hope to see you there!!

Kilworth/Frisby Work Party's 2017
Last Sunday (21/5/17) The Work Party went back to Kilworth to finish off some of the jobs from the previous session. Again, all those who attended are given out thanks for giving up a few hours of your Sunday morning to help out. It is very much appreciated

.
There was, of course, the after work match for those interested and Currans loop was the chosen venue. Looking at the top three results it seems to have fished quite well for the eight starters. Phil Dayman coming out on top with a good weight of 45lb from peg 24. Second place went to Paul Cooke who drew peg 15 and put 29lb 4oz on the scales, just beating Mark Akiens by 4oz.... Mark coming in third with 29lb from end peg 30.
Frisby/Kilworth Work Party's 2017
There was a much better attendance at last weeks Frisby work party. With the main focus on BJ's, Jurassic and Smiggies lakes. Again, overgrown swims were cleared, overhanging tree branches were cut back some weedy swims cleared. The pot holes on the main drive were filled in and the entrance was cleared. There is still quite a bit that needs doing but those who attended did a great job; many thanks to all of you

.
The after work match was held on Colver Lake, and with just six taking part it was decided to use the North end pegs, as that was where the wind was blowing too.
It was a good decision for Mark Akiens who finished the shortened match with 95lb from peg 1. Mark caught all of his, match winning, fish using Long Pole. Mick Farmery took the runner-up prize with another good weight, 71lb 8oz, from peg 40. With Jason Farmery coming in third with 32lb 12oz. Jason included 16lb of Skimmers in his catch, all caught about 3meters from the near bank on peg 4.
Kilworth/Frisby Work Party's 2017
Last weeks work party at Kilworth was, sadly, pretty poorly attended with only about twenty or so of our membership turning out. However those who did turn up did a great deal of work at the venue. Tree branches were pruned, swims cleared, brambles on the islands cut back etc. Many thanks to all those who attended.
The after work match was held on Lizzies Lake with six taking part. Because of the low numbers the pegs wert pretty well spread. After quite a slow start for most it was Paul Cooke who was first into action with the odd Carp coming to his legered bait up against the island. It was in the final hour, though, that Cookie pulled away from the field finishing with ten Carp for a winning weight of 52lb 10oz. Paul Edwards would probably have beaten Cookies weight but five lost fish, in the end, cost him. He did well though, in peg 1, amongst the tree roots, to get five out to take second place with 34lb. Third place weight went to Jason Farmery, who drew on the point peg. Jason also lost a few foul hooked Carp but the four that he landed weighed in at 30lb.
There has been a lot of work carried out at Frisby apart from the Work Party's.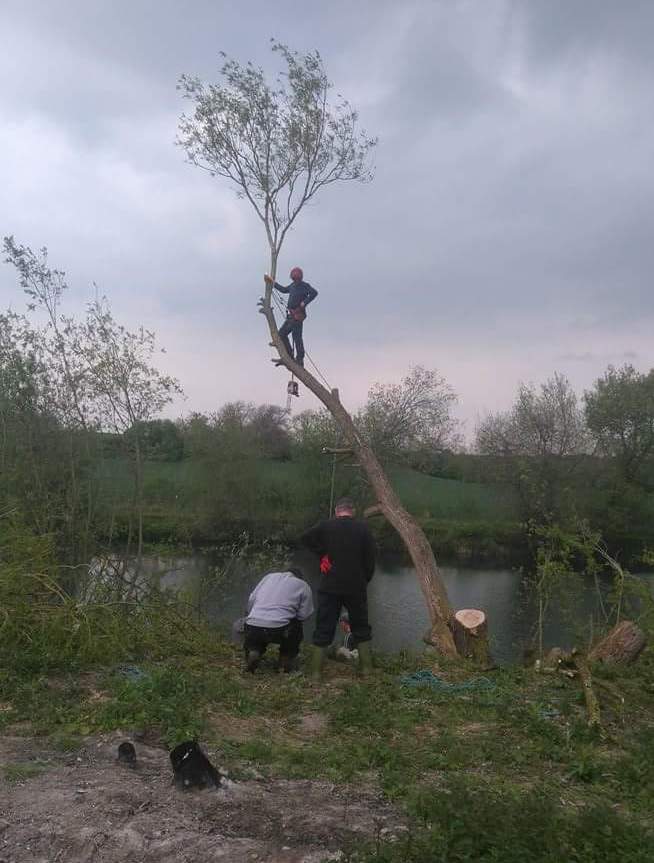 We have Jim Tolton to thank for sending us this picture of some of the guys removing some of the overhanging trees on Jurassic and B.J.s.
AGM Sweepstake
As is now traditional there was a sweepstake match arranged after this years AGM. There were eleven members who took part in the match on Colver and leaving the AGM with a barrow load of trophies must have inspired Paul Cooke as he won the event with 89lb from peg 25. It seems as if Colver is getting back to some good form as weights seem to be improving each week. Paul Edwards came in second with 45lb 8oz from peg 39. Section 1 went to Keith Macfarlane with 41lb 14oz and Jason Farmery took Section 2 from peg 35 with 43lb 6oz.
Sweepstake on Jasons
Thirteen members had a sweepstake match on Jasons Lake last Sunday (23/4/17). After all the weather forecasts predicting arctic conditions it was nice to see they were wrong as usual. With a warm sun and a cool breeze it was a fine spring morning.
Sadly, though, the fish didn't want to play and it was only pegs 4 and 6 that any regular action. Jason Farmery was on peg 6 and a good start put him well ahead in the early stages. Fishing up to the reeds Jay eventually finished up with 43lb 8oz to take first prize.
Mark Akiens did his best to catch up, on peg 4, but a few lost fish cost him in the end. But he did well to wrestle some of his Carp from the reeds to end the match in second place with 36lb 8oz.
Phil Sansby, on peg 1, started well enough with a few silver fish on the Pole. It was two big Carp both approaching double figures that pushed his weight up to 23lb 4oz and gave him third place.
Section 1 went to Keith Macfarlane with 5lb 8oz from peg 2, with Paul Cooke taking Section 2 netting 16lb 4oz from peg 12.
AGM and Renewal Information
There are a couple of points to bring to the attention of members.
The Committee needs to inform members that due to an error by our printer, they have only supplied 500 of the ordered 1000 Membership Renewal Forms. That's why some of you may not yet have received the Newsletter and Renewal Form through the post. If you have access to a printer a Renewal Form can be printed from the

Join

page. Forms will also be available to members at the AGM next Sunday (30/4/17).

As stated above the AGM will be held next Sunday (30/4/17) at Birstall Social Club 9.45am prompt. PLEASE NOTE due to circumstances beyond our control the Broome AGM will be held in the first floor Function Room NOT in the Concert room.
Colver Sweepstake
Seventeen members fished a sweepstake match on Colver last Sunday (9/4/17). With a welcome return of sun the lake showed good signs of a return to form and most anglers catching a few fish.
With the top weight of 83lb 2oz Mark Akiens took first prize. After a couple of hours with not much sign of a bite, the Carp started to feed on Marks pellet offerings. it was pretty steady for the rest of the match and good weight from peg 1 which has been a bit iffy of late.
Steve Beckhurst netted four Carp in the first hour on bread from peg 38. After the early action the bites petered out, and a switch to Pellet presented on the pole to the far bank turned things around. Steve caught steadily with this method for the rest of the day to finish in the runner-up position with 62lb 6oz.
Next but one, on peg 43, Jason Farmery took the third place prize. Jason also fished pellet, and also found the far bank to be the best area. Jay netting 48lb 8oz, again, using Long Pole method.
Section 1 went to Paul Cooke with 38lb 6oz from peg 7. Vinnie Logie taking section 2 with 40lb from peg 21, and Mick Farmery netted 29lb 12oz from peg 41 to win Section 3.
Sanctuary Sweepstake
There was a pretty low turn out for a sweepstake match organised to be fished on Sanctuary last Sunday (24/3/17) with just five members taking part. Those who did attend caught a few fish between them though. Simon Blackwell taking the honours on the day with 20lb from peg 11. Not too far behind was Jason Farmery who fished peg 6 netting 19lb 8oz. Coming in third was dad, Mick, who weighed in with 9lb from peg 4.
River Soar at Rothley
Unbeknown to the committee, the landowner at Rothley has sadly passed away. The two fields containing the River Soar frontage have been sold to one of the Boat owners. The new landowner intends to increase the mooring along most of the length of the River that we fish. Consequently he does not want any fishing along there, so our fishing rights are terminated forthwith.
On the subject of Rivers please be aware that the River fishing season closed on March 15th. As we now only have River fishing rights at Flash Farm, this is now closed for angling until the new season opens on June 16th.
Colver Sweepstake
Fourteen members fished a sweepstake match on Colver last Sunday (12/3/17). With the weather much better this week expectations were high!! Sadly, though the fish thought otherwise and the weights were not quite as good as expected.
Malc Spring won the day with 28lb 5oz from peg 41, with Jason Farmery and Phil Sansby in hot pursuit. Jason just getting second place with 26lb 12oz from peg 12. Phil less than a pound behind from next peg 14 with 24lb 9oz.
Simon Blackwell took Section 1 with 16lb 2oz from peg 39, with Section 2 won by Paul Edwards from peg 23 with 23lb 3oz.
Sanctuary Sweepstake
On a pretty awful day weather-wise eight members fished a sweepstake match on Sanctuary lake. Sadly the fishing turned out to be just a disappointing as the weather.
Club Chairman, Alan Smith, had one of his rare match day visits but he finished top rod on the day. Just 1lb 8oz was enough for Alan to collect the first prize from peg 4 ...and he was the only angler to break a pound!!
Mick Farmery took the runner up spot with 8oz from peg 8 with Keith Macfarlane coming in third from peg 6 with 5oz.
Those who decided to stay in bed for a Sunday morning lay in were to be commended for their fine judgement!!
Predator fishing on AMAL waters
As you will know being a Broome Member also entitles you to fish on the AMAL waters listed in the AMAL membership book that is provided alongside your Broome membership book.
It has been reported that some Anglers fishing on the AMAL stretches of the River Soar have been told that predator fishing was to be banned by the AMAL.
This is absolutely NOT the case
So, if Predator fishing is your game then please carry on

Many thanks to Ian Watson for getting confirmation of the above, and also to John Caunt for raising the original enquiry.
Colver Sweepstake
Eleven members fished a sweepstake match on Colver lake last Sunday (29/1/17). After all of the freezing weather the prospects were not too high, but most thought it would be a little better than what it was!!
Mick Farmery took the honours with just 3lb 2oz from peg 23. Second place went to Mick Nash, who weighed in with 2lb 5oz from peg 41. Den Porter took Section 1 with 1lb 14oz from peg 2, with Rob Smith taking Section 2 with 15oz.
Meadow Lane
The sale of Meadow Lane Fishery, Syston has now been completed and the water is no longer owned by Broome A.S. Therefore the water can no longer be fished on a Broome Membership Book.
Jasons Sweepstake Match
With a break in between Winter League Matches ten members fished a sweepstake match on Jason's lake.
On what was a pretty miserable day weather wise, the fishing didn't fair much better!! Keith Macfarlane, on peg 15, came out on top with 8lb 10oz. Not too far behind was Dave Kimber. Dave weighing in with 7lb 8oz from peg 10 to take the runner-up spot.
Section 1 was won by Simon Pepper with just 1lb 10oz from peg 6. Phil Dayman taking Section 2 from peg 21 with 3lb 2oz.