News 2016 Archive

Colver Sweepstake Match
Thirteen members held a sweepstake match on Colver lake last Sunday (11/12/16). It was a good practice, for most, before the final match of the Chairmans League next week.
There wasn't a great deal in it at the end with everyone at the top finishing within a few pounds of each other. Keith Macfarlane came out as top rod with a weight of 28lb 4oz from peg 15. Just a couple of pound behind was Mark Akiens, on peg 22, who put 26lb on the scales to take second place. Third placed Chris Crane was again just a pound and a bit further back with 24lb 6oz from peg 40.
Phil Dayman took Section 1 with 12lb 4oz from peg 5 with Steve Beckhurst weighing in with 19lb 4oz from peg 37 to win Section 2.
Spectacles found at Kilworth
A pair of Spectacles has been found at Kilworth Sticks. They were handed to Head Bailiff, Gino Flaviani, last Monday (5/12/16). If they are yours you can contact any of the committee members and they will put you in touch with Gino.
Colver Sweepstake Match
Fifteen members held a sweepstake match on Colver lake last Sunday (27/11/16). It was very tough for most with bites at a premium.
The only one not to suffer too much was winner Jason Farmery, drawn on peg 7, with peg 4 not drawn it gave Jay plenty of room to play with. His 27lb 4oz net of Carp and Skimmers was easily enough to take the first prize.
Phil Sansby took the runner-up place with a decent weight on the day of 16lb 1oz of, mainly, the newly stocked Carp. Phil on peg 43 caught all of his fish on the Pole in the deeper water. Mick Farmery completed the top three with a 11lb 12oz mixed bag from peg 11.
Keith Macfarlane took Section 1 with 4lb from peg 1 with Chris Crane netting 11lb 2oz to win Section 2 from peg 40.
Gino Nets Good Chub
Head Bailiff, Gino Flaviani, netted this good 2lb 14oz Chub during a session at Kilworth on Wednesday 23rd November 2016. Thanks to Peter Hyatt for providing the photo.
We can reassure members, however, Gino does actually have more than half a head!!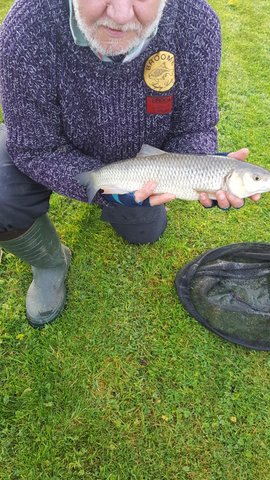 Colver Sweepstake Match
Thirteen members held a sweepstake match on Colver lake last Sunday (13/11/16). It was actually quite a nice late autumn day with clear sky's and plenty of sunshine.
The new stock of Carp made up most of the catches with once again the southern end of the lake being the place to be. Den Porter took top spot with 32 carp for a winning weight of 47lb 8oz from peg 12, all caught fishing with pellet on the Pole.
Runner up was Keith Macfarlane on peg 7. Keith had a similar catch to Den's, decent sized stockies caught on pellet with the Pole. Third place was next peg along from the other two, Dave Kimber, who fished maggot for a mixed bag of Carp and Silver fish for 28lb 8oz from peg 16.
Chris Crane took Section 1 with 19lb 12oz from peg 1 with Section 2 going to Chris Shore on peg 22 with 27lb 8oz.
Brian's Surprise
Colin Woodcock had quite a pleasant surprise whilst fishing on Brian's Pool at Kilworth Sticks a few weeks ago...
Here is a photo of the Common Carp I caught from Brian's Pool at Kilworth Sticks.
It was caught on September 28th, and weighed 16lb exactly. It was caught on the pole using 8lb line. Unfortunately there was no one else on the lake to verify the catch.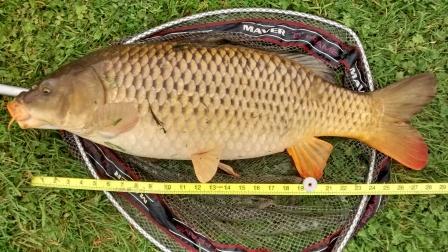 I thought the members might be interested in this, as I'm told they are unsure of what fish are in the lake.
Meadow Lane, Syston
Because of a great deal of rumours and speculation I have been asked to let members know that Meadow Lane Lake at Syston has been put up for sale and, in fact, an offer has been accepted.
The matter will be discussed at the Half Yearly Meeting at Birstall Social Club on Nov 30th 7.45pm. So if you want to know any more please come along to the meeting.
Away day at Parkers Fishery
Fourteen members went to Parkers Fishery, near to Wolvey, last Sunday (30/10/16) for an away day match. It was a venue that most hadn't fished before and on seeing the lake for the first time it looked pretty inviting. There was a promise of plenty of Skimmers and Silver fish with a few Carp to add!! Sadly it didn't turn out quite like that.....does it ever???
.
Maybe because there was quite a big Silvers only match, the previous day, where there were a good number of Silvers caught. But the Silver fish hardly showed at all and it was those who made the early switch to fish for the Carp who came out best.
Lee Nash came out on top with 36lb of mainly Carp, some on the feeder and some on the Pole from peg 2. Second place went to Phil Dayman who netted 9 carp, all on the feeder, with double maggot the successful bait. Phil put 31lb 4oz on the scales. Third was Steve Beckhurst, just behind Phil, who took 29lb 12oz from peg 8. Again Pole and Feeder tactics were employed to equal measure with pellet the bait.
Section 1 went to Phil Sansby with 24lb 6oz from peg 3. Geoff Harper taking Section 2 with 24lb 4oz from peg 7, and Malc Spring, on peg 11, took Section 3 with 17lb 10oz.
Away day at Lakeside
Ten members fished an away day at Lakeside Fishery (16/10/16) close to Wolvey. After a wet start the day became quite sunny and pleasant.
Paul Edwards was top rod on the day, fishing on the tip with groundbait feeder Paul netted a couple of decent Bream, a good Crucian of around 2-3lb and plenty of small Skimmers in the 2-4oz bracket. He ended up putting 19lb 8oz on the scales for a convicting win.
Second spot went to Steve Beckhurst who Pole fished for an all silver fish net of 2-4oz Skimmers mixed in with the odd Roach, amassing 95 fish for his 11lb 12oz weight from peg 2.
Keith Macfarlane came in third with 10lb 12oz from peg 1. Keith alternated between Pole and Feeder and also caught a sizeable Crucian.
Malc Spring took Section 1 with 9lb 8oz from peg 5, with Phil Sansby netting 9lb 12oz to win Section 2 from peg 7.
Pike Match Venue Change
Due the weed and Otter problems at Meadow lane, Syston the first Pike Match of the season (16/10/16) has switched to Jurrasic lake.
Members please note that Jurrasic will be closed to all other anglers on this day, Sunday 16th October, whilst the Pike League Match is taking place.
All other lakes are open as normal.
We apologize to all other members for any inconvenience caused.
Away day at Lakeside
Thirteen members had an away day ay Lakeside Fishery close to Wolvey. Paul Cooke won the day with a good weight of 28lb. After spending an hour before the match complaining about his peg and about five hours during the match complaining about his peg.....
, he put his net full of, Feeder caught, fish on the scales to win by a good 11lb
!!
Vinnie Logie took the runner-up spot with 16lb 14oz all caught on the Pole from peg 4. It was a close peg to peg battle with Dave Kimber, on peg 5, who also caught on the Pole. Dave just falling short but taking third place with 14lb 10oz.
Phil Dayman won Section 1 with 11lb 15oz from peg 7, with Kevin Hirons, on peg 9, taking Section 2 with 10lb 10oz.
Annual Fur and Feather Match
The Annual Fur and Feather match will take place on Sunday 25th September, the match will be held on Colver lake. If you would like to fish in this match you must pre-book with Keith Macfarlane. If you turn up without having booked in you will not be able to fish the match.
There is a fee for this event with tickets at £5.00 each (£3.00 for concessionary).The last Draw for pegs will be at 8.30am with fishing between 9.30am and 3.30pm. All entrants will receive a prize!
Keith's phone number is in your membership book.
Gate locks
This seems to be an ongoing problem at our venues....some members do not seem to be able to get the hang of how to close them correctly!!! The tumblers MUST be rotated to a different combination AFTER closing the lock (the lock will not snap shut unless the opening combination is showing). Five times this week alone the Gate lock at Frisby has been left open with the opening combination still showing.
When you think that you have locked the gate, just check by trying to pull it open before you leave.
Sadly in these times security is very important and if the gates are not securely locked you are putting your own and other peoples property at risk.
"Knock-up" On Colver
The latest (26/8/16) Wednesday evening "Knock up" on Colver was won by Keith Macfarlane with 38lb 8oz from peg 27. Mick Farmery, drawn on peg 14, came in second with 29lb 6oz. Third place went to Chris Crane with 28lb 12oz, from peg 23.
"Knock-up" On Colver
The latest Wednesday evening "Knock up" on Colver was won by Chris Crane with 47lb 8oz from peg 3. Mick Farmery, drawn on peg 43, came in second with 32lb. Third placed of the twelve taking part was Barry Crane with 23lb.
Keys found at Frisby
A pair of keys have been handed in after they were found at Frisby Complex today (12/8/16). They look a bit like car keys, one has a purplish and the other black. If you think that they might be yours contact Terry Branston. Terry's number can be found in your membership book.
These Keys have now been re-united with their owner....Thank you
"Knock-up" On Colver
With the evenings still quite light seven of the usual "Evening League anglers" held a knock-up match on Colver Lake last Wednesday.
Chris Crane came out on top, fishing on peg 16 Chris netted 64lb 8oz for first place. Opposite on peg 25 Keith Macfarlane took the runner-up spot with another good catch, 47lb 6oz. Just 4oz behind was Tony Smith who also had a good evening netting 47lb 2oz for third place.
De-Weeding Lake Closures
Due to the weed control at Frisby, Water Officer, Terry Branston has asked me to publish the following message:
Due to De-weeding Operations, it has been necessary to close the following Lakes on particular days, due to insurance restrictions imposed due to the heavy machines used by the Contractors.
Friday August 26th Jurassic and Smiggies.
Tuesday August 30th Jurassic, Sanctuary and Smiggies.
Wednesday August 31st Jurassic, Sanctuary and Smiggies.
We apologise for any inconvenience caused, but it is a necessity to help combat the weed problem.
The Committee.
Guard against KHV
Sadly we have to report that "The Glebe Fishery" has had to temporarily close due to previously unexplained fish deaths on the lakes. It has now been confirmed that these deaths have been caused by K.H.V. (Koi Herpes Virus). This is a very serious virus affecting only Carp and there is no known cure.
It is suspected that the virus entered the Glebe Fishery on an Anglers infected keep net or landing net. As we have members that could well also be members of Mallory Park Fisheries we are asking anyone who has fished at any of the Mallory Park lakes, especially in the last three weeks, to disinfect their Nets and Stink Bags thoughly before using them on any other waters.
It is a good idea to always make sure all of your nets and stink bags are thoughly dried after every fishing trip preferably in sunlight as this kills off and bugs etc before another fishery is visited.
This is a highly contagious disease and it could cause a drastic effect on fisheries if not contained.
We wish Roy Marlow and all at Mallory Park Fisheries all the best with this current problem and we hope it gets sorted soon and that you are all back to fishing on your lakes in the very near future.
Pellets on club waters
Due to a printing error the rule regarding the use of pellets on club waters has not been entered into this years membership book.
Could we please remind all members that the use of high oil pellets, such as Halibut oil pellets and Trout pellets, are not allowed on club waters. Only low oil pellets such as coarse fishing pellets are permitted.
Thank you.
The Committee.
Lost Rod and Reel
Club member Dave Hinton unfortunately had his rod and reel dragged into Sanctuary by, presumably, a big Carp whilst his attention was diverted last Tuesday (14/6/16).
If these items surface and are found please could you let us know on the website or contact any member of the committee (all phone numbers are in your membership books), and we will see that Dave gets his kit returned.
This also serves as a warning to be aware at all times. There are some sizable fish in our lakes and leaving a baited hook in the water whilst doing something else can prove to be very expensive!
Frisby Work Party
Last Sunday (5/6/16) saw the final work party take place. Work was completed on Colver, Jasons and Sanctuary. Thanks again to all those who helped out. The island on Colver was strimmed to cut back some of the overgrowth. The pegs on Sanctuary that were badly sloping have been leveled up and some of the sunken snags were pulled out of Jasons.
There was a sweepstake match on Colver for the participants, with nine taking part. Malc Spring won the day, on what was a real scorcher, with a weight of 72lb 8oz from peg 34. Most of Malc's fish falling to meat bait fished over a bed of sweetcorn in the nearside edge. Opposite, on peg 3, Keith Macfarlane took the runner-up prize with 65lb 4oz. Keith elected to fish his favourite dead maggot method to tempt his quarry. Mark Akiens took Section 1 with 30lb 14oz from peg 5, with Phil Sansby weighing in with 45lb 14oz to take Section 2.
2nd Frisby Work Party
Last weeks work party saw a few more taking part than of late, and many thanks to all of them!

. It did help to a bit more completed, but there is still more to do to finish the task hence the change of venue for this Sundays (5/6/16) work party (as below)
There was the usual work party sweepstake match after the jobs were done Jasons was the chosen lake for the twelve starters. Simon Pepper took top spot with just three fish for 27lb!! from peg 1. Phil Sansby was a bit disappointed with his draw of peg 19 but it turned out well with Phil netting 20lb 8oz of Silvers and Carp to take the runner-up position. Third place went to Phil Dayman, on peg 7, just short of second place with 19lb 4oz.
Section 1 went to Keith Macfarlane with 16lb 12oz from peg 2. Chris Shore, despite breaking his Pole.....again!! took Section 2 with 16lb 8oz from peg 10.
Venue change for Work Party
Next Sunday (5/6/16) the scheduled Work Party for Rothley has been changed so that work at Frisby Complex can, hopefully, be completed. This is due to the lack of numbers turning up to help out.
As this change has been made with short notice members will not be stopped from fishing. However the work will be taking place on Colver, Jasons, Sanctuary and Jurassic lakes. We will try to work around anyone who is fishing but be aware that there is likely to be some unavoidable disturbance.
If you want to avoid any possible disruption to your fishing it may be best to avoid the lakes mentioned above until the work has been completed. Or, of coarse you can come and help out for a couple of hours before you start fishing.
The committee apologises for any inconvenience caused but this work is essential for the upkeep of our waters.
Kilworth Work Party
The work at Kilworth was mostly finishing off jobs from the last work party. The decent weather helped

. Work was completed on Buffalo's and Lizzies and the whole venue looks a picture now. Many thanks to all those who helped out.
There was a sweepstake match held on Lizzies lake with eight taking part. The man in form Malc Spring won his second sweepstake match in a row with 31lb 2oz from peg 14. Alan Smith made what is now a rare appearance in the matches, and it paid off with a runner-up winning catch of 29lb 12oz from peg 25. Paul "Cookie" Cooke finishing just over a pound behind Alan with 28lb 4oz, to take third place.
1st Frisby Work Party
The work party at Frisby complex last Sunday (15/5/16) was concentrated on Smiggies lake and BJ's lake. Sadly the attendance was disappointing compared with the numbers turning up to help last year. It really does make a difference to how much we can get done with a few more helping hands. Thanks, as usual, to all those who did help out. There was a good deal completed, even with the low numbers, so everyone must have worked very hard

.
There was a sweepstake match, held on Colver, after the work was completed. Eight took part and it tuned out to be a good afternoons fishing. Malc Spring came out on top with a fine catch of 76lb 14oz from peg 12. Malc catching well in the margins using pellet. It was a close battle with Keith Macfarlane who was just 3lb, or so, short with 73lb from peg 23. Keith, though, found the far bank to the most productive area feeding and fishing with dead maggot. Third was Jason Farmery on peg 14 with 60lb 8oz, again pellet was the effective bait. With weights of 55lb, 40lb, and three more in the 30's everyone had a few fish.
AGM Sweepstake
Eight members fished a sweepstake match on Colver after this years AGM, last Sunday.
Jason Farmery took the top spot with an excellent catch of 76lb 2oz from peg 3. The runner-up place going to Match Secretary, Keith Macfarlane with another notable weight of 66lb 8oz from peg 34. With his trusty assistant Paul "Cookie" Cooke coming in third from peg 37 with 38lb 8oz.
Colver Sweepstake
Last Sunday (17/4/16) saw eleven members fish a sweepstake match on Colver. With the weather set fair the hopes were high for a few fish.
It turned out to be a battle between two opposite pegs for the win. With Cookie on peg 31 and Den Porter on 14. There were plenty of fish swimming on the top basking in the warm sun, and both opted for a shallow approach targeting the surface fish. It was Cookie who came out on top, mainly due to catching bigger fish. He finished with a good weight on the day of 63lb 5oz. Den who netted over thirty Carp had to settle for the runner up spot with 56lb 12oz
Steve Beckhurst took third spot on the day from peg 3. After a good start netting five carp in the first hour, the fish stated to become a bit more wary. Switching between Long Pole and the margins kept the odd fish coming to the net resulting in a total of 30lb 6oz at the weigh in.
Section 1 went to Dave Kimber with 20lb 12oz from peg 16. Keith Macfarlane taking Section 2 from peg 23 with 27lb 4oz.
Lost Keys
One of our members has lost a set of keys at Frisby Complex about ten or so days ago. He thinks that they were lost around Jasons or Colver area. If you happen to find them please contact me at
webmaster@broomeanglingsociety.co.uk
Or if you contact any member of the Committee (all phone numbers are in your membership book) we will return the keys to their owner.
Many thanks

New Combination Locks
Members should be aware that any new locks on our gates have the combination number on the TOP line, not the middle line as previous.
The new locks are gold in colour. There is a new lock at Kilworth Sticks but the old locks are still in use at other venue's so please check where the number alignment should be if you are struggling to open the gate.
The combination numbers have not been changed and will remain the same until they are changed on 8th June. By which time all members should be in possession of their new 2016/17 book.
Fishing Rod License
Please remember that your Fishing Rod License should have been renewed by now if you want to go fishing.
Our Bailiffs have been instructed to check for Rod Licenses as well as for Broome Permits, so please make sure that you have both with you when fishing on Broome Waters.
If you can not produce your Rod License for a Broome Bailiff you will be asked to leave the water. If you can not produce your Rod License for an EA Bailiff you are risking a very hefty fine.
Sunday Sweepstake on Jasons
The seven members who fished a sweepstake match on Jasons lake last Sunday found it pretty tough going. Probably understandable with the up and down moods of the recent weather...
Malc Spring on peg 21 took the honours on the day, he netted one carp and a few decent Silvers to put 12lb 9oz on the scales for his winning weight. There was a tie for second/third prize with Den Porter and Jason Farmery both weighing in with 10lb 4oz. Den took one Carp and a few small Roach from peg 20, and Jason had a nice net of all Skimmer Bream from peg 1.
Away Day at Mill-on-the-Soar
There were just five members who turned up to fish an away day sweepstake match at Mill-on-the-soar, Narborough. A shame really as it fished quite well on what was a cloudy but mild winters day.
Den Porter was top rod with a weight of 41lb 12oz from peg 25. Just 6lb or so behind was Malc Spring who netted 35lb 4oz from peg 6. Vinnie Logie came in third with 30lb from peg 4.
Keith Macfarlane had 23lb 8oz from peg 21 winning a pound £ off of Phil Sansby who DNW off next peg 23....
.
Sunday Sweepstake on Sanctuary
It was a great day for Dave Kimber fishing on peg 2, Sanctuary in a sweepstake attended by eleven members last Sunday (7/2/16). Dave had a good Bream of around the 3lb mark and a net full of Skimmers for 35lb 8oz. It was enough to take the first prize by a country mile!!
.
Sadly it was not quite so good for everyone else....Paul Cooke took the runner-up prize with just one fish, a Carp weighing in at 6lb 4oz from peg 12, and 3lb 8oz was enough for third place for Jason Farmery on peg 5. Jason netted a decent Silver, a couple of Skimmers and a Roach.
The Section winning weights were even more disapointing.....Kev Hirons taking Section 1, from peg 7 with just 8oz. And with no one, other than Cookie, catching anything at all in Section 2 Malc Spring took the prize in a draw out!! Well done Malc you always were full of spawn!!....
.
Sunday Sweepstake on Colver
Thirteen members fished a sweepstake match on Colver last Sunday (17/1/16). It was a good day with the sun shining, for most of the day, and a good breeze blowing... well it was a breeze compared to the recent winds!!!!
Everyone on the 21-46 bank seemed to catch a fish almost with the first put in, but it was a bit of a flash in the pan as there was not a lot to follow for most!
Most of the fish were in the middle of the lake on the 1-18 bank. In the end it was a dad and lad double
. Jason Farmery winning with 40lb 12oz from peg 11. All of Jasons fish falling to soft pellet fished on Long Pole just short of the far bank.
Dad, Mick, took the runner up prize with another good weight of 30lb 14oz from the next peg 8. Mick also caught on pellet using the Long Pole, but Mick found most of his fish tight to the far bank.
Third place went to Steve Beckhurst, next to Mick on peg 5. Steve had five Carp and about 3lb of Roach for his 15lb. All of his fish caught on bread just off the far bank using Long Pole.
Dave Kimber took Section 1 from his favourite peg, peg 1...
. Dave weighing in with 7lb 8oz. Top weight on the high numbers bank was Malc Spring who netted a 9lb 4oz bag of all Skimmers to take Section 2.
Boilies on Club Waters
In response to a members question regarding the use of "Boilies" on club waters.
I refer all members to club rule 30.
30. Boilies, Tiger Nuts, Peanuts and Boilie type baits are banned on all club waters. The only exception is Jurassic Lake, Frisby where the use of Boilies is allowed. Please note Tiger Nuts and Peanuts are NOT allowed on Jurassic Lake. This rule must be strictly observed in the interests of harmony with other anglers.

As this discussion has been raised many times in the past, it was decided, many years ago, that anything that looks like a "Boilie" will be classed as a "Boilie".
So if you have to ask yourself the question "Might this be classed as a "Boilie" " then the answer will be Yes it will.
The Committee.
Away Day at Mill-on-the-Soar
In a spare weekend (10/1/16) between official match's the regulars went on an away day to Mill-on-the-Soar, near Narborough. The water was very coloured and it looked like a tough day may be in store.
Vinnie Logie won the day with a good weight on a hard day of 22lb from peg 26. Vinnie had a mixed net of fish all caught on the Pole. 13lb 10oz was enough for Den Porter to claim the runner up spot from peg 34. Den spent most of the day fishing the pellet feeder and had two early Carp, and a decent Skimmer later on, for his second placed weight. Third place went to Phil Sansby with 9lb 4oz from peg 29.
Malc Spring took Section 1 with 7lb 7oz from peg 8, and Keith Macfarlane weighed in with 5lb 12oz to take Section 2.