News 2015 Archive

Pole for sale
One of our members, Phil Sansby, has asked me to let you know that he is selling his Pole. Its a Maver Elite Carp Pole 14.5mtrs and it comes with 5 Power Tops. Phil is looking for £600.00 for it. If you are interested give him a call on 0116 2766964 and he will give you any further details.
Sweepstake on Colver
With the Chairman's league final taking place next Sunday (20th Dec) eight members decided on a sneak preview of how Colver was fishing. Whilst the weights weren't brilliant, it seems, at least most had a few bites

.
The man with a few more bites than most, which is not unusual on this Lake
, was Jason Farmery. Drawn on peg 15 Jason won the match at a canter with 38lb 12oz. Again it was the southern end of the Lake that seemed to fish best with Malc Spring netting 17lb 12oz from peg 21 to take second place.
Keith Macfarlane took Section 1 with 13lb 8oz from peg 42. Section 2 going to Mick Farmery with 16lb 4oz from peg 24.
Away day at Peatling
Nine of the regular matchmen fished an away day sweepstake match at Peating Fisheries "E" Lake. It was an extremely windy day but the lake fished very well with most getting decent nets of fish for the time of year.
Guest, John Neil, came out on top with a good catch of 59lb 4oz from peg 27. The runner-up prize had to be shared between Den Porter, peg 25, and Jason Farmery, peg 7. Both weighed in with 35lb 4oz.
Most of the fish caught were Barbel, Chub and Ide with the Skimmers failing to show in any numbers.
2015/16 Half Year Meeting
The Half Year Meeting will be held at Birstall Social Club next Wednesday evening 25/11/15, with the start at 8pm prompt. Please come along and have your say on what is happening at YOUR club.
The committee will give their reports and you will be free to ask any committee member any questions or query that you may have.
Hope to see you there

.
The Committee.
Sweepstake on Jasons
Seven members fished a sweepstake match on Jasons lake last Sunday. The high winds did not seem to put the fish off too much as Malc Spring won from peg 2 with a weight of 55lb 10oz. Not bad for mid November. Match Secretary. Keith Macfarlane took the runner-up spot with another good weight of 29lb 8oz. Keith was fishing on peg 21. It certainly seems as though the current mild spell is keeping the fish on the feed.
Lost at Kilworth
Chris Shore has asked me to ask if anyone has found a double sided rake head attached to a length of rope, used as a weed drag. Chris lost this item whilst fishing on Currans Loop in the area around peg 30 on October 25th.
If you have happened to have found it please contact me at:-
webmaster@broomeanglingsociety.co.uk
Or just let any member of the committee aware and we will re-unite Chris with his property.
Many thanks.

Sweepstake on Jasons
Jason Farmery won a eight peg sweepstake last Sunday (18/10/15). Drawn on peg 4 Jason had a succession of Carp throughout the day to finish well out in front with 52lb 10oz. Most of his fish falling to Pole fished pellet.
Second place went to a tie between Steve Beckhurst and Keith Macfarlane! Both netting 25lb 8oz. Steve, on peg 1, landed four Carp plus a few small Roach and Perch. Keith opposite, almost, on peg 10, had 7lb 8oz of Skimmers and Silvers and two daddy Carp that went 9lb apiece!!
Mark Akiens took Section 1 with 13lb 8oz with Malc Spring landing just one Carp of 12lb 4oz to take Section 2.
Attention Pike Match Anglers
Mick Geary has asked me to point out to all anglers who are intending to fish the Pike Matches, which start on Sunday (18/10/15), at Meadow Lane, Syston. That there is a mistake in the Membership Book.
The membership Book states that the Pike matches last draw is at 9am and that fishing is between 10am and 3pm.
The above is incorrect. It should read as below-
The last draw is at 8am with fishing between 9am and 3pm
Crayfish Traps
Once again Anglers are removing traps, pulling traps into the bank, and removing crayfish from them.
Today two traps were pulled in whilst an angler was fishing the peg. In the next peg one trap was empty, the next peg trap had been opened, emptied and empty open trap returned to the lake.
NOBODY, MEMBER OR NOT has ANY right to interfere with these traps.
If there are traps in the peg you want to fish you MUST NOT move the traps there are 33 other swims on Lizzies for you to use.
The traps are for the removal of crayfish. Each trap is licensed, a catch and species report has to be made to the Environment Agency. This cannot be done if the traps are interfered with.
If I don't adhere to the conditions of the license the Environment Agency will stop issuing the licenses.
Terry.
For The Committee.
Broome Fur and Feather Match
With the Summer that never really got going nearly over, it is almost time to fish the Fur and Feather Match!!
This year the match will be held at Kilworth Sticks with Currans, Buffalo and Lizzies all being used (depending on numbers). The Match will take place on 4th October, the last draw at 8.30am with fishing from 9.30am until 3.30pm.
You do not have to be a regular Match man if you want to enter (as with all Broome official matches). There is a £5.00 entry fee (£3.00 Concessionary), but all pools are optional. There will be a prize for all entrants so you have nothing to loose
.
As we need to know how many prizes to buy and how many swims to peg, you MUST pre-book for this Match. Ring Keith Macfarlane (his number is in your membership book) and he will take your details.
Weed Removal on 4th September
The weed removal company that we used for the recent operation at Frisby will be returning on Friday 4th September in order to remove any weed that was missed first time round.
Because of this it is advisable to not fish on Sanctuary, BJ's or Smiggies on Friday until the work has been completed.
We apologise for any inconvenience caused.
Thank you for your co-operation.
The committee.
Weed Removal-Further Update
The weed removal was completed on Sanctuary, BJ's and Smiggies Lakes on Thursday/Friday 14th-15th August. Because the weed removal team are inundated with work from other fisheries with similar weed and silt problems, they will not be able to return until Monday 24th August. On this day they will be removing the weed from Jurassic lake.
Jurassic will be closed to all anglers on this day (Mon 24th August) from 8am until 6pm when the weed removal operation has been completed.
Furthermore Terry has asked me to remind you that no vehicles are to be left on the road/carparks around Jurassic on this day as the machine has to climb out of the water to dispose of the weed.
Thank you for your co-operation.
The committee.
Weed Removal
There will be another weed removal project this week at Frisby complex. It will take place on Thursday 13th August and Friday 14th August. The lakes to be cleared will be BJ's, Sanctuary and Smiggies. It is advisable for members to not fish on these waters on the above dates until the work on the lake has been completed.
Charnwood Days
The first of the two Junior Angler Charnwood Days will be held on Friday 31st of July, with the second taking place on Friday 7th August. Both events will be held on Colver Lake.
Kevin Hirons and Ted Whiter have asked me to ask if any members would be kind enough to turn up to offer help and assistance to both them and the youngsters involved.
Both events will "kick off" at 9am with everyone meeting in the main Car Park. Fishing will take place between 10am and 3pm. These "Teach in" days are great fun and the kids gain a lot of fishing experience as well.
If you can spare a few hours to help out it will be much appreciated if you could let Kevin or Ted know that you will be coming along (both phone numbers are in your membership book).
To all other members. Colver will be closed on each of the two days to any other fishing until the events have been completed.
Crayfish Update
Terry Branston has sent an update on how we are progressing with the Crayfish problems...
Over the last 14 days the average daily removals are 65 Crayfish.
This daily trapping will continue until Cray removal numbers are significantly lower. Eradication of them completely is impossible without the introduction of pesticide. This action would be out the question as all water life and lake ecology will be destroyed for at least 3 years.
On a lighter note, anglers on Smiggies have informed me anglers catches with rod and line have only been around 1 or 2 Crayfish strikes, compared to one angler who had 17 in one days fishing a couple of weeks ago. So we are winning!! thanks to the understanding of the Members, as I have to commandeer 6 pegs daily. With the numbers of Cray being trapped we can only persist, so thank you.
Terry.
Unhooking Mats
It has been brought to the attention of the committee that, on occasion, some specimen fish are being damaged due to either being kept out of the water for inappropriate lengths of time whilst photos are taken or being unhooked without a the use of a unhooking mat.
It is a club rule that anyone fishing for Carp on Jurassic Lake must have an unhooking mat with them.
As we are getting some sizeable fish caught in quite a few of our lakes now, the committee would urge anyone fishing specifically for specimen fish of whichever species, to please get a unhooking mat to take with you. Also, we love to get your photo's but please return the fish to the water as quickly as possible after you have photographed your catch.
We know that the vast majority of our members do the above already but in the interests of your fish stocks please treat the fish with the respect that they deserve.
Thank you (Committee)
Found!!
A set of small weigh scales were found on peg 20 of Jasons Lake. Please contact the website or Keith Macfarlane, if they are yours, we will endeavour to return them to you. (Keith's phone number is in your Membership Book).
Smiggies Update
Terry has asked me to publish the latest update on the work being done to get the Cray Fish problem in Smiggies under control...
Anglers seem to think we are doing nothing as regards to these pests. I have removed, with 6 licensed traps, since May 1st 546 Turkish Crayfish,
and the traps go in weekly.


Terry Branston
Water officer.
Murray's Tench
Murray Peat beat his P.B. Tench with a monster from Meadow Lane...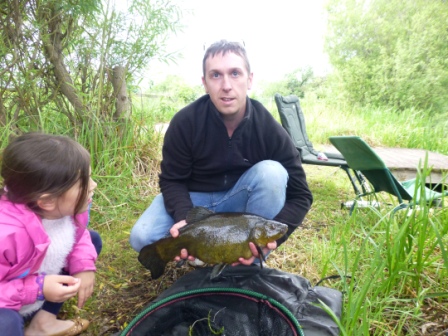 We arrived at Meadow Lane around four and decided to fish Pop Wilson's bench swim. I was float fishing maggot just on the bottom. I had no action for around an hour when I began to catch a few small perch. Soon the rod bent over and I was in to a better fish.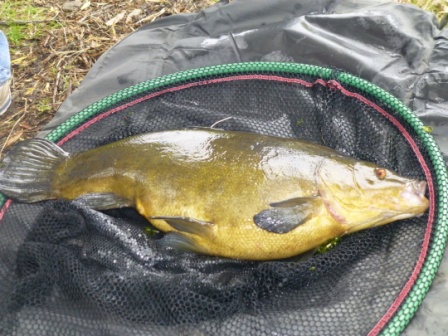 After a good fight I slipped the net under a beautiful Tench weighing 7lb exactly. A P.B for me by about 5lb! She was full of spawn and was really thick set. The weight was double checked on a second set of scales by a chap fishing on the opposite bank Anthony Simon 698-f and my father Roger Peat.
I'm really chuffed with tonight's catch as I have blanked at ML on my last three sessions and I was beginning to wonder if there were any fish in there!
A Great Introduction for a New Member
Nicky Williams had a great introduction to Broome AS when out on a session at Meadow Lane, with Dean Turner. He netted a 27lb Carp, below...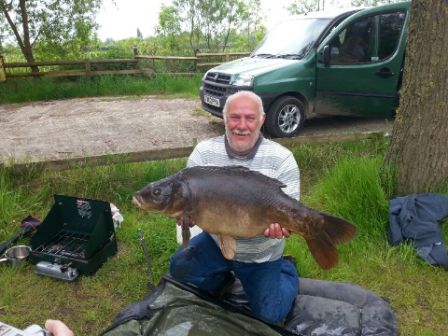 Following Nickys great catch, another giant specimen of 26lb 2oz, this beauty was caught by Dean Turner, below...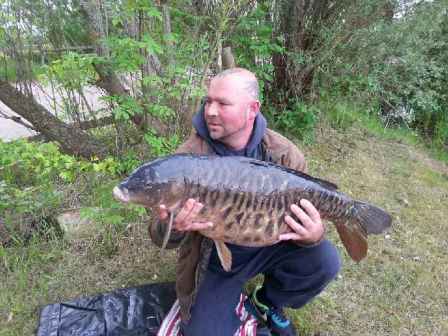 Both fish were caught on Sunday 24th May and witnessed by Broome AS bailiff Wayne Potter.
Frisby Work Party
The final work party of this season was at Frisby, where the unfinished tasks were completed. The major task was clearing the overhanging greenery on Colver island. It was made worse because of the fact that it couldn't be completed last year due to equipment failure!
There were various other jobs completed around the site as well. Thank you to all those who turned up to lend a hand. That goes to all who have turned up over the last few weeks....without this help maintenance of our fishery's would be virtually impossible....or very expensive!!
There was the usual "knock up" after the work was completed. Colver was the chosen venue. As there were only six starters, just the car park bank was used.
Jason Farmery won the day with 55lb 4oz from peg 4. It was a pretty slow start for everyone. Jason had a great last hour, as he so often does, and caught a lot of fish in the near side margin to boost his weight. Keith Macfarlane, peg 15, went the other way and had a good start putting most of his 46lb weight in the net within the first couple of hours. Picking up the odd fish throughout the rest of the match took him up to his runner-up placed catch.
Another Message from Terry & Brian!
Our Water Officers, Terry Branston and Brian Toon, have asked me to publish the following message...
Three new members have been caught fishing on the River at Rothley, under the assumption that as the stretch is privately leased by Broome, it is open all year. This is not so. We as a Society still have to adhere to the NRA laws and the River is ruled by a Close Season. You cannot fish between March 15th to June 15th inc. Fish during these times and the EA Water Bailiffs will prosecute the individuals. As a society, Broome AS, will also receive a fine through not policing our waters. This has never happened to this Society and we don't want to start now.
Thank You
Terry & Brian
Water Officers
Message from Terry & Brian
Our Water Officers, Terry Branston and Brian Toon, have asked me to publish the following message...
A lot of new members are experiencing difficulties, stating the locks are not working.
Make sure the code is all in line below centre line, when correct, you will feel a click then press shackle together and release... the lock will open.
On closing, the code must be showing, snap shut and hold closed then rotate tumblers, or the gate will remain unlocked.
Thanks
Terry And Brian
Message from Tom Kent
Our Head Bailiff, Tom Kent, has asked me to publish the following message...
Due to an error through confusion on my part, some of our members have been reported/turned away from venues by bailiffs for using the wrong membership book.
Rule 2 states that membership lapses on June 8th and I thought this meant that new books for existing members were not valid until this date.
To clarify: any new member can fish our waters from June 1st each year as long as they have a book (see rule 21). Existing members can continue to use their old book until June 8th (as per Rule 2) unless they have received their new book which IS valid from June 1st. Please note, any existing member found fishing after June 8th on their old book will be asked to cease fishing UNLESS they can also produce a new season book. I would advise all existing members to dispose of their old book upon receipt of their new one. The overlap for existing members is to allow for postage of the new membership books, as is the changing of the gate codes.
I hope this clears everything up, both for bailiffs and all other members. Please do not blame the bailiffs for doing their job. I gave them incorrect information. I am a big enough man to admit when I have made a mistake, and my sincerest apologies are extended to any member affected by my error.
Tom Kent
Head Bailiff
Mono Pod found at Syston
Member, Razvan Cirlogea, has found a Mono Pod at Syston. He thinks it was left by a young lad who was fishing at Meadow lane last Thursday (4/5/15). The lad had caught a 23lb Carp earlier in the day.
If it was you or you know who this lad is then please contact me at the website
webmaster@broomeanglingsociety.co.uk
And I will put you in touch with Razvan.
New member, Graham, has a good day
I had an email from new member Graham Blower who recently paid a visit to kilworth Sticks...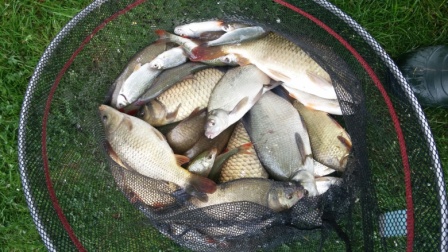 Hi as a new member (just joined) I did my 1st ever session on Currans 1/6/15 this is what I caught....was pleased with the venue/fishing and how clean the fishery was.
Work Party Changes
Because of problems with the strimmer, amongst other things, on last weeks Frisby Work Party work will need to be carried out, this Sunday (7/6/15), on Colver Lake at Frisby. The rest of the complex will be open as usual but it would be advisable not to fish on Colver until the work has been completed. There will be a boat on the water and strimming work will be carried out.
There will now not be any work to be carried out by members at Rothley as a special team are going down to the venue to do the required work.
If anyone who was planning on going to Rothley could divert to Frisby to help finish the work on Colver it would be greatly appreciated

.
This Sunday (7/6/15) will be the final Work Party required. Thank you to all of those members who have helped to keep our waters in pristeen condition over the last few weeks.
Work Party 31/5/15
The Frisby work party was once again well attended with work completed on the lakes except for Colver. There were hold ups on completing the work on the island because of "equipment failure" !!
.
The match held for volunteers after the work was held on Jasons Lake. It was won by Malc Spring with an impressive 54lb 4oz from peg 9. Keith Macfarlane took the runner-up spot from peg 2 with 40lb 10oz. Section 1 went to Kev Hirons with 12lb 10oz from peg 6 and Mark Akiens included a Carp of 13lb 4oz in his 21lb 12oz Section 2 winning weight.
Membership Books For The New Season
Membership books for the 2015/16 season are being posted on Thursday 29th May to current members whose applications were received through the post by Wednesday 28th May.
Membership books for new members, received by the 28th May, will be posted on Saturday 30th May.
I'll try and deal with all further applications within a couple of days of receiving them.
If you don't receive your book, please wait a couple of days before contacting me in case it's just a delay with the post.
Note that I shall be away on holiday for a week from Friday 5th June and will not be available to help with any problems or queries.
Enjoy your fishing
Malcolm Shooter
Membership Secretary
Work Party 24/5/15
A good turnout of volunteer members turned up for the latest work party, at Kilworth Sticks. It is amazing how much can be accomplished when we get a few people there! Many thanks to all those attending.
All of the pegs on Lizzies were tidied up and the island on Currans received a good haircut as well
. Terry's new weed removing tool was unleashed on Admirals Lake and it was quite impressive with a good amount of weed being dragged from the lake. Hopefully we can get it to a state where most swims are fishable again.
Next week it's back to Frisby to finish off what was left over from the last work party...So please come along and lend a hand for a couple of hours, it will be very much appreciated

.
The "Knock-up" for those volunteers who were interested was held on Currans and it fished very well with almost everyone getting double figure catches.
Jason Farmery came out on top with an impressive 53lb 2oz of carp, caught mainly in the margins with a few on the long pole. Jason, on peg 17 caught well from the off, using meat as hook bait, and led from start to finish.
A carp of 9lb 8oz helped push Steve Beckhurst into the runner-up spot. Along with twelve other smaller specimens Steve put 35lb 12oz on the scales. It was pretty hard work as he caught most of his fish using the long pole at 16.5 meters on peg 11.
Mark Akiens used his end peg, 30, to good advantage taking 33lb of carp for 3rd place. Again it was long pole that tempted most of the fish with just a couple coming from the margins.
Dave Kimber had a good 10lb of Skimmers in his 28lb 12oz Section winning weight form peg 5. Section 2 going to Chris Shore with another decent weight, 26lb 8oz from peg 20.
Work Party 17/5/15
The Work Party was, this week, at Frisby. A reasonable turnout of members did a good deal of work around the complex with work on Smiggies, Jurassic, Jasons and BJ's. Some more of the manikins were dressed and erected in strategic positions in another measure to try to help keep the predators at bay.
All those volunteers who turned up to lend a helping hand did a tremendous job...as they always do

. It is just a shame that a with 800 or so members, It is always just the same few faces who turn up to the benefit of everyone.
There was a knock-up on Colver for any of the volunteers who wanted to take part and Jason Farmery took the honours with a very good weight of 71lb 5oz from peg 40. After a slowish start Jason had a great last couple of hours catching Carp in the margins on pellet. Kev Hirons on the next peg, 37, ended in the runner up spot with a fine catch of 21lb of Silvers along with a few Carp to put 37lb on the scales. Third place went to Steve Beckhurst in quite a close finish Steve netted 36lb from peg 7, just edging out Mick Farmery who had 35lb 4oz from peg 43.
Dog Lead Found
An expensive looking dog lead has been found by one of our members at Frisby and he would like to return it to it's rightful owner. So if you have lost this item please reply to me
webmaster@broomeanglingsociety.co.uk
and I will see that you are re-united.
Work Party Update
The Springtime Work Party Season is now in full swing, with work completed at Meadow Lane, Syston and the majority of the work at Kilworth completed too.
There were two members fishing when the work party volunteers turned up at Syston and they were asked to cease fishing until 1.00pm, when the work was completed. So please don't waste your time turning up expecting to fish when the work is being undertaken....you will not be allowed to fish. There are NO exceptions to this rule. In the case of Frisby and Kilworth this applies to the whole complex.
All other lake venue's and complex's, not being worked on, will be open as normal.
Happily the lakes at Kilworth did not have the same problem, and the twenty four volunteer members got a great deal of work done. There is still a little work to be done on Brian's Lake, and Lizzies lake has yet to be done. There is another work party scheduled for Kilworth so please come along and lend a hand.
The next work party will be at Frisby next Sunday 17th May. There is quite a lot to do there, as usual, so all help is most welcome. Get there at about 7.30-8.00am. Even if you can only spare a couple of hours, a lot can be achieved in helping to keep our lakes in pristine condition....You will even get a free cup of tea/coffee and a few biscuits
. So come and get a bit of fresh air and meet some of the other members

Sweepstake at Jason's
Mark Akiens carried on his good form of late drawing peg 6 on Jason's Lake in a sweepstake match last Sunday (3/5/15). Mark netted 56lb 8oz to win by a clear 40lb!!
Runner up spot went to Mick Farmery on peg 3. Mick had to watch Mark baggin up across the lake as he put 16lb 8oz in the net....40lb behind, but enough for second place.
Third place of the seven starters was Dave Kimber who landed 12lb 12oz from peg 1.
Sweepstake at Colver
At the end of the AGM eight members fished the traditional afternoon "knock up". It was a fine afternoon with plenty of blue sky and sunshine....exactly the opposite weather as forecast by our weather forecasting "experts".
It was quite a close match, but a lot tougher than expected. Loads of fish were swimming in the sun, not really interested in feeding.
Mark Akiens came out on top with 41lb 8oz from peg 25. Mark caught all of his Carp fishing with meat on the Long Pole. After a good start the action slowed down, but a steady flow of fish kept the weight building till the "all out"
Second place went to Steve Beckhurst on peg 40. Steve netted three 2lb+ Barbel and a 3lb Tench in his total weight of 37lb 4oz...a very welcome sight, lets hope that a few more of these long lost Barbel start putting in an appearance this summer.
Section 1 was won by Keith Macfarlane with a mixed bag of Carp and Silver fish for 33lb 10oz from peg 31. Kev Hirons took Section 2 from peg 46 with a good catch of 32lb which was largely made up of Silvers along with about four Carp.
Sweepstake at Jason's
Ten members fished a sweepstake match on Jason's Lake last Sunday (18/4/15). It was an overcast mild day and pretty good fishing conditions, which seem to come along non to often at the moment!!
.
There were some good weights recorded and some decent sized fish netted. It was decided to leave out the enigmatic peg 4, and as it happens the two closest pegs to 4 were the top two in the match.
Phil Sansby took top spot from peg 3 with good weight of 60lb 4oz including a 14lb lothiaton. All of Phil's fish falling to Pole tactics. Just across the Lake, Keith Macfarlane, on peg 6, took the runner-up spot with 32lb. Keith also landed a bonus 10lb'er.
Phil Dayman won Section 1 from peg 1 with 10lb 12oz. Den Porter netted an 11lb carp to help him to win Section 2 with 23lb from peg 14.
Lost Fishing Rod
Member Peter Harris has lost a Feeder Rod somewhere around peg 30 on Colver. If you find or have found it please get in touch with me
webmaster@broomeanglingsociety.co.uk
Or ring Brian Toon (Brian's number is in your membership book), and we will re-unite Pete with his fishing rod. Thanks.
Weekend Sweepstake
A few of the Broome Matchmen fished a sweepstake match on Lakeside fishery near Wolvey last Sunday. Malc Spring had an early birthday present, winning with40lb 9oz from peg 40. Second place went to Paul Taylor, who netted 25lb 10oz from peg 38. Dave Harbottle took third prize with 21lb 10oz from peg 36. And fourth of the fourteen was Kev Wingfield with 18lb 3oz from peg 17.
Lost Fishing Coat
A Maver fishing coat was accidentally left on or around Smiggies Lake on Sunday (29/3/15) If you have found it could you please get in touch with me
webmaster@broomeanglingsociety.co.uk
Or give me ring (number in membership book) I will see that it gets to its rightful owner... Please do not dress one of the scarecrows with it
. Thanks.
Sweepstake at Colver
It was a glorious spring morning last Sunday (22/3/15), as ten members fished a sweepstake match on Colver. Sadly, for most, the fishing didn't really match the weather. Only Steve Beckhurst and Den Porter caught any number of Carp. There were plenty of fish about, swimming on the top in the sun....but not really interested in feeding.
Steve Beckhurst had a good start though, netting twelve Carp in the first hour, on peg 15, all falling to bread hook bait on the Long Pole. After the bread bites dried up a switch to Pellet kept the odd bite coming. Steve eventually finishing with 50lb 12oz to take first place.
Second spot went to Dave Kimber, who, without catching a Carp caught a nice silver fish net of 23lb 7oz from peg 7. Dave also caught using the Long Pole. Most of his fish coming to either maggot or pinkie
Den Porter took Section 1 with 21lb 1oz from peg 18 and Mick Farmery won Section 2 with 11lb 8oz on peg 42.
News from Kilworth (14/3/15)
Terry Branston has repaired the toilet at Kilworth, and it is now open again. You will notice that the door is bolted on the outside but not locked. When you have used the toilet could you slide the bolt across again. This is to prevent the risk of the toilet freezing. The problem has been the pipe work in the first toilet freezing due to the door being left open.
Sweepstake at Jasons
Ten members turned out to fish, what is now, a rare match on Jasons Lake last Sunday (8/3/15). After some overnight rain the weather was set fair, just a strong gusting wind presenting the usual problems that strong gusting winds do!!
.
It turned out to be a pretty tough day for most, probably because it seemed that nearly all of the Carp were residing in their favorite spots around peg 4. Steve Beckhurst pulled peg 4 from the bag for only the second time ever on Jasons and it turned out to be well worth the wait...Steve netted seventeen Carp for 82lb! to win the day. All of his fish were caught using bread on the Pole. Phil Sansby took the runner-up spot just 74lb 8oz behind with 7lb 8oz! Phil caught about five or six decent sized Silvers and a few small fish, again all on the Long Pole.
Dave Kimber took Section 1 with 3lb 2oz from peg 1, with Den Porter collecting the Section 2 prize from peg 19 with 6lb 1oz.
More News from Kilworth
Terry Branston, Broome Water Officer, has asked me to inform you that he has had to close, and lock the toilet. It was left wide open on Monday night, causing the water pipes to freeze again!! Water was once again pouring out of the split pipe.
The toilet block will remain locked shut until there is no danger of any more frosts. This is also due to the toilet pans being full of human excrement even though signs were in place telling members that the toilets were out of order.
Updated contact number
Broome Water Officer, Terry Branston, has asked me to inform you that he has a new contact Mobile Phone number 07701 353248. This number is different to the number in the membership book so if you want to contact Terry you will need to ring the number as above.
Away Day at Mill-on-the-Soar
Eight members travelled to Mill-on-the-Soar fisheries, a popular away day venue, for a sweepstake match. To be quite honest they couldn't have chosen a worse day!!! Everything was pretty OK for the first couple of hours until the wind picked up speed and the rain, which was forecast to arrive at about 3pm, decided to turn up early... And it was pretty rough going to say the least.
The overnight frost and the terrible conditions really put an end to the hopes of any decent weights with Den Porter needing just 10lb to win the day from peg 23. Mick Nash took the runner-up spot with 6lb 6oz from peg 8, and Vinnie Logie collecting the third prize netting 5lb 4oz from peg 4.
Colver Sweepstake
Ten members braved the weather last Sunday (8/2/15) to fish a sweepstake match on Colver. They were faced with about an inch, or so, of ice to get through before any fishing could take place. In fact it took a good hour and half to clear the required swims!!
Sadly the lads weren't very well rewarded for their efforts, with Mick Farmery winning the day with 3lb 8oz from peg 6. It proved to be a clear victory as second place was a three way tie between Kev Hirons, peg 8; Dave Kimber, peg 1 and Mick Nash, peg 10, who all weighed in with 4oz!
Keith Macfarlane and Vinnie Logie also tied for third place both with 2oz.....
Probably a day to forget!!!
.
Bailiff Changes
The Committee would like to thank Colin Pryor for his work on the Broome Committee as Deputy Head Bailiff and also for stepping in as Head Bailiff for a short term. Sadly Colin has had to give up the role due to personal circumstances.
Tom Kent has stepped up to Head Bailiff with Michael Lester joining the Committee as Deputy Head Bailiff
Away Day at Mill-on-the-Soar
It was another trip to Mill-on-the-Soar fishery last Sunday 25/1/15. Unexpectedly there was a pretty substantial covering of ice on the venue affecting about half the pegs. It was also obvious that beneath the ice, the water was extremely clear. This caused quite a number of the anglers to try elsewhere or to return to a nice warm home
!! And who could blame them. It left eight intrepid volunteers to break out some swims and get down to a bit of fishing....
Despite the conditions there were still a few bites to be had. Vinnie Logie winning the day with 9lb 6oz from peg 32. A close runner-up was Mick Nash on the next peg, 31, just a few ounces behind with 8lb 14oz. Keith Macfarlane won Section 1 with 5lb 2oz on peg 23, while Mark Akiens needed just 2lb 14oz to win Section 2.
Webmaster email Repaired
The webmaster email is now repaired and back to normal. Could you please send any webmaster emails to
webmaster@broomeanglingsociety.co.uk
Thank you for your co-operation.
Away Day at Mill-on-the-Soar
Eleven of the regular match anglers had an away day at Mill-on-the-Soar fishery last Sunday. There were plenty of small fish on offer as these were biting well. But, as with many waters these days, it was one or two Carp that were required if you were going to win any prizes
.
Malc Spring managed to find a few on peg 34, putting a good weight of 30lb on the scales to take first prize. Mark Akiens took the runner-up spot with 24lb from peg 23, with Vinnie Logie coming in third from peg 26 with 12lb 2oz.
Section 1 went to Lee Nash with 11lb from peg 2, and Den Porter needed 10lb 10oz to win the Section 2 prize from peg 36.
Jurassic closed for final Pike match
Could all members please note that Jurassic Lake will be closed to all anglers on the 15th February 2015 as this lake has been reserved for the final pike league match of the season.
Anyone, other than the competitors, fishing Jurassic on this date will be asked to vacate the lake.
Thank you for your co-operation.
Barry's Pike
Barry Smithson sent in an account of his recent piking forays at Frisby Complex:-
I have been having a fair amount of success with the Pike in Jurassic this Winter. Four sessions with only one 'blank' session and two doubles, one being caught on New Years Day. The photo's are another story!
I turned up to fish mid afternoon on Thursday and Frisby was almost deserted, most of the ponds were still virtually iced over. I followed a silver Transit Connect van in, it drove up the side of Jurassic and then came down and left the complex, he never even got out to look properly! I got on the end of Jurassic with two 12' bait rods, at the "Sanctuary" end... The Pike in there seem to come on the feed at dusk, both doubles and two of three Jacks I have caught, were netted at this time.
The New Years Day "double" took a half Mackerel and the others including a 12lb'er took Sprats.
Two chaps came to see the 12lb'er, I only had a basic mobile on me. The younger guy (caught the Bream from Meadow Lane on the gallery) tried to photograph me holding it with my phone but it was too dark.
The "double" on New Years day weighed just 14lbs, I took my bridge camera but had forgotten I had taken the memory card out and I could not get a photo, the mobile gave me a blurred poor image. I do like fishing that lake.
Thanks to Barry for a great story....shame about the photo's though.
Toilet at Kilworth Sticks is out of order
Due to the recent freezing weather the pipe has burst at the toilet within the Kilworth Sticks complex. Please do NOT attempt to use the toilet until the pipe has been repaired. Terry Branston will carry out the repair as soon as the weather permits and once it is in operation again we will post a message on the website.
Thank you for your co-operation.