2013 News Archive
Sweepstake on Smiggies
Nine members held a sweepstake match last Sunday (22/12/13) on a very windy Smiggies lake! It was decided, because of the fierce winds that so often seem to accompany any competition held on Smiggies, that the pegs would be placed on the least windy part of the lake, from peg 9 to peg 29.
There have been reports of good catches coming from Smiggies since the recent stocking, but the water is still extremely clear.
Chris Crane is in a good run of form and Sunday proved to be no exception. Chris started on the Long Pole....well as long as was possible in the conditions, but like most, was just picking up the odd small Roach. It was a change to chopped worm and caster, presented a little closer in, that proved decisive. Some decent Skimmers and the odd bigger sized Roach soon pushed Chris up to his winning weight of 5lb 5oz from peg 23. The margin would have been even greater but for a 3lb+ Bream that was lost in the underwater weeds.
It was Mark Aikens who took the early lead from peg 21. Mark netted four or five quality Roach in the first couple of hours whilst everyone else was scratching around for a bite! He later added a couple of decent sized Skimmers to lift his weight, but with Chris overtaking him in the last hour or so Mark settled for the runner-up spot with 4lb 5oz.
Section 1 went to Mick Farmery, on peg 9, with 3lb 13oz and Keith Macfarlane took Section 2 with 3lb 14oz from peg 29.
| | | | |
| --- | --- | --- | --- |
| Place | Name | Peg | Weight |
| 1st | Chris Crane | 23 | 5lb 5oz |
| 2nd | Mark Aikens | 21 | 4lb 5oz |
| Sec 1 | Mick Farmery | 9 | 3lb 13oz |
| Sec 2 | Keith Macfarlane | 29 | 3lb 14oz |

Signal Crayfish traps at Kilworth
Terry Branston has acquired a licence on behalf of Broome Angling Society to trap Signal Crayfish. The licence has been granted for four tagged, licensed E A traps.
It is important that these traps, when in the water, are not interfered with as catch returns have to be returned to the EA. These traps will be placed on Lizzies lake Kilworth Sticks and checked and emptied 24 hrs later.
These four traps are the only ones licensed to be used, as each trap has a licence number attached.

Away Day at Mill-on-the-Soar
A few of the Broome Matchmen went to Mill-on-the-Soar for an away day last Sunday (8/12/13) and it seems that the cold clear water is having, pretty much, the same effect in most waters across the county. If you draw near to a few fish you are liable to catch reasonably well and if you don't draw well then you will struggle!!
Alan Hall had a good day taking first place, netting 37lb 4oz from peg 29. Not always a peg that you would run to, but with fish being blessed with fins you can never be certain where they might turn up

. Phil Sansby, enjoying a good run at the moment, took the runner-up spot with 23lb 4oz from peg 34. Third place went to Steve Harrison, making his first appearance for a few weeks, with 6lb 9oz.
Section 1 went to Malc Spring with 4lb 8oz from peg 8 and Vinnie Logie taking Section 2 with 5lb 2oz from peg 32.
| | | | |
| --- | --- | --- | --- |
| Place | Name | Peg | Weight |
| 1st | Alan Hall | 29 | 37lb 4oz |
| 2nd | Phil Sansby | 34 | 23lb 4oz |
| 3rd | Steve Harrison | 6 | 6lb 9oz |
| Sec 1 | Malc Spring | 8 | 4lb 8oz |
| Sec 2 | Vinnie Logie | 32 | 5lb 2oz |

Repairs to W.C. at Kilworth
I have received a message from Terry Branston regarding the W.C. facility at Kilworth Sticks Fishery:
I have repaired the water burst in the complex toilet so they are now up and running. Whoever it is... please stop stealing the toilet rolls. Three were put in Saturday when the repairs were done, Sunday none there!!
Thank You, Terry.

Jasons Lake Sweepstake
A Sweepstake Match was held on Jasons Lake last Sunday (24/11/13). As is not unusual when a competition is held on Jasons, one half performed much better than the other. Also what is not too unusual the smaller half of the lake was the half to be in! The top three all came from pegs 1-9.
It was the ever reliable peg 4 that once again came up trumps with Malc Spring collecting the first prize with 22lb. Not too far behind was Jason Farmery on peg 9, Jason was just a couple of pounds or so behind with 20lb 8oz, taking the runner-up spot. Third place going to Troy Ward with 7lb 13oz from peg 1.
Keith Macfarlane took Section 1 with 6lb 8oz from peg 2. Chris Crane was the top weight on the larger half of the lake with 4lb 5oz, from peg 12, and took home the Section 2 prize on what proved to be a difficult day all round.
| | | | |
| --- | --- | --- | --- |
| Place | Name | Peg | Weight |
| 1st | Malc Spring | 4 | 22lb |
| 2nd | Jason Farmery | 9 | 20lb 8oz |
| 3rd | Troy Ward | 1 | 7lb 13oz |
| Sec 1 | Keith Macfarlane | 2 | 6lb 8oz |
| Sec 2 | Chris Crane | 12 | 4lb 5oz |

Pike League
Mick Geary has asked me to let all anglers who fish the Pike Matches know that the match scheduled for 5th Jan 2014 has been moved one week. It will now take place on 12th Jan 2014. The venue will still be at Meadow Lane, Syston. Furthermore the Final Match will be fished at Frisby Complex on 9th Feb 2014.

Away day at Mill-on-the-Soar
There were fourteen starters for a sweepstake between the Broome match lads last Sunday (10/11/2013) held at Mill-on-the-Soar fishery close to Narborough. And, as with the last Away day a couple of weeks ago, it was won with 100lb+. A sure sign that fish are really starting to shoal up into there winter quarters now.
Steve Kinch on peg 2 was way out in front with 110lb 2oz. Steve netted six or seven big Carp in the early stages by fishing with bread on the Pole. After the first couple of hours he changed to fishing sweetcorn on the bottom and landed a further fourteen or so Carp to smash the ton pretty easily.
Runner-up went to Paul Cooke with, in its self, a weight good enough to win most matches on this venue. 65lb 6oz from peg 26. Again, Carp made up the bulk of Cookie's second placed weight.
Once again the weight more than halved for the third placed angler Mark Aikins, who took 26lb 12oz to the scales from peg 36.
Section 1 went to Den Porter with 11lb 14oz from peg 4 and section 2 was won by Dave Kimber from peg 34 with 11lb 12oz.
| | | | |
| --- | --- | --- | --- |
| Place | Name | Peg | Weight |
| 1st | Steve Kinch | 2 | 110lb 2oz |
| 2nd | Paul Cooke | 26 | 65lb 6oz |
| 3rd | Mark Aikins | 36 | 26lb 12oz |
| Sec 1 | Den Porter | 4 | 11lb 14oz |
| Sec 2 | Dave Kimber | 34 | 11lb 12oz |

New Head Bailiff and Assistant Head Bailiff
Because of work commitments John Hyde has had to resign from his position as Broome A.S. Head Bailiff. The committee would like to thank John for all of his hard work in policing our waters during his time as Head Bailiff.
Tony Branston has moved from Assistant Head Bailiff to take on the role as Head Bailiff, a position that Tony has held in the past (Some people never learn

). Colin Pryor has now taken over the role as Assistant Head Bailiff.
Tony has requested that all current Broome Bailiffs contact him as soon as possible with the objective of setting up a Bailiffs meeting. Tony doesn't currently have all of the names and addresses of the bailiffs. Tony can be contacted by email Do not try to ring the telephone number, for Tony, in your membership book as this has changed since the books were published.

Final Venue Change
Due to the amount of anglers fishing the Chairmans League, a decision has been made to change the venue of the Final Match from Currans Loop (Kilworth) to Colver Lake. The Final will be held on 15th December. Apologies for any inconvenience that this may cause.

Found Kit
Terry Branston has found a "Fishing Seat Box Attachment" today (30/10/13) Close to Jasons Lake. If you have recently lost such an item then contact Terry and he will be happy to return it to the rightful owner. Terry's phone number is in your membership book.

Away day at Willows
Eleven of the Broome match lads decided to have an away day at Willows Lake on the Shearsby Valley Lakes complex last Sunday (27/10/13). The weather, whilst not as bad as widely predicted, was still very blustery. The conditions didn't seem to have much effect on Chris Crane though as the match turned out to be a one horse race. I don't think that i have ever reported on anyone winning a match with over 100lb to spare!!! Phil Sansby was the runner-up on peg 2 with 41lb 6oz. Section 1 went to Den Porter with 27lb 15oz from peg 4 and Paul Cooke took Section 2 with 32lb 11oz from peg 16.
| | | | |
| --- | --- | --- | --- |
| Place | Name | Peg | Weight |
| 1st | Chris Crane | 22 | 148lb |
| 2nd | Phil Sansby | 2 | 41lb 6oz |
| Sec 1 | Den Porter | 4 | 27lb 15oz |
| Sec 2 | Paul Cooke | 16 | 32lb 11oz |

Wedding Ring Found!!
In relation to the message below, Tom has emailed me to let us know that he has found his wedding ring

. Apparently the ring had fallen off and was in Toms fishing trousers. It was discovered after the trousers had been through the washing machine!!

. Good news....all's well that ends well

.

Tom needs your help!
Can you please help Tom Kent to find his wedding ring? Tom was fishing at Kilworth Sticks last Saturday (19/10/13) on Currans Loop when he suddenly noticed that his wedding ring was missing. Obviously the ring is of great sentimental value to Tom, and he would be very grateful if fellow members would keep an eye out. The ring is a plain gold band. If you do happen to find it please let me, or any other member of the committee know and we will re-unite Tom with his wedding ring. Thanks.

Away day at Trotters
The Broome match lads decided to have an away day at Trotters Lake on the Holly Farm complex last Sunday (13/10/13). With the terrible weather conditions the weights were pretty respectable.
Keith Macfarlane came out on top with 63lb of, mainly Carp. It was a head to head battle as next peg, 20, Mick Knight was just a fish or two behind with 58lb. Mick Nash coming in third with 46lb 6oz from peg 11.
Chris Lee took Section 1 from peg 18 with 36lb 4oz and Den Porter Section 2 weighing in 43lb 2oz from peg 25.
| | | | |
| --- | --- | --- | --- |
| Place | Name | Peg | Weight |
| 1st | Keith Macfarlane | 19 | 63lb 4oz |
| 2nd | Mick Knight | 20 | 58lb |
| 3rd | Mick Nash | 11 | 46lb 6oz |
| Sec 1 | Chris Lee | 18 | 36lb 4oz |
| Sec 2 | Den Porter | 25 | 43lb 2oz |

Thanks to Sarah
Due to other commitments Sarah Aldridge has had to resign from her post as minute Secretary on the Broome committee. Everyone on the committee would like to express their thanks to Sarah for all of her hard work taking and presenting the minutes at the Broome committee meetings, and wish her well for the future.

A good day on the River
We very rarely get any news of what members may have caught on our river venues so thanks go to Ian Watson who recently sent me news of a good day at the River Soar, Rothley.
I fished the first peg below the moored boats fishing at 9 Meters on the Pole with bread punch and fluro pinkie as bait. Feeding hemp and a nugget of groundbait every run through. I took the picture whilst the light was good but ended up with another 3lb or so, total bout 8lb, fish to 6oz.
Thanks for the report Ian

.
Incidentally, Ian Watson is Secretary of the AMAL and he is now writing a blog on what is happening at the AMAL and how the waters are fishing. Remember that Broome members are entitled to fish all of the AMAL waters whilst in possession of the AMAL Book which you will have received with your Broome Membership.
To take a look at Ian's Blog click on the link http://leicsamal.blogspot.co.uk/

Barrow Deeps Parking
As you probably know a AMAL book is included with your Broome Membership Book. This entitles the holder to fish all of the AMAL Controlled waters (As detailed on the AMAL Book). Below is part of an email sent to me by Ian Watson (AMAL Secretary) regarding the new parking arrangement for the River Soar at Barrow Deeps:
As you may be aware this water has suffered for long enough with parking problems and the walk from the village often puts anglers off going there at all. We've gone into a deal with Quorn AS and Loughborough Soar and we can utilise the fields that they use which take youto within 40 metre's of our waters on the deeps section. The field is some 400m down Flesh Hovel Lane on the right hand side. I'm getting a sign for the gate to go alongside Loughborough Soars. Flesh Hovel Lane is just off the old Barrow to Quorn Road and luckily there are some brown road signs for Pillings Lock on the road signs.
Many thanks to Ian for taking the trouble to keep our membership informed.

Sweepstake at Colver
Den Porter has continued his good form on Colver with another 100lb+ bag in a Wednesday evening (21/8/14) sweepstake. As can seen from the results below Colver is still producing good weights. Keith Macfarlane was second of the seven taking part with 57lb 2oz and Chris Cranes 53lb 4oz earning him third place


New Date for Husband/Wife Match
The Annual Husband & Wife/Partner Match which will be fished on Colver Lake has been moved one week forward. It will now be fished on 31st August 2013. This is to avoid the clash with the Bank Holiday Weekend. For any further details please contact Keith Macfarlane. Keith's number is in your membership book.

Sweepstake at Colver
The Evening League has now finished but six of the Wednesday evening regulars decided to have a sweepstake match between them last Wednesday (7/8/13). What a bonanza it turned out to be with the six netting over 500lb of fish in the four hour Match...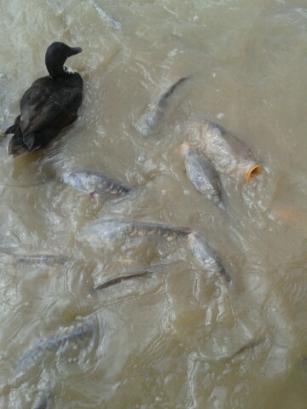 Den Porters peg!!! The only thing he didn't catch was the Duck
| | | | |
| --- | --- | --- | --- |
| Place | Name | Peg | Weight |
| 1st | Den Porter | 11 | 119lb 8oz |
| 2nd | Mick Farmery | 5 | 107lb 4oz |
| 3rd | Keith Macfarlane | 8 | 93lb 8oz |

Meadow Lane Fishery Maintenance Date
The date that the maintenance work (as detailed below) on Meadow Lane Lake has been confirmed as Monday 29/7/2013.

Meadow Lane Fishery Maintenance Update
I have been asked to pass on a message from the committee
Due to unforeseen circumstances the date for the removal of the tree that has fallen into Meadow Lane lake has been altered. We will have conformation of when the removal will take place, hopefully, by tomorrow (23/7/13). Members can still fish at the water whilst the tree is being removed but for safety reasons pegs around where the work is taking place will be cordoned off. The car park at the fishery will be closed though due to the works so if you want to fish at Meadow Lane you will need to park your vehicle in the lane until the works lorry has completed its task.
Once we are aware of the date of the work a notice will be placed on the website.

Ants in your pants??
Member Steven Moore has issued a warning that he, accidentally, disturbed an Ants Nest close to peg 21 on Colver whilst fishing on Sunday (16/6/13). Unless you want to find the little blighters all over your kit...please be aware if fishing around this area.

Club Rules Broken!
It has been brought to the attention of the Committee that certain Club Rules are being broken. A Member has reported that the gate at Meadow Lane was left wide open by another member who was at the venue, fishing on the lake. It also transpired that he was fishing Boilies! It seems that this was a new member and when questioned he admitted that he hadn't read the rules in his membership book!!
Please, especially new members, Read and aquaint yourselves with The Club Rules BEFORE You start fishing.

Kilworth Workparty 9/6/13
The work party last Sunday at Kilworth Sticks was the last one for this season. Although numbers were well down on last year, those that did turn up to help have achieved a lot, and the committee would like to thank them all for their efforts. It is very much appreciated.
The work party sweepstake was fished on Buffalo Loop and it was a bit of a struggle for all concerned! Paul Edwards needing just 11lb 15oz to win.
| | | | |
| --- | --- | --- | --- |
| Place | Name | Peg | Weight |
| 1st | Paul Edwards | 26 | 11lb 15oz |
| 2nd | Mick Farmery | 22 | 9lb 2oz |
| 3rd | Chris Shore | 24 | 7lb |
| Sec 1 | Phil Sansby | 4 | 2lb 6oz |
| Sec 2 | Jason Farmery | 20 | 4lb |
| Sec 3 | Vinnie Logie | 30 | 3lb |

Away League Change
The Away League match scheduled to be fished at Peatling Fisheries "Harrow Pool" on Sunday 14th July 2013 has had a change of venue. The Match will now be fished on Peatling Lake "A". The date and draw/fishing times remain unchanged.

Kilworth Workparty 2/6/13
The work party this week was at our new Lakes at Kilworth Sticks. Work was carried out on Curran's Loop where the over hanging vegetation was trimmed back as much as possible to allow fishing access to the far bank. The Fishing bank of Curran's was also trimmed so allow better access to the pegs.
Similar action was taken on Buffalo Loop, where once again the fishing banks were trimmed up to allow better access. The Island on Buffalo's is mainly made up of reeds, these were trimmed back and tidied.
Work was also started on Brian's Lake, Admirals Lake and Lizzie's Lake. These lakes will all be completed on next weeks work party (9/6/13) So come along and join the fun

.
The Sweepstake match for the work party attendee's was fished on Curran's Loop with eight members taking part.
Mick Farmery hasn't been fishing as many matches as he usually does, just lately, but he showed that he can still give some of the young un's a run for there money

, with a fine weight of 74lb 5oz from peg 9 to take the top spot on the day.
Chris "Cormorant" Shore took the runner-up spot with 53lb 14oz from peg 23, with Jamie Musson taking third place with 38lb from peg 4.
| | | | |
| --- | --- | --- | --- |
| Place | Name | Peg | Weight |
| 1st | Mick Farmery | 9 | 74lb 5oz |
| 2nd | Chris Shore | 23 | 53lb 14oz |
| 3rd | James Musson | 4 | 38lb |

2013/14 Membership Books
500 Membership Booksfor the new season (2013-2014) were posted on Wed 29th May to currentmembers.
Another 126 Books were posted on Thursday 30th May to new and current members. This covered all applications I received through the post by Wed 29th May.
Hopefully all new members who sent their application forms in early and with a 1st class stamp should have received their books in time to start fishing on 1st June.
I'll try and deal with all further applications within a couple of days of receiving them.
If you don't receive your book, please wait a few days before contacting me in case it's just a delay with the post.
Enjoy your fishing
Malcolm Shooter
Broome A.S. Membership Secretary

Rothley Workparty 26/5/13
This weeks work party was at Rothley Lakes and River. Again it was a pretty poor turn out and the fact that one of the clubs strimmers was out of action meant that there wasn't a great deal that could be done. Most work was centred around Lake 1. where swims were cleared and bank side vegetation cut back.
The swims on the River were all cleared, some of them were completely overgrown!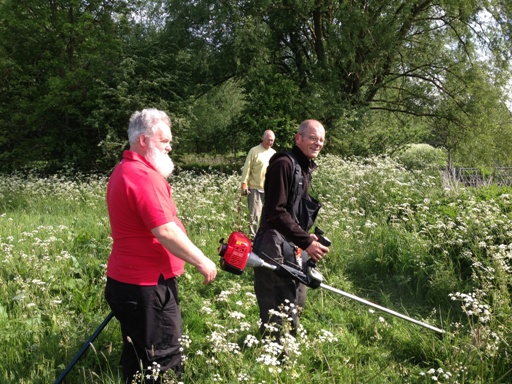 The new strimmer made short work of the long grass.
Sadly Lake 2 seems to need a lot of work to make much of a difference. With all of the surrounding tree's there is a problem with broken branches falling into the water, and it is getting a bit overgrown. With such a low turnout there was not a great deal that could be done to improve matters.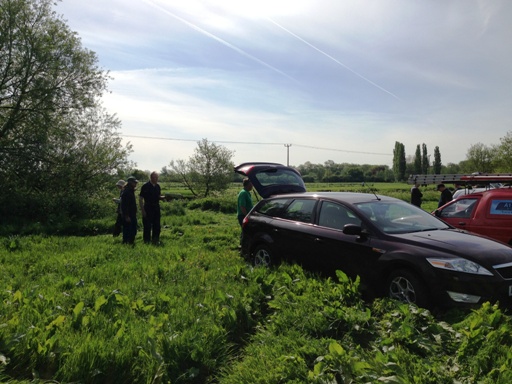 Next weeks work party will be at Kilworth Sticks. This is a change to what was originally stated in the newsletter. As there is quite a lot of work needed at Kilworth there will now be two work parties there, this week 2/6/13 and next week 9/6/13. Please come along to Kilworth and lend a hand, it will be very much appreciated

.
There will be a sweepstake match on one of the Kilworth Lakes after the work party has been completed, open to all those who help out.
The sweepstake match this week was on Jasons Lake, and there were some pretty decent weights throughout the match with almost everyone netting double figure weights. Not bad really as when the Carp are all swimming around on the surface, as they were on Sunday, they are notoriously difficult to catch.
Steve Kinch pulled out peg 4 (surprise, surprise

). But it was no surprise that Steve made the most of it... He netted thirteen carp for 48lb 4oz and would have probably doubled that weight if he had landed half the fish he lost... Once again the Pole curse stuck, Steve smashing the top section on a rather large lump that tied its self up in the reeds. Oh well the winnings might just cover the cost of a replacement Section!!
Second place went to Troy Ward on peg 1. He landed six good Carp all from just next to the cut through between the spits, using Long Pole tactics. Troy, like Steve, caught all of his 39lb 7oz on luncheon meat fished over hemp.
Keith Macfarlane netted five carp and a Barbel on peg 10, along with a couple of big Silvers, hooked in the early stages, Keith put 37lb 14oz on the scales to take third place.
| | | | |
| --- | --- | --- | --- |
| Place | Name | Peg | Weight |
| 1st | Steve Kinch | 4 | 48lb 4oz |
| 2nd | Troy Ward | 1 | 39lb 7oz |
| 3rd | Keith Macfarlane | 10 | 37lb 14oz |

Lock Problems....again!!
Water officer, Terry Branston, has, once again, asked me to put a message on the website concerning Padlocks....This time at Kilworth Sticks:
Members arriving and leaving Kilworth Sticks, are finding the chain secure around the gate but the lock open!
Lets Go over it for, hopefully, the last time!!!
The tumblers must be rotated before the lock is snapped shut.
We, as a club, want to show our responsibility to the owner that we can protect his property and want to keep the water
So please ensure that when you enter or leave the fishery, you as a Broome A.S. Member, has done what is expected.
Thank you
Terry Branston

Frisby Workparty 19/5/13
The Third of this years work party's took place at Frisby Complex on Sunday. Many thanks to all those who turned up to give a helping hand. It was a productive day with work being carried out on Sanctuary and Jurassic Lakes. The usual tidying operations were completed.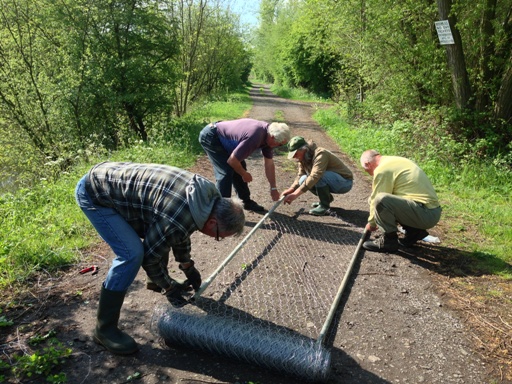 There was also a barrier built and put in place to stop fish escaping from Sanctuary and into Jurassic through the water level pipe.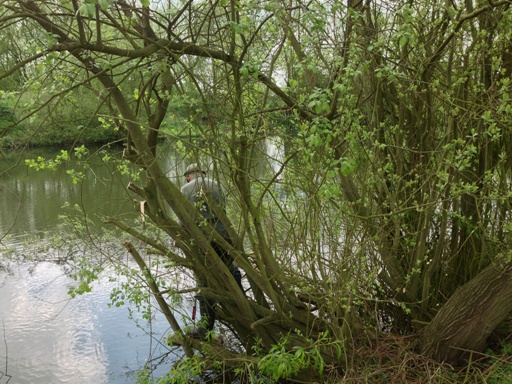 As usual there was a lot of tree pruning to be done on Jurassic. It seems as if the vegetation grows faster around this Lake than any other!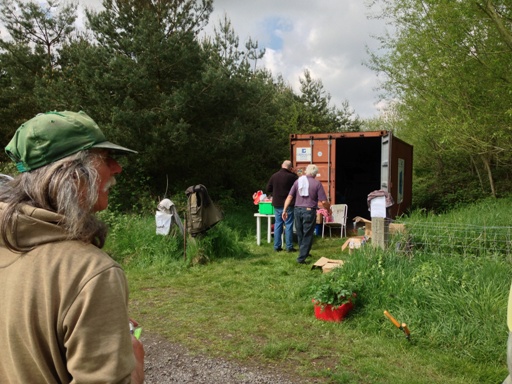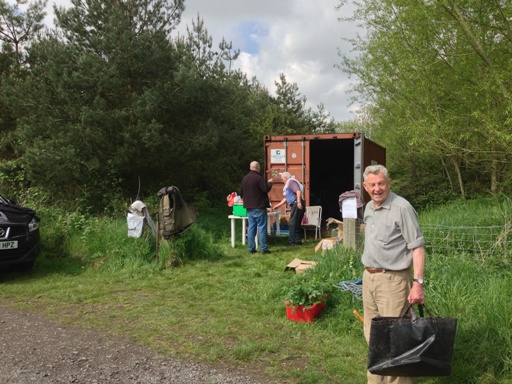 But there is always time for a cup of tea and a good old natter. The numbers attending do seem to have dropped off compared to the last couple of years so it would be great if you could make the effort and give up a couple of hours to help out

.
The next Work Party will be at Rothley River and Lakes this coming Sunday 26/5/13. After the Work there will be a Sweepstake for anyone interested who has attended the Work Party. This will be back at Frisby on Jasons Lake.
This weeks Sweepstake Match was held on Smiggies Lake and some decent catches were made by those who took part. First was Keith Macfarlane who landed a very impressive 40lb 14oz from Peg 27. Keith netted around 30lb or so of Silvers in the first couple of hours until he ran out of maggots!! He then had to switch to a new line and fished with chopped worm and caster to add another 10lb including a decent Tench of around 3lb.
Steve Beckhurst took the runner-up spot with 33lb 8oz. Steve also elected to fish maggot at about 10 meters on the Pole for the Silvers. He also kept topping up a margin swim with micro pellets and was rewarded with a Tench of around 2lb plus a Bream of 4lb, both fish tempted by a 4mm expander on the hook.
A blistering start by Phil Sansby on peg 3 saw him put, probably, half his weight in the net in the first hour and half! but as so often happens the fish started to back off and became a little more difficult to tempt. Phil had a mixed bag of Silvers, Skimmers with the odd small Chub and Roach in his third placed 19lb 12oz.
| | | | |
| --- | --- | --- | --- |
| Place | Name | Peg | Weight |
| 1st | Keith Macfarlane | 27 | 40lb 14oz |
| 2nd | Steve Beckhurst | 1 | 33lb 8oz |
| 3rd | Phil Sansby | 3 | 19lb 12oz |

Frisby Workparty 12/5/13
The second of this years work party's took place at Frisby Complex today. Many thanks to all those who turned up to give a helping hand.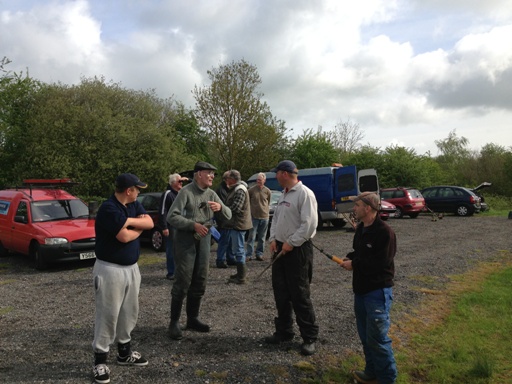 Sadly, it has to be said, that it was the same old faces who, once again, gave up a little of their spare time to help maintain YOUR fishery. Please come along to help out, as we always say many hands make light work.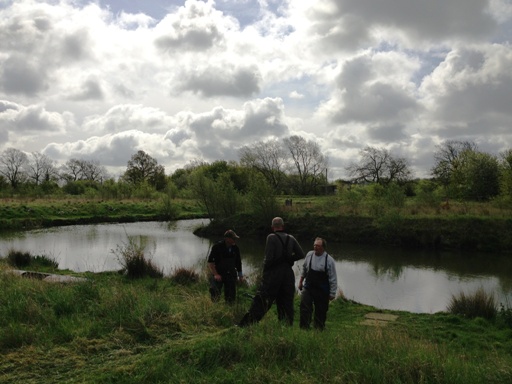 The lads who did turn up worked very hard to get a great deal done this week. Work was done to tidy all of the swims around Smiggies Lake. The Main Entrance was cleared of encroaching weeds and overhanging tree/bush branches. The trees were cut back in the main car park to allow easier parking etc.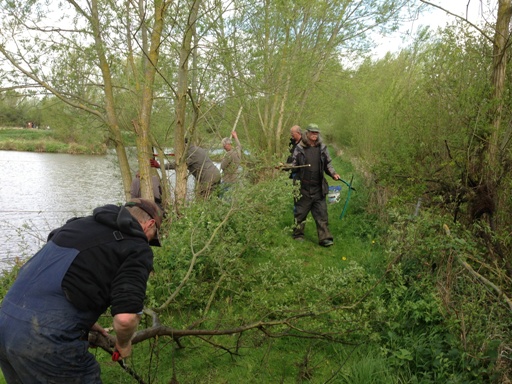 Jasons Lake had a lot of tree branches hanging in the water, these were cleared out to make the fishing easier and more comfortable.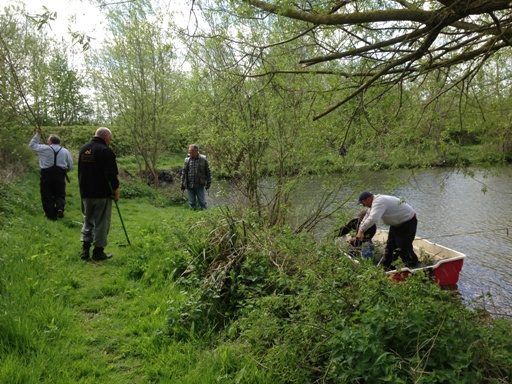 Some of the swims were cleared of debris that collected on the bottom of the lake over the years and were creating problems with anglers tackle getting snagged up.
There was a sweepstake on Colver for all those interested, who had helped on the workparty. Colver didn't fish as well as expected with most really struggling for bites at various stages of the match.
It was Vinnie Logie who came out on top with a good weight, on the day, of 45lb from peg 25. Vinnie caught most of his fish on the Long Pole fished over at the far bank reeds. Next peg, 23, Chris "Cormorant" Shore was runner-up with 33lb 4oz. Cormorant and Vinnie were pretty much level pegging up until the last hour when Vinnie kept on adding the odd fish to his tally whist Chris's swim had started to wain somewhat. Troy Ward claimed the final frame place with 22lb from peg 12, the top weight on that bank. It was a day to forget for everyone else with fish and, indeed, bites very difficult to come by.
| | | | |
| --- | --- | --- | --- |
| Place | Name | Peg | Weight |
| 1st | Vinnie Logie | 25 | 45lb |
| 2nd | Chris Shore | 23 | 33lb 4oz |
| 3rd | Troy Ward | 12 | 22lb |

Lock Problems
It seems that some people are still having problems with the combination locks that help to protect our fisheries. Terry Branston has been repeatedly getting phone calls from members telling him that the lock is broken and will not close properly. In almost every case the lock has been found to be perfectly OK. Some members are trying to shut the lock whilst the opening combination is still being shown. The lock then pops open and the member just wraps the chain around the gate thinking that the lock is faulty.
The tumblers must be mixed up BEFORE the lock is snapped shut! This message appears on the locked gates so if you are struggling to either open or close the lock PLEASE read through the opening/closing sequence to make sure you are able to lock the gates.

Geoff Bags up at Kilworth Sticks
I had a message over the weekend from one of our members, Geoff Greaves, who recently visited Kilworth Sticks:-
I went and fished at the new water on the first day it was allowed, had one of my best days in years caught between 80 and a 100 pound, Carp between 5 and 7 pound really great water. WELL DONE BROOME.
Really glad that you had such a good day Geoff. So if anyone hasn't been up there yet it's well worth a visit

.

Colver Sweepstake
After the AGM, last Sunday (28/4/13), eight members had a sweepstake match on Colver. After the milder weather of late Sunday was quite chilly with, again, a strong wind blowing down the lake. The lads decided to use the pegs at the north end of the lake as these were all free.
It seems as the fish have not yet populated the northern end in any great numbers as yet as the further the pegs went toward the south end the catches improved.
Malc Spring drew the end peg on the day, peg 7, and with 55lb 10oz of mainly Carp, Malc took the honours. Fishing with cheese on the hook about 18 inches deep he caught most of his fish tight to the far bank on the Long Pole.
Next peg to Malc, Steve Kinch on peg 5 was just 11oz behind with 54lb 9oz. Steve fished soft pellet on the hook, again all of his fish were caught fishing tight to the far bank. After feeding a mixture of 4mm and micro pellets Steve kept a steady stream of Carp coming to the net to take the runner-up spot.
Dave Kimber, next in line on peg 3, took Section 1 with 22lb 12oz. Kevin Hirons had some decent sized fish on peg 37 all caught on sweetcorn to take home the Section 2 prize.
| | | | |
| --- | --- | --- | --- |
| Place | Name | Peg | Weight |
| 1st | Malc Spring | 7 | 55lb 10oz |
| 2nd | Steve Kinch | 5 | 54lb 9oz |
| Section 1 | Dave Kimber | 3 | 22lb 12oz |
| Section 2 | Kev Hirons | 37 | 37lb |

Mill-on-the-Soar Away Day
Another trip up to Mill-on-Soar Fishery last Sunday (21/4/13), once again proved popular with a good turnout. There had been an early morning frost but that was soon to disappear in the milder temperatures that have been a long time coming!
Troy Ward drew peg 4 for the second match in succession at this fishery, and this time he was to make no mistake. Troy started to catch Skimmer Bream, eventually netting 10lb or so. But it was feeding quite heavily with sweetcorn and meat to an edge swim that paid dividends

. Six big Carp for around 50lb saw Troy take the honours with a total of 60lb 12oz.
Peg 34 was the runner-up peg at the last match a couple of weeks ago and it seems that the fish are still there. Malc Spring had no complaints when he pulled this peg out at the draw! and he wasn't far behind troy at the final whistle Malc putting 50lb 4oz on the scales for a second placed finish.
Third place went to Chris Lee on peg 10, and he was off to a flying start. Opting to fish a method feeder thrown tight to the far bank Chris had got two carp in the net whilst most were still putting in their initial feed!! Most of his fish came in the first couple of hours, but Chris kept tempting the odd fish throughout the day to end with fifteen or so carp for 41lb 10oz.
Fishing at about six meters out Steve Kinch had a slowish start on peg 38, with the odd Carp and Skimmer coming to the net. Continued feeding with meat and hemp kept the fish interested enabling him to keep up a steady rate of catching. Steve's 38lb 10oz securing fourth place on the day.
Section 1 went to Phil Sansby from peg 2, (drawn for him by Stu Killen who never really recovered from drawing Phil a flyer and himself a no-hoper

). Vinnie Logie's 24lb 10oz took Section 2 from peg 27. 35lb 12oz saw Ian Wilcox take the final Section prize from peg 35.
| | | | |
| --- | --- | --- | --- |
| Place | Name | Peg | Weight |
| 1st | Troy Ward | 4 | 60lb 12oz |
| 2nd | Malc Spring | 34 | 50lb 4oz |
| 3rd | Chris Lee | 10 | 41lb 10oz |
| 4th | Steve Kinch | 38 | 38lb 10oz |
| Sec 1 | Phil Sansby | 2 | 27lb |
| Sec 2 | Vinnie Logie | 27 | 24lb 10oz |
| Sec 3 | Ian Wilcox | 35 | 35lb 12oz |

Mill-on-the-Soar Away Day
Sixteen members took a trip up to Mill-on-Soar Fishery last Sunday. After the recent weeks of freezing weather, bitter winds and not many fish caught! it was good to have a day when everyone caught a few fish

. There was still an early morning frost but the milder temperatures soon saw that off, and the day had a much more fishing friendly feel about it.
The Broome lads who have been having a few knock-ups at this venue over the Winter months, and the matches have been, pretty much, dominated by Silver Fish weights with the odd bonus Carp. This time it was the opposite way around with Carp needed to stand any chance of framing.
With nineteen Carp in all, it was Vinnie Logie who won the day. Vinnie, drawn on peg 22 had a tasty looking Willow tree opposite him at about 14 meters or so and this is where he caught nearly all of his fish. He never really had a "bag-up" spell, but kept on catching Carp a regular intervals throughout the match when others were struggling for a bite.
Den Porter used a combination of Long Pole and legering tactics to tempt his final tally of 48lb 14oz from peg 34. Den fed micro pellets on the Pole line, fishing with soft Pellet on the hook, and hair rigged hard pellet on the Bomb to secure the runner-up spot.
Third place went to Keith Macfarlane. Keith drew in the high 30's, this time peg 38, an area he cannot get away from, so he says

, But he wasn't complaining to much when the scales tipped around at just under 44lb!! Again it was a Carp dominated net.
Chris Lee had a more mixed net, or two nets to be precise

, one for Silver Fish and one for Carp. So when he netted a Pike! in the closing stages he wasn't quite sure which net to put it in

! It didn't matter too much though as it helped push Chris's total up to 39lb 4oz and fourth place. Just for the record, he tempted the Pike with a grain of sweetcorn!

.
Kevin Hirons took Section 1 with 32lb from peg 2. Section 2 going to Steve Beckhurst with 36lb 12oz from peg 17. Malc Spring's 34lb 4oz winning the third Section from peg 32.
| | | | |
| --- | --- | --- | --- |
| Place | Name | Peg | Weight |
| 1st | Vinnie Logie | 22 | 67lb 12oz |
| 2nd | Den Porter | 34 | 48lb 14oz |
| 3rd | Keith Macfarlane | 38 | 43lb 12oz |
| 4th | Chris Lee | 6 | 39lb 4oz |
| Sec 1 | Kevin Hirons | 2 | 32lb |
| Sec 2 | Steve Beckhurst | 17 | 36lb 12oz |
| Sec 3 | Malc Spring | 32 | 36lb 4oz |

Colver Sweepstake
After the unseasonal icy blast it was good to get out for some fresh air.....and extremely fresh it was too



. In fact it was surely the coldest March day for many a year. Sadly the fishing did not lift the spirits of most of the nine hardy souls who participated in the Sweepstake match on Colver.
Just three fish were caught between the nine anglers, Dave Kimber netting two of them!!
Because of the freezing cold wind, and some anglers wanting to fish the more sheltered pegs whilst others wanting to fish the more renowned pegs, it was decided that the match would be a "Rover". This is where numbers 1 to 9 are put into a hat and whoever draws number 1 has first choice of which peg he fishes, number 2 has second choice and so on.
It turned out that the choice of the more sheltered pegs was the correct option. Dave Kimber hooked a tiny 1oz Perch, in peg 33, after about two hours, and this remained the only fish caught up until the last half hour when Paul Cooke managed to snare a 5oz Perch from the far bank of peg 21. Moments later Dave landed the "fish of the day" a 2lb Chub to take him back into the lead.....That being the end of any more meaningful action, Dave took the spoils with 2lb 1oz. Cookies 5oz Perch enough for second place.
One bright spot was that third place had to be drawn out of the hat, and that fine upstanding fellow, Paul Cooke, managed to draw my peg number out of the hat to earn me £20.00 for catching....nowt


| | | | |
| --- | --- | --- | --- |
| Place | Name | Peg | Weight |
| 1st | Dave Kimber | 33 | 2lb 1oz |
| 2nd | Paul Cooke | 21 | 5oz |

Additional Waters for Broome A.S.
I have been asked by club Chairman, Alan Smith, to publish an excerpt from the forthcoming Broome A.S. Newsletter regarding the acquisition of the Fishing rights to Kilworth Sticks Fishery.
I am very pleased to announce that we have successfully negotiated the lease on a new water. It will be our first venture into an ex commercial fishery, namely Kilworth Sticks. The complex has several lakes, of which 5 are available for us to fish. This is a very exciting time for the Society, as it is a coup to have secured exclusive rights to such a
heavily stocked fishery. Members can start fishing this new venue from 1st May. We have only secured a one year lease at present, so that the owner can ensure he is happy with us before committing to a longer one. Members MUST comply with the fishery rules if we want to secure that longer lease, the following must be adhered to:
1) No fishing before May 1st
2) No fishing on the lake in front of the house
3) No night fishing between 10.00pm and 6.00am
4) Parking must be in the dedicated anglers car park in the complex (this is being extended to accommodate 30 cars), and not the industrial units car park.
5) Strictly no parking, or driving on, the grass anywhere in the complex
6) Noise must be kept to a minimum in consideration for the house and industrial unit occupiers
7) All other club rules apply, including barbless hooks etc.
If you want more information please come along to the AGM. Hope to see you there
Alan Smith

Peatling Away Day
In a week between Winter League Rounds, ten members decided to book Lake "E" at Peatling Parva Fisheries for a sweepstake match.
On another cold, grey, bleak winters day the fishing was pretty tough but, to be fair, there were a good few bites to be had considering the conditions.
Martin Broderick came out on top, drawing peg 6, Martin had a net of predominantly small Barbel all caught on the Long Pole at about 10 meters. he caught pretty well throughout the day to finish with a winning total of 12lb 4oz....not bad on a bad day

.
The usual line on this venue is about 4-5 meters from the near bank. Keith Macfarlane set out his stall with this in mind but it wasn't until he moved further out to about 12 meters on the Long Pole that he made any impression on peg 22. Catching small Chublets and Ide Keith finished with 7lb 5oz, and second place overall.
Steve Kinch continued his outstanding form with a third placed 6lb 2oz from peg 26. Steve fished similar tactics to Martin and Keith and also caught Barbel, Chub and Ide.
Section 1 went to "Cormorant" Chris Shore with 2lb 14oz from peg 10. Vinnie Logie taking Section 2 with 3lb from peg 24.
| | | | |
| --- | --- | --- | --- |
| Place | Name | Peg | Weight |
| 1st | Martin Broderick | 6 | 12lb 4oz |
| 2nd | Keith Macfarlane | 22 | 7lb 5oz |
| 3rd | Steve Kinch | 26 | 6lb 2oz |
| Sec 1 | Chris Shore | 10 | 2lb 14oz |
| Sec 2 | Vinnie Logie | 24 | 3lb |

Pike Match Re-arranged
Round five of the Pike League had to be cancelled, due to bad weather. Another match has been arranged. This will be fished on Meadow Lane Lake, Syston on March 3rd. Last draw 8.00am, fishing from 9.00am until 3.00pm.
If you require any further information contact Mick Geary. Mick's number is in your membership book.

Jasons Lake Sweepstake
A sweepstake match planned for Sanctuary Lake had to be hastily switched to Jasons as the torrential rain of Saturday evening had made Sanctuary virtually unfishable. To be honest Jasons wasn't all that much better!! With the lakes coloured up by the dirty, salty snow melt it was never going to be "baggin up" day

.
Yet again it was, man of the moment, Steve Kinch, who stole the show...Steve, drawn on peg 9, had caught a few small Perch during the day for about 10-12oz. It was the last minute of the contest that proved decisive though as he hooked into a bonus Stripy with the final whistle just about to sound....With the Perch going to well over a pound and half it was enough to, once again, give Steve top spot with 2lb 8oz.
Kevin Hirons must have thought that it was going to be his day. Kev landed a 2lb carp from peg 4 in the first half hour. He later added a Perch and was well in front until Steve netted his last minute predator

. Kevin had to settle for the runner-up place with his 2lb 4oz.
Two decent Silvers in the last hour pushed Jason Farmery close to the top two....but, not close enough. One more of the same size would have taken the money, but it wasn't to be. Jason finishing third with 2lb.
After the terrible weather of the last few weeks, lets hope that we can get a more settled period and those fish start having a bit of a nibble again!!

.
| | | | |
| --- | --- | --- | --- |
| Place | Name | Peg | Weight |
| 1st | Steve Kinch | 9 | 2lb 8oz |
| 2nd | Kevin Hirons | 4 | 2lb 4oz |
| 3rd | Jason Farmery | 1 | 2lb |

Mill-on-the-Soar Away Day
Twelve members had an "Away day" at the Narborough Road fishery Mill-on-the-Soar. As you probably know it was a very cold day and the Ice Breakers were required for a few of the swims. The sudden drop in temperature obviously affected the fishing, but, all things considered, the lake provided a few fish and plenty of bites for all.
Steve Kinch took the top spot with 18lb from peg 4. Three carp and around eighteen or so Skimmer Bream making up his weight.
Vinnie Logie had a similar net of fish to Steve on peg 7, Vinnie just had one less Carp and two or three less Skimmers. Never the less Vinnie's 11lb 15oz was enough to take the runner-up position.
Making his first Broome outing for a few weeks, Simon Pepper, proved that he has still "got it"

..... hooking a 7lb carp in the opening stages of the match then adding a few small fish to take third place with 11lb from peg 37.
Martin Broderick took Section 1 with 8lb 10oz from peg 5 and Section 2 went to Mick Nash with 6lb 1oz from peg 35.
| | | | |
| --- | --- | --- | --- |
| Place | Name | Peg | Weight |
| 1st | Steve Kinch | 4 | 18lb |
| 2nd | Vinnie Logie | 7 | 11lb 15oz |
| 3rd | Simon Pepper | 37 | 11lb |
| Sec 1 | Martin Broderick | 5 | 8lb 10oz |
| Sec 2 | Mick Nash | 35 | 6lb 1oz |

Pike Match Update
Round 5 of the Pike League will be fished at Frisby Complex on the previously advertised date of Sunday 10th February 2013. A decision will be made after the completion of the Round 5 match, whether to re-arrange the cancelled match of 6th Jan 2013. Once a decision has been made the venue and date will be published on the website.

Sundays Pike Match Cancelled
Due to Meadow Lane Lake at Syston still being flooded the Pike League Match scheduled to take place on 6th January 2013 has had to be cancelled. There is still between 4 and 6 inches of water covering the road and car park areas. The Match will NOT be switched to another venue on the day. It is still to be decided whether to re-arrange the Match for another date, and we will keep you informed, on the website, once any decision is made.

Colver Lake Sweepstake
The last Sunday of 2012 saw a dozen or so members fishing a sweepstake on Colver Lake and pretty tough it, once again, turned out to be! With most of the Carp, seemingly, having migrating to there normal winter quarters the draw is all important at the moment.
Never one to make a mess at the draw bag

, Den Porter, came out with the peg that everyone wanted.....peg 18. Everyone presumed that the match was as good as over and it would be a battle for the minor placings.... To be fair, though, the fish still have to be caught and any mistakes at this time of year can see a "flyer" blown out very easily. But Den was above all that

, and caught steadily all day to win easily with 29lb 8oz.
Steve Kinch has missed the last few gatherings due to other commitments (Giving some of us mere mortals a chance

) but came back with a bang. drawing the unfancied mid 30's, Steve, netted a 2lb+ Barbel, would you believe, on his very first cast! Three decent sized Carp quickly followed, and then that was pretty much that! the peg reverted back to it's current form and he hardly had another bite for the rest of the Match. His early captures were still enough, at 13lb 6oz, to claim the runner-up spot.
Peg 14 is also a peg that wasn't widely fancied on it's current form so Vinnie Logie did well to come in third with 10lb 8oz. After fishing the early stages of the competition for Carp, to no avail, Vinnie decided to change his approach and look for some Silver fish. Scaling his tackle right down to light terminal tackle and a size 22 hook he landed a nice net of Skimmers all caught using pinkie's on the hook

.
Section 1 went to Malc Spring with 8lb 4oz from peg 1. Kevin Hirons taking Section 2 with 8lb 8oz from peg 21.
| | | | |
| --- | --- | --- | --- |
| Place | Name | Peg | Weight |
| 1st | Den Porter | 18 | 29lb 8oz |
| 2nd | Steve Kinch | 34 | 13lb 6oz |
| 3rd | Vinnie Logie | 10 | 10lb 8oz |
| Sec 1 | Malc Spring | 1 | 8lb 4oz |
| Sec 2 | Kev Hirons | 21 | 8lb 8oz |