Box Leg Found (1/8/12)
Broome's ace tackle finder, Alan Snow, has done it again!!

. Alan found the leg off of a seat box last Sunday (29/7/12). It was between Jasons and Colver Lake, so if you've got a wonky box and you think that Alan has found your leg... then please email me at webmaster@broomeanglingsociety.co.uk giving a brief description of your lost kit and we will re-unite you.


Message from our Head Bailiff (30/7/12)
The following report came in today from our Head Bailiff
Over the past few weeks I have noticed that some people fishing on Broome waters are not carrying their E.A. rod licences. Instead, they are carrying a photo of a rod licence around in their phones. I would like to advise all members that this is NOT acceptable. The licence shown on a mobile phone could belong to anyone and the bailiffs are unable to check the signature on the back.
It has also been bought to my attention that a member who caught a Carp on one of our waters, recently, had no unhooking mat with him and proceeded to lay the fish on the grass to un hook it. This is totally unacceptable. The member was reprimanded and reminded of his obligations to care for his catch if he wishes to remain a member of our club.
John Hyde
Broome A.S. Head Bailiff.

Crayfish at Flash Farm (28/7/12)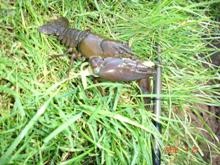 It seems that the Signal Crayfish is spreading far and wide. So it is probably no surprise that we have had reports of Crayfish being caught in our waters.
Thanks to John Horspool for sending in the image of one, of two he netted whilst fishing at Flash farm on Monday 23rd July.

Dead Swan at Meadow Lane (19/7/12)
The following report came in today from Water Officer Terry Branston
Reported to me 15.30pm 19/7/12, Swan in distress in peg 3 Meadow Lane. I went straight down to the Lake. On approaching the Swan, its wing was laying limp on top of the water, and it kept dipping its head, so it was still alive. As it's flooded who knows how long it had been there. The Swan never attempted to move away from the bank. the RSPCA were notified, and within the 30 minutes it took the inspector to get to us from Coalville the Swan died and floated into the middle. The inspector lives locally and will be going down to the lake to retrieve the bird and check on the ring number from its leg. He will also check any for foul play. The inspector has been authorised to have the lock combination, and to let himself in and out.