Steve's day on the River (5/9/12)
Regular contributor to the website, Steve Halford, didn't get what he was hoping for on a recent trip to the River Soar at Rothley as he tells us below...
Just thought I'd share the news of a recent catch. Fished the river at Rothley on Sunday (26/8/12), hoping for some Bream, unfortunately they didn't show.... With hardly any flow and just a tinge of colour I tried the waggler a rod length, or so, out. Loose feeding a pinch of hemp and a few bronze maggots each trot down, I ended up with a great bag of Roach and Perch.

Poaching Rigs (29/8/12)
Sadly we have to report that Poaching rigs such as the ones pictured in earlier reports are still being found on our water at Frisby. Terry Branston emailed me a photo of the rigs, one with sea hooks attached! that were found on BJ's Lake. Again we urge members to be vigilant and to remove any such "rigs" if you happen to spot them, and to report any suspicious behaviour that you may witness.

Crayfish at Frisby (28/8/12)
It seems that we have some Crayfish in our Lakes at the Frisby Complex. The good news is that they seem to be the UK indigenous species. A photo (below) sent in by Ian Watson of a Crayfish caught recently on Smiggies Lake shows a fish caught by an angler fishing close to Ian. It was caught using a small cube of meat. Ian has told me that he has done a little research and believes that it is a White Clawed Cray, which is, by all accounts quite rare!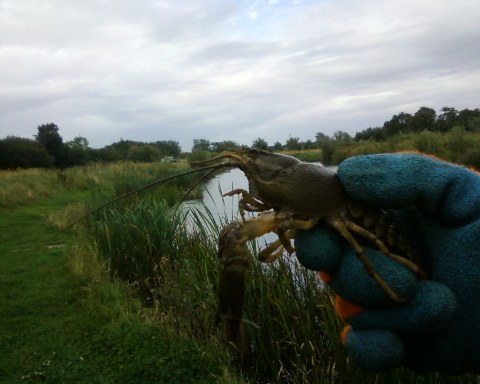 I also had a report from Richard Muddimer. He also hooked a Crayfish but it fell off the hook before he could land it. Richard says that this was a very pale colour also, so, it seems, that they are not the Red Signal Cray.

Follow on from Terry's Message (12/8/12)
Following on from Terry's message, below, more poaching "rigs" have been found and handed in. So sadly it seems as if this was not an isolated incident. These, so called, rigs have been found on BJ's lake and on Jurassic. We urge members to be vigilant, and if you see anything that looks suspicious, or anyone acting suspiciously please inform a bailiff or committee member. If you can get any identifying evidence such as a vehicle registration number etc then all the better. We need to catch whoever is poaching our fish and put a stop to it as soon as possible.

Message from Terry Branston (3/8/12)
The following rather disturbing message came in today from one of our Water Officers Terry Branston
This "rig" was handed to me last Saturday morning (28/7/12). It was discovered attached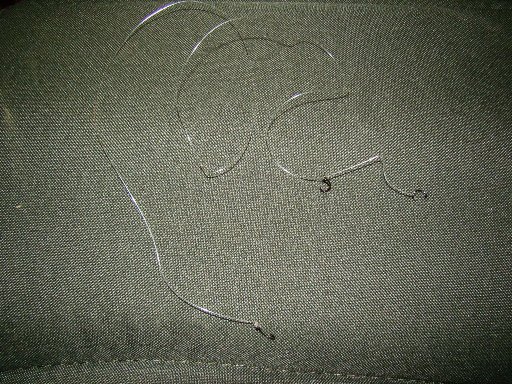 to a members boot as he was walking from Colver. It is a poaching rig. The mechanics are as follows, bait on the single hook, main line attached to middle and further attached to the bank. Fish takes baited hook, spooks when pricked then snagged by the two flying hooks in the flanks. There is no escape, said person comes next day and retrieves the now more or less dead fish for the table. Bailiffs and members please keepa look out for line entering the water usually tethered to a peg of some sorts.
Terry Branston.
If you do happen to find any such, or similar "rigs" please remove them and report it to anyone on the committee.