2011 News Archive
Wipe out on Smiggies!
After the recent re-stocking of Smiggies Lake, hopes were high of some decent winter sport.....But, sadly, the weather, once again, had different ideas. The coldest night, so far, this winter saw temperatures plummet to -4C. When fifteen members turned up to fish a Sweepstake Match, the first task was to break up a fairly substantial covering of Ice.
Steve Harrison was the only angler to enjoy any kind of sport. After blanking for a good part of the competition, Steve decided to warm himself up by going for a short walk. It proved to be a good tactic as when he returned, glowing

, to his peg, he promptly caught a fish a chuck for the rest of the afternoon to win the Match by a mile with 4lb.
Chris "Cormorant" Shore lived up to his name on the next peg, 28, by finding just enough fish from Steve's peg to claim second prize with 6oz. Chris Crane, the third angler in "bag up corner"


, netted three fish....mainly small stuff....for 5oz and third place.
Vinni Logi took Section 1 with 3oz from peg 9, Steve Kinch managed to find one microscopic Perch to take home the Section 2 prize. And "Man of the Match" Kev Hirons, by virtue of being the "last man standing" took section 3.....just for..... being there

. The second Match in succession that Kev has been counting the loot when he ain't had to weigh owt in!!!! Can't be bad.....eh

| | | | |
| --- | --- | --- | --- |
| Place | Name | Peg | Weight |
| 1st | Steve Harrison | 30 | 4lb |
| 2nd | Chris Shore | 28 | 6oz |
| 3rd | Chris Crane | 26 | 5oz |
| Sec 1 | Vinnie Logi | 9 | 3oz |
| Sec 2 | Steve Kinch | 18 | 1oz |
| Sec 3 | Kev Hirons | 24 | - |

Fish Stocking at Smiggies
As stated at the half yearly Meeting, this years stocking programme has started, with the introduction of Chub, Roach, and Barbel, these have all gone into Smiggies Lake. There will be further fish stocking taking place in the near future. Keep checking out the website as we will let you know when, and where the new fish have been introduced. Here's hoping you have great sport with the new influx, providing the ice holds off.

Sweepstake Match on Smiggies
There will be a Sweepstake Match fished on Smiggies lake this Sunday, 18th December for any member who is interested. The draw will be at 8.30am on the Smiggies Car Park

Peatling Parva Lake "E" Sweepstake 6/12/11
The "away day" sweepstake crew pitched their tents at Peatling Pools Lake "E" for this weeks match. Nine hardy souls queued for the 8.30am draw on what was the bleakest looking Sunday for many a month....With a biting wind blowing down the lake everyone knew it was going to be a tough old day!!

.
Almost everyone struggled for bites early on. Everyone, that is, except Chris Lee. Chris on peg 22 started catching almost from the off. Never really "bagging", but then, it wasn't quite that sort of a day!! Chris's 8lb 3oz of Skimmers, small Tench and the odd Barbel, thrown in for good measure, was a very good weight on a difficult day and was well deserving of the first place prize money.
Keith Macfarlane, over on peg 4, had just one small fish in the net, four hours into the match! But constant feeding, with maggots, eventually came to the attention of some Ide who were willing to have a little feed and Keith went from zero to almost hero!

It was, more or less a fish a chuck till the final whistle, but sadly for Keith he needed them to have turned up about 30 minutes or so earlier if he was to have had a chance of catching Chris. Keith's 6lb 8oz earned him second place.
Section 1 went to Steve Beckhurst from peg 8 with a mixed bag of small Tench, about half a dozen Skimmers and a few Barbel all adding up to 5lb 8oz. Steve Harrison had a similar final net, his 6lb from peg 19 enough to take the Section 2 prize.
Just to rub salt in to the freezing wounds of our battered hero's... just as the whistle went for the end of hostilities the heavens opened up and we all got a good soaking to boot....happy days....



.
| | | | |
| --- | --- | --- | --- |
| Place | Name | Peg | Weight |
| 1st | Chris Lee | 22 | 8lb 3oz |
| 2nd | Keith Macfarlane | 4 | 6lb 8oz |
| Sec 1 | Steve Beckhurst | 8 | 5lb 8oz |
| Sec 2 | Steve Harrison | 19 | 6lb |

Peatling Parva Lake "D" Sweepstake 21/11/11
The regular Match crew have been fishing sweepstake matches on a few other venues in between the Broome "official" matches. It has, on the whole, proved quite popular. This week Lake "D" at Peatling Parva fisheries was booked. It's a lake that none of the regulars had fished before so it seemed like a good idea to invite, venue expert, Mick Knight along just to try to make it a little more difficult....



.
As a lot of you will know, Mick's a smashing lad and he helped out with the pegging as quite a few area's of this lake can be "quite difficult" to say the least....And because of his advise everyone, at least, caught a few fish.
That was the reason that we thought it only fair that we let Mick win...(cough ahem!!)

. Mick drew peg 7 and fished in more or less the same area all day. He had one or two dry spells but kept on plugging away on a line about 9-10 meters out using Long Pole tactics. Mick netted a succession of F1 Carp, with a few "Lumps" thrown in, to boost his winning total to 43lb.
Steve Kinch pulled out peg 2 and after a slowish start, Steve had his best run of fish in the last couple of hours just pipping Malc Spring for the runner up spot.
With only nine anglers fishing there were only two "frame places" and two section prizes. the first section going to Steve Beckhurst with 27lb 4oz of F1's and about half a dozen Carp. Once again I had the dubious pleasure of drawing next to Mick and getting a battering!!! Cheers Mick



. Over on the opposite side of the lake Malc Spring was looking like a favourite for the runner up spot but was just beaten by a short head by young Stevie. Malc settled for the section 2 prize with his 28lb 8oz from peg 17.
Almost everyone had departed after the match when Keith Mac decided it might be jolly good fun to lock his keys in the back of his van!!! There were many helpful suggestions as to how the problem could be resolved such as:- "Could you make the payout now Keith so we can all get off home" and "The only way you will get yer keys back is by smashing the window!" followed by "Keith......you effing dipstick!!"

. Thankfully, Kev Hyams produced a tool box bigger than his fishing box, and Keith set to work removing an internal barrier to enable him to eventually retrieve the keys....

. All's well that ends well, or so they say.....

.
| | | | |
| --- | --- | --- | --- |
| Place | Name | Peg | Weight |
| 1st | Mick Knight | 7 | 43lb |
| 2nd | Steve Kinch | 2 | 31lb 2oz |
| Sec 1 | Steve Beckhurst | 6 | 27lb 4oz |
| Sec 2 | Malc Spring | 17 | 28lb 8oz |

Peatling Parva Lake "E" Sweepstake 7/11/11
The Matchmen decided it would be nice to have another "away day" as the last one seemed pretty popular. Peatling Lake "E" was fished in the Away League, and as it fished so well with everyone getting plenty of bites, Lake "E" it was... In the event only twelve anglers booked in which was slightly disappointing, but still made for a good competition.
Steve Kinch has been in excellent form throughout this season and he carried it on in Sundays match with a convincing win from peg 28. Steve started the day fishing at about 6 metre's or so from the near bank netting small Skimmers and the odd Barbel. After constantly feeding meat to an edge swim, Steve turned to it about three hours into the match. A constant run of Barbel from 3oz to 1lb, right until the final whistle, boosted his weight to an impressive 30lb.
Following similar tactics on peg 2, was myself!! I tended to stay for longer on the 6 metre line as I was getting some decent Skimmers on the Pellet. A few Barbel decided to have a feed on my inside line in the last couple of hours but they kept shying away after a couple had been caught. At the all out my 20lb 13oz was enough to take second place.
The fishing seemed to be a little tougher at the far end of the Lake, maybe because a cool breeze was blowing down to those pegs. Paul Cooke, though, netted another mixed bag of small Tench, Skimmers and Barbel for 15lb 1oz and third place.
Section 1 went to Phil Sansby, who caught well in the early stages, but the bites dried up toward the latter part of the match, 12lb 10oz, though, still reflects a pretty good days sport. Keith Macfarlane struggled for most of the day, but was "flying" toward the end. He ended with 10lb 10oz and the Section 2 prize
| | | | |
| --- | --- | --- | --- |
| Place | Name | Peg | Weight |
| 1st | Steve Kinch | 28 | 30lb |
| 2nd | Steve Beckhurst | 2 | 20lb 13oz |
| 3rd | Paul Cooke | 14 | 15lb 1oz |
| Sec 1 | Phil Sansby | 10 | 12lb 10oz |
| Sec 2 | Keith Macfarlane | 16 | 10lb 10oz |

Eye Kettleby Sweepstake 25/10/11
The usual Broome "Match Crew" decided to have a Sweepstake match on Lake 5 at Eye Kettleby Lakes last Sunday. The unseasonably mild weather was tempered slightly by the high gusting winds that made presentation difficult for many of the fifteen competitors.
Mick Knight had no such problems though....Mick drew out peg 19, and started his match fishing toward the aireator halfway between his peg and peg 18. After spotting fish blowing at about 6meters Mick had a quick look on that line. Four Carp in his first four "put ins" convinced him to stay on that line for a while longer. That he did, and he steadily carried on catching on the same line for the whole six hours. At the whistle Mick put an impressive 88lb 4oz on the scales to take the top spot with almost 40lb to spare!
Steve Kinch fished at 11 meters for the majority of the match in the deeper water, ant the tactic of concentrating on one area seemed to work for him as well. Steve took 48lb 12oz to the scales to claim second place.
Drawing peg 20, I had the dubious honour of watching Mick Knight bag up for most of the day!!

. A good first four hours saw me just about keeping Mick in sight but the last two hours of the match, without a bite, put paid to any faint hopes of catching him up. My 44lb 12oz was enough, though, to make third place.
Paul Cooke took Section 1 with 20lb. Den Porter needed just 11lb 7oz to take the toughest of the sections, section 2. Section 3 went to Chris "Cormorant" Shore with 25lb 14oz. Chris asked me to warn Simon "Chuckle Brother" Pepper that he will be chasing him with his bankstick when he next see's him.....

. Simon had had enough after about 4 hours of struggling on the best peg on the lake, so he decided to pack up early and pass the scales on to Cormorant....Chris had been sitting concentrating on his float for about 30 minutes without so much as a twitch. Simon came along and dropped the scales off to Chris before scampering off for an early bath....As Chris turned around to see what he was up to, Simon said "you've just missed a bite there mate!!!" To say that the Cormorant's feathers were somewhat ruffled would be an understatement!!!



.
| | | | |
| --- | --- | --- | --- |
| Place | Name | Peg | Weight |
| 1st | Mick Knight | 19 | 88lb 4oz |
| 2nd | Steve Kinch | 9 | 48lb 12oz |
| 3rd | Steve Beckhurst | 20 | 44lb 12oz |
| Sec 1 | Paul Cooke | 6 | 20lb |
| Sec 2 | Den Porter | 13 | 11lb 7oz |
| Sec 3 | Chris Shore | 22 | 25lb 14oz |

Colver Sweepstake 11/10/11
The result of a sweepstake match fished on Colver Lake last Sunday seems to indicate that the fish are starting to shoal up for the cooler weather.
Match winner, Wayne Smith, only had to feed one potfull of bait to his far bank swim, on peg 31, to amass an 82lb 4oz netfull!. Wayne caught fish from the first put in, until the last; with only a few gaps in between. It was an "end peg" on the day, which certainly helps, but it can sometimes be difficult to keep the fish in your peg all day in such a situation so well done to Wayne.....

His only bad move was deciding to go halves with Geoff Taylor before the match

.
Den Porter headed the rest of the field where the results were a little closer.... Den netting 33lb 12oz from peg 23. It was more a case of trying to keep a few different swims fed and taking what was available from each swim as the competition progressed.
Third placed Chris Crane fished a very similar match, on peg 12, to Den. With a few fish taken from different areas of the peg in order to build a weight. Chris ended up just 8oz short of second place in what was a close run battle for runner-up spot.
Section winners on the day were my good self

, with 27lb 10oz from peg 4, and Mark Aikins who took Section 2 with 26lb 4oz from peg 21.
| | | | |
| --- | --- | --- | --- |
| Place | Name | Peg | Weight |
| 1st | Wayne Smith | 31 | 82lb 4oz |
| 2nd | Den Porter | 23 | 33lb 12oz |
| 3rd | Chris Crane | 12 | 33lb 4oz |
| Sec 1 | Steve Beckhurst | 4 | 27lb 10oz |
| Sec 2 | Mark Aikins | 21 | 26lb 4oz |

Fish catching menace spotted at Frisby 5/10/11
Alan Snow recently spotted a Fish Catching Menace whilst spending a day at Frisby Complex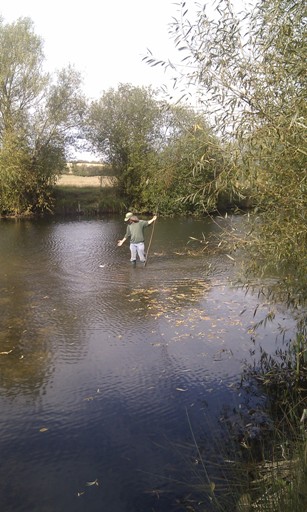 He managed to snap a shot of this long haired beast walking on the water, chuntering some strange language that Alan couldn't understand.
After the monster had waded back to the shores of Jurassic Lake, Alan, eventually, emerged from his hiding place.....
Only to find Mick Farmery sitting on the Bank emptying his wellies!!!


Michael nets his P.B. at Jasons 28/9/11
Michael Kilbourne had one of the days that every angler strives for.....
After fishing Jasons every Saturday for a month, loosing what looked like the same fish two weekends in a row, I finally got my new personal best!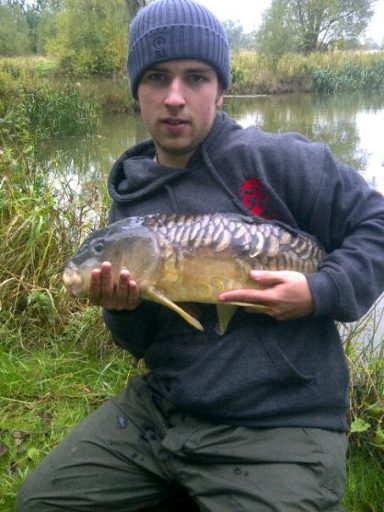 When I first started off fishing there I couldn't seem to get any bites, then a guy called Phil walked by and showed me a few new tactics to try out. He sat behind me on Colver for the day helping me out! He's been there the past two weekends and this weekend, helping me out! He even gave me new bits and bobs of kit to help me out more and if it wasn't for him I don't think I would of caught this beauty. I also caught a nice Skimmer Bream, Roach and a couple of small Perch. So a big thanks to Phil, that's why I love Broome Angling! I'm going to keep fishing Jasons most weekends to see what else I can get out, I'm simply in love with this lake...!

Michael has a day on the River 27/9/11
Michael Mottram decided to have a go at a bit of River fishing the other day.....
I recently had my first trip fishing the River Soar at Rothley. The water looked low, but with some flow on it. Boats where a bit of a problem when fishing the far bank on the feeder but easily overcome with a back lead. Not a lot of sizeable fish about I only had a 8ozs Perch and a 15inch Pike. There was loads of small Chub from 2 to 10 inches. Also some small Roach and Bleak. Not much to show for the day but I enjoyed it as I had not been river fishing for about 40 years. Given the amount of small Chub in the river it looks promising for the Chub fishing in the future .

Ian's day at Meadow Lane 20/9/11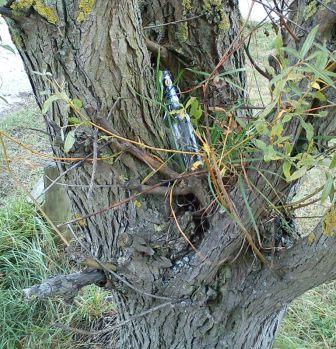 Ian Chamberlain recently had a days fishing at Meadow Lane, sadly it was spoiled by that age old problem caused by a minority....
I went fishing one day at Meadow Lane and was dismayed to find two empty beer bottles left. One was in a tree stump?.
Can you remind all anglers to clean up after themselves and take all rubbish home as to protect the wildlife and keep the place clean for the enjoyment of all other anglers. Needless to say I removed the bottles however I would have preferred not to have had to!!!!
I did have a good day and landed a nice 4lb Tench, and a netfull of small perch.

Problems at Frisby 24/8/11
It seems that, once again, we have a thoughtless minority of members that are causing problems at Frisby Complex. We would urge our vast majority of responsible members to report, to the committee, anyone who you see carrying out actions as described by Water Officer, Terry Branston, below...
To All Members
This inconsiderate angling action from some members has got to stop!!! We are finding discarded/lost fishing tackle that in some cases are classed as "death rigs". These rigs cause almost certain death to our valuable fish. If a fish was to get tethered by one of these rigs it would not be able to free itself and eventually drown.
Not only that, two "bubble floats" complete with barbed hooks and still with bread attached were found in tree branches. The angler, if you can call them that, has pulled for a break, snapped off and just left it there, not phoned for assistance or anything.
To top it off, a member today wanted to join his 21 year old grandson to the club, so the member took him to look round Frisby Complex. When they got to Jason's Lake the grandson said to his grandad that he could see something flapping on the opposite bank. When they went round they found a Kestrel hanging from the tree! Someone that got snagged and just left a tethered bait from a tree. The young man did no more than climb the tree break off the branch and release the Kestrel. This action saved this birds life.
This young man, who attempts to protect the sport and the wildlife around him, is the sort of person that we want in the club. I, for one, can only thank him for his actions and I hope he is successful with joining the club.
Terry Branston

Mick has a great day at Smiggies 16/8/11
Long time Broome Member, Mick Wragge, recently had a great days fishing at Smiggies Lake. Mick tells us all, below...
I have been a Broome member for a number of years now and thought I would share my days fishing on Smiggies with you. I arrived at 6:15am on 22nd July this year after over sleeping! I was the only angler on the Lake at that time and so had the pick of the swims.
I chose the first swim to the left of the nearest corner. I set up to pole fish at about 9.5metres, and had red maggot, corn and cubed spam for baits. I started fishing with single red maggot picking up as you would expect a few Skimmers and small Roach. This continued for about an hour, I then tried double maggot, no change so changed to corn this resulted in no bites apart from one knock in about an hour.
At about 9:30 I decided to fish straight out in front of me but at 4 metres with, again, a single red maggot, wow... first fish was a 4lb 2oz Tench, second fish a Crucian Carp about 10oz, then we started with the Silver fish. After catching more than twenty good Silvers between 8oz and a pound and a half a few smaller Tench and more Bream and Perch I decided to fish close in to my left on the shelf near the reeds. Here I caught four more Tench between 4 and 5lb.
Unfortunately nobody was there to confirm the weight but I wasn't really bothered as I had enjoyed the day. I carried on fishing until 3pm but only catching consistently on a single red maggot. At the end of the day I weighed in 48lb.
Just to put things into perspective I fished the same peg the same way last week and had about 10lb of really hard to catch fish!!!

A days fishing that nearly got spoiled! 6/8/11
Michael Mottram sent in this report
I went for my first trip this season to Meadow Lane last Thursday (4/8/11). On arrival I check the books of the anglers already there. There was one in Pops Wilson's favourite swim and another in the reeds at the far end of the car park. I went round to fish the north bank 3rd swim from the gate end. I put a bottom bait about 4 meters to my left 2 meters out. Then rigged a bubble float for surface fishing and cast about 30 meters directly out in front of me. I had a good take and landed a nice carp (below) of 16lbs 12oz.
After photo's, I rebaited and recast to the same place and had another take; this Carp thought it was a Porpoise and managed to shake the hook free when jumping. I again rebaited and recast to the same place but this time the chap fishing in Pops swim shouted across to me that I had caught his line... He was bottom fishing. I reeled in and recast to my far left again he shouted across that i was across his line. So I reeled in and went round to him with my rod to show him that I was surface fishing and could not be catching his line. He said that if I caught a fish it would tangle his line and I should not interfere with his fishing. He seemed to think that he could fish the entire lake without regard to other fishermen. Now I am a bailiff and a big chap but I am 60 now and I felt threatened and intimidated by his manner. I changed to bottom fishing meters from my bank as I could not think of where to fish without inciting his anger. I had just decided to give up and leave when a bright orange van turned up and he packed up and left. I stayed on and swapped back to surface fishing with a "z rig" to beat the drift and was rewarded with a Bream of 6lb 14oz (below). My biggest since I restarted fishing 4 years a go.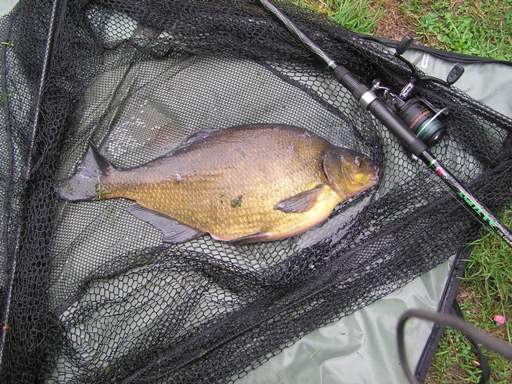 A good days fishing for Michael, but we do not like to hear of ANY of our members feeling "intimidated" on the banks. Admittedly we only have Michaels version of events so if the other angler concerned would like to give his side of the story, then the committee would be grateful to hear it.
All anglers who fish our waters must have respect for other members. If you are fishing at any of our Lakes you MUST NOT cast your bait more than half way across the Lake into another swim, unless that swim is empty. If someone turns up to fish in a swim that you may be casting to, or across, then you must remove your bait to allow the newcomer to fish his peg unheeded.
Committee.

Trespassers at Frisby Complex 1/8/11
I have received a message from Terry Branston, one of our Water Officers:
To All Members
The Bailiffs and some of the committee have noticed an increase with dog mess around Frisby Complex. This, we couldn't understand, as those Members that take dogs with them, I have found, clean up any mess and only a couple of members take their dogs. The answer to the mystery came to light earlier on in the week. As I was repairing the lock once again, I was greeted by a dog walker from Asfordby coming out of Frisby Complex. This is not acceptable as it is private land. When challenged, she said that they used go across the road to the Sailing Club but this has now been stopped by the new owner, and she was at the gate one day and one of our members gave her the combination to our complex!! She, in turn, has passed it on to her dog walker friends...!! Please, if any non anglers come by you ask them if they are members. Any member found to be giving out the gate number to non members will be expelled from the club.
The lock again was broken again today (sun) and the hinge bolts on the gate had been partly removed so be vigilant with your vehicles and fishing tackle whilst you are fishing.
Terry.
For The Committee.

Meadow Lane Bream 27/7/11
An 8lb 2oz Bream caught at Meadow Lane, Syston, has stolen the lead in the Big Fish, Bream class. The specimen (pictured below) was caught by Gavin Hill on legered pepperami.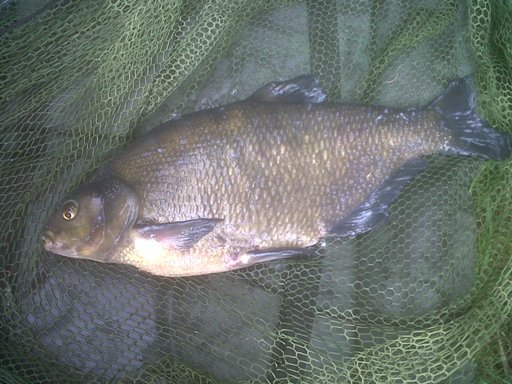 Caution at Rothley 26/7/11
We have had a report of a Broome Member, apparently, damaging his car on the track down to Rothley River/Lakes. He has reported that the vehicles using the track have caused deep rutting either side of the track.
If you are thinking of visiting this venue then please take great care. If you feel that there might be any chance of causing damage to your property then DO NOT take the risk.

Meadow Lane Beauty 25/7/11
Broome member John Essex recently had a great catch, mixed with a little misfortune as John explains below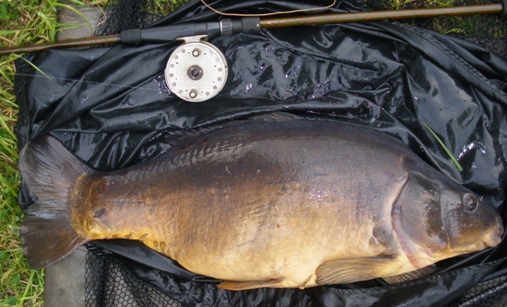 I had a 25lb carp from Syston yesterday (Pictured), and another one of 24lb 12oz in the afternoon/evening. No-one else there though so no witnesses! Just my luck!!! but had a great day....

Bird spotting 6/7/11
Broome member Steve Halford had an interesting experience whist fishing the other week, Steve explains:-
Just thought I'd share this. Two weeks ago I was fishing on BJ's not really having much luck I went to chat to another angler, chatting away I noticed a large buzzard type bird flying around over the complex, only when it came over quite low I realized it was a Osprey, yes really!! I could clearly see the distinctive white and grey colour and it was much larger than the common Buzzards and the Kites that can be seen around the area, any way to put my mind at ease, I contacted
Tim Mackrill
Project Officer
Rutland Osprey Project.
I asked him about the sighting, he said, it was more than likely a young non breeding bird as they venture quite far away from Rutland Water, Tim said the sighting was helpful in tracking the movement of the young birds.

Sting in the tail!!! 29/6/11
Warning to all Broome Members. A wasp nest has been discovered close to peg 1 on Colver Lake. Please keep clear of the area around peg 1 until the nest is dealt with.

Jasons Lake Bag-up! 27/6/11
Broome Member, Steve Kinch, had a really good day last Friday (24/6/11). He netted 127lb of Carp up to 8lb fishing on Jasons Lake on what turned out to be a memorable pleasure session.

Head Bailiff's Report 25/6/11
Head bailiff, John Hyde, has asked me to publish his report of last weeks Bailiff Meeting:
I'd just like to thank the members that turned up to the yearly bailiffs meeting on 14/6/2011.
There were a couple of new faces and a few old one's and included a visit from former Head Bailiff Tony Branston.
Many items were discussed and a fair meeting was held with everyone putting over their points of view.
We are still looking for more bailiffs, so if anyone has some spare time and would like to help us to police Broome A.S. waters, I would be very grateful to hear from them. Please remember that these are your waters and we are only trying to stop people who break the rules. If everyone followed all the rules 100%, bailiffs would not be needed!!
Please remember that all old bailiff cards have now been replaced. The new ones have the original Broome logo on them again, and soon to include a photo of the bailiff.
Once again many thanks for your time and I look forward to meeting you on the banks.
John Hyde
Head Bailiff.

Club Rules....again! 25/6/11
Once again Terry Branston has asked me to place a notice that despite previous requests some Club Rules are being broken:
Since the start of the new season we have had 4 locks broken!! We believe, that some new members may be unsure how to operate the locks, the method is as follows:
1) Line up the correct, current number exactly on the centre line.
2) Press the black button on the base to unlock.
3) After proceeding through, close the gate and wrap the chain back around.
4) Click the Lock back together and re-jumble the numbers.
We know that this might seem obvious to most, but, believe me, Some people are having trouble with this simple procedure.....
Rules Being Broken Blatantly
Only 2 rods are allowed on society's waters. It doesn't matter if you have 2 licenses we only allow 2 rods max, per angler. (Rule 31)
Boilie's are allowed only on Jurassic. We know that Boilie's are being used on BJ's and Meadow Lane. If you risk using these baits and your lines are brought in when asked by a bailiff and you are breaking the rules you will be brought in front of the committee to explain your actions. (Rule 30)
Colver.... Only Commercial Fisheries Approved/Carp Safe, Keep Nets and Landing Nets are allowed on this water. Some anglers are using the black knotted nets which are not allowed. If you are seen using these you will asked to remove them. At the end of the day it is the welfare of our fish stocks that we are trying to protect. (Rule 19)
It seems that rules are being ignored no matter how many times people are informed. The committee is clamping down and bringing offenders before them. We don't like clocking rules, page for page, like some Commercial Fisheries do, the rules we have are mostly common sense and fish welfare, please adhere to them.
Terry Branston (On Behalf Of The Committee)

Ian's day on Smiggies 14/6/11
Ian Watson recently sent me an account of a good day he had recently on Smiggies Lake. Apologies to Ian as I had clean forgotten to put it on the site!!
I have been fishing on Smiggies today and have got to say I thoroughly enjoyed it! After waking at 10am

, I decided to go fishing, after opening the curtains I questioned my judgement.... I went to the shed to find a very depleted bait list, and being a bank holiday a trip to the tackle shop was a non starter. So a tin of sweetcorn, a tin of hemp, a bag of micro pellets a bag of 8mm Coarse pellets and some 6mm expanders was the full list. I settled on peg 19 Smiggies and put a pot of micros and some corn at 12.5m. I started catching some 6inch skimmers and the odd silver fish on expander. With bites very fast and finicky I fed more and fished a hard banded 8mm pellet, bites were longer coming but the Silvers were now 12oz and the skimmers up to a pound!! I finished with two Bream. One was 5lb the other, a real old war horse, of 7lb, I finished up with about 30lb and completely enjoyed it, it was great to catch some fish and some of those on Smiggies looked like they hadn't been caught before.

Rothley Work Party 13/6/11
It was a trip over to Rothley for the final Work Party of this year. It was pretty evident that there is a lot of work to be done at this venue if every peg is to be made available for fishing.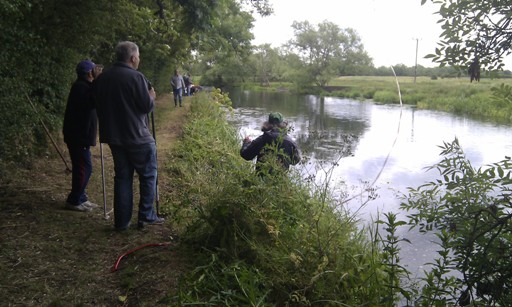 Mick throws in his version of High Tech fishing line!!
All of the most popular swims on the river were cleared of overgrown lily pads and weeds. A lot of rubbish was pulled out from the margins and binned.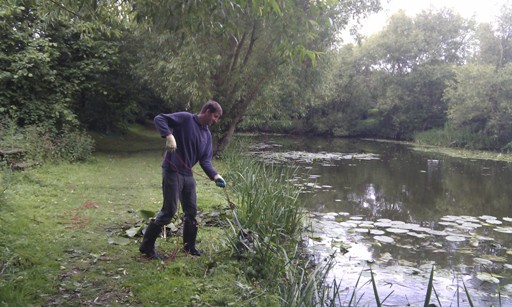 It's Just like "Treasure Hunt"
Lake 1 is pretty clear and just required a bit of a tidy up. Lake 2, however, is slightly more of a problem. The lily pads and other vegetation are almost taking over and it was pretty clear that we hadn't got enough man power to do a more complete job.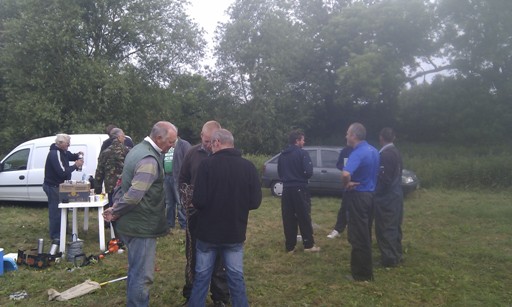 Everything stops for tea....
A lot of snags were pulled out from the water, though, and a few more swims are now fishable. It seems that next year a little more time will need to be spent at Rothley to try to keep on top of the force of nature!!

.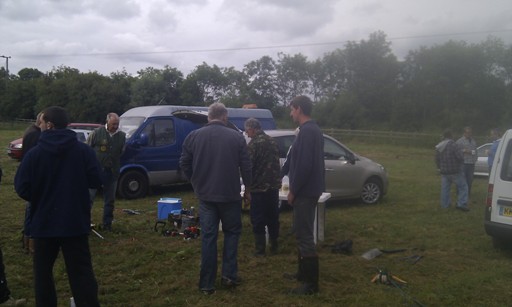 What would we do without Brians Brew??
There wasn't quite such a good turnout for this week which was a pity bearing in mind all that needed doing, but as ever all those who did turn up did a mighty fine job once again.
As previously mentioned the Work Partys this year have been really well attended and we would like to thank everyone of you who have turned up to help over the last few weeks.
Twelve of the work party crew elected to fish the sweepstake on Colver Lake, and although it didn't fish as well as expected, in the non stop rain, everyone caught a few. And everyone kit got a good spring clean!!!

| | | | |
| --- | --- | --- | --- |
| Place | Name | Peg | Weight |
| 1st | Dave Kimber | 40 | 58lb 8oz |
| 2nd | Steve Beckhurst | 30 | 31lb |
| 3rd | Mick Farmery | 24 | 29lb 12oz |
| Sec 1 | Mark Aikins | 28 | 27lb |
| Sec 2 | Steve Kinch | 31 | 20lb 6oz |

Bailiffs Meeting
There will be a Bailiffs Meeting on Tuesday 14th June at 8pm. The meeting will be held at Birstall Social Club. All Current Bailiffs and anyone who is interested in becoming a Broome A.S. Bailiff are requested to attend this meeting.

Cormorant Deterant Ropes & Weed Control 6/6/11
A couple of messages from one of our Water Officers Terry Branston:
Three of the Cormorant Ropes that were replaced during the recent work party's have been cut by anglers fishing on Colver Lake. We know that these ropes are unsightly and may cause tangles if you are not careful. But these ropes are not installed just to cause members problems....They are there to try to prevent Cormorants from eating our fish!!! The Cormorants find it difficult to take off with these ropes in place and hopefully they will look for other feeding venues. It will not deter every bird, but it does help.
This week I will be applying a UV restriction dye to Jurassic, this dye turns the water a blue bloom colour, and restricts sunlight reaching the weed growth making it die back. This blue bloom is completely safe to the fish, wildlife and aquatic life as well as fishing tackle. Please don't panic and phone that the lakes are turning blue, (all lakes are interconnected so some dye may leech into the next lake)
Terry

Frisby Complex Work Party 6/6/11
It was back to Frisby for work party number four last Sunday (5/6/11). The object was to complete all of the work that had been left unfinished on Sanctuary and Jurassic, and any other tidying up that needed seeing to.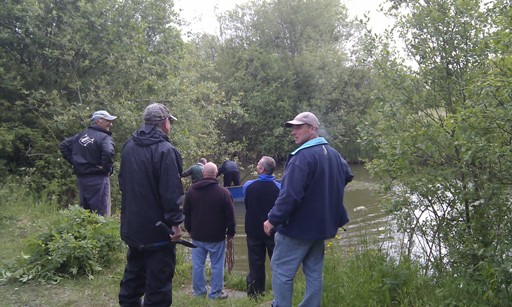 The work party's make a great spectator sport
Once again a good turnout of volunteers helped to complete the work in good time.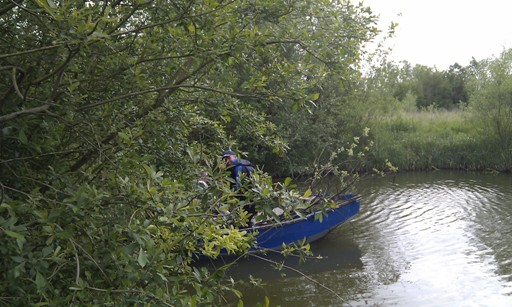 It's no use hiding....we know where you are
Inevitably the Boat was voyaged again and once again Simon was the one to don the skippers hat!!

. I'm sure that he and Keith cant wait for the work party season to come around so that they can, hone their sailing skills...
Yes lad....when you get to my ripe old age, you might get a place on the boat crew...
Seriously, though, the boats are a real boon as it makes controlling the tree growth a whole lot easier when you can attack it from the water.
Both Jurassic and Sanctuary had a lot of work done to remove encroaching branches and open up swims that were becoming difficult to fish.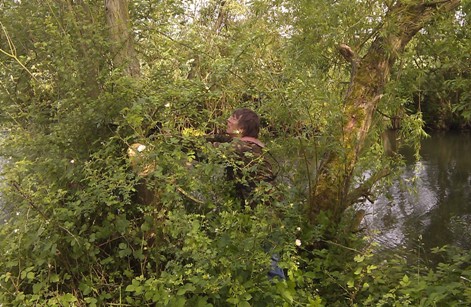 I don't think anyone will notice if I take a leak.....
The dead trees were also cut down to prevent the danger of them falling
Come on lads....form an orderly queue
Even the tea break was not without incident.... Brian, after bringing the new kettle, as many biscuits, sausage rolls, crisps and various other goodies, as much any one could desire, got to Frisby and found that he had forgotten all of the mugs....Dohhhh

Not to worry though, a quick trip to Melton, and the purchase of a couple of packs of plastic mugs saved Brian from being torn limb from limb by a pack of thirsty fishermen

.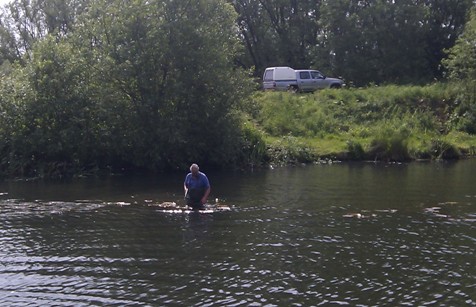 I'm sure it was about here that I lost that swimfeeder in 2010....
Thanks, yet again to all those who have turned up at the four work party's so far this year. A tremendous amount of work has been completed in record time, and it wouldn't have been possible without your help. Just one more to go, next week at Rothley, so we are hoping to see you there....
Fourteen of the work party crew elected to fish the sweepstake on Jasons Lake, and although it didn't fish as well as expected there were still a good few bites to be had.
| | | | |
| --- | --- | --- | --- |
| Place | Name | Peg | Weight |
| 1st | Jason Farmery | 19 | 28lb 8oz |
| 2nd | James Musson | 4 | 20lb 12oz |
| 3rd | Wayne Mitchell | 1 | 18lb 6oz |
| Sec 1 | Alan Smith | 9 | 15lb 12oz |
| Sec 2 | Phil Sansby | 10 | 8lb 6oz |

AMAL Membership Book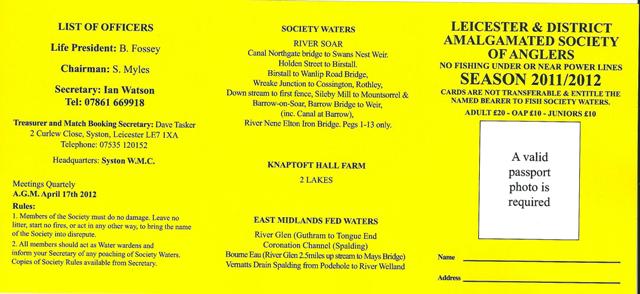 Above is a view of the new AMAL Membership book that Broome AS Members will receive as an addition to their 2011-2012 Broome AS club membership.
Unfortunately the lease for the two lakes at Knaptoft Hall Farm has fallen through at the very last minute. Furthermore, the AMAL books had all been printed before news became apparent. So please note that these two Lakes at Knaptoft will NOT now be fishable with your AMAL book.
The AMAL have decided that a valid passport type photo is affixed to the new book before it is used, so please bear this in mind before you visit any AMAL water as you will be asked to leave if no photo is present.
All other waters named on the AMAL book can be fished during the normal River fishing season (16th June 2011- 15th March 2012)

Manor Farm 1/6/11
Just a reminder to all of our members that Manor Farm Fishery at Froleswoth is no longer controlled by Broome AS. The Lease for this venue has now expired and it will not be renewed.

Meadow Lane Work Party 31/5/11
Work party number three was completed last Sunday (29/5/11) and, with three down and two to go we are now more than halfway through the schedule.
Meadow Lane, Syston was the venue this week, and because of previous years hard work, grass cutting and a general tidy up was the main order of the day.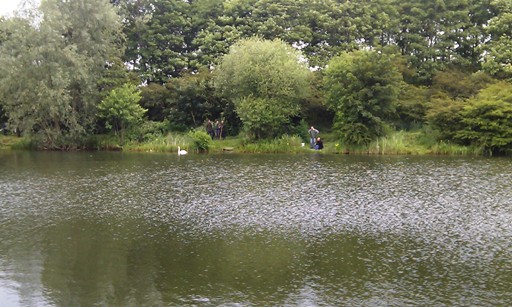 The early birds look for the worm
Once again we had a good turnout and there really are some keen "work party enthusiasts" out there, as some were at Meadow Lane as early as 5am!!! I can assure you that I wasn't one of them.....I was still safely tucked up in bed at that ungodly hour!

.
Some swims were dredged out and a lot of the snags were dragged from the Lake bed, mostly tree branches that had fallen foul of the weather.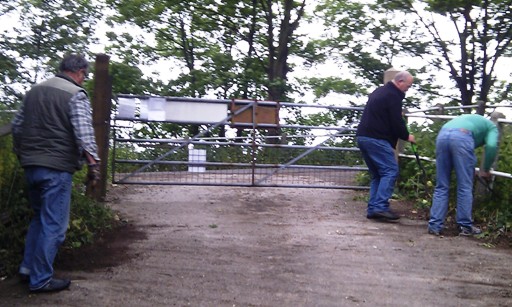 Taking a day off from re-surfacing the M1
The road from the gate got a face lift with the encroaching grass, mud and weeds cut back to reveal about two feet of extra road concrete that was slowly turning back to nature!
Amazingly all of the work was completed by 9.30am due to the early birds and amount of help. Once again heartfelt thanks go to all those who, once again, lent a hand

.
The Work party sweepstake proved to be a petty tough affair as was expected. Frank Lyons, though, hooked the fish of the day... A fine black backed Bream weighing in at 6lb 12oz. Franks only bite of the day took top prize and also put him on the "big fish" list with his swim feeder caught specimen.
| | | | |
| --- | --- | --- | --- |
| Place | Name | Peg | Weight |
| 1st | Frank Lyons | 1 | 6lb 12oz |
| 2nd | Dave Kimber | 9 | 1lb 6oz |
| Sec 1 | Steve Beckhurst | 7 | 1lb 2oz |
| Sec 2 | Keith Macfarlane | 9 | 4oz |

Club Rules Being Broken 30/5/11
Club Water Officer, Terry Branston, asked me to publish an email he sent to me yesterday regarding Club Rules being openly flouted:
I went up to Frisby Complex after the Meadow Lane work party, with Brian. On BJ's Lake there were three separate carp anglers each with Three rods out! Our club ruling is two rods maximum only. When he brought the third rod in, it was baited with, you guessed it, a Boilie! He was told no Boilie's....He said, that he was told, Boilie's are allowed on Jurassic.....Which is true, They are NOT, however, allowed on ANY OTHER Broome A.S. Water. His mate brought in his rod and he was found to be using artificial baits....which are completely banned under Club Rules.
Please read the Club Rules if you are not sure of them.
Because of the above, the bailiff's will be keeping an even more vigilant eye out for flagrant rule breaking, and offenders will be invited to explain there actions to the Committee.

Frisby Work party 23/5/11
Work party number two was completed last Sunday (22/5/11) and, once again, due to a very good turnout, a great deal was accomplished.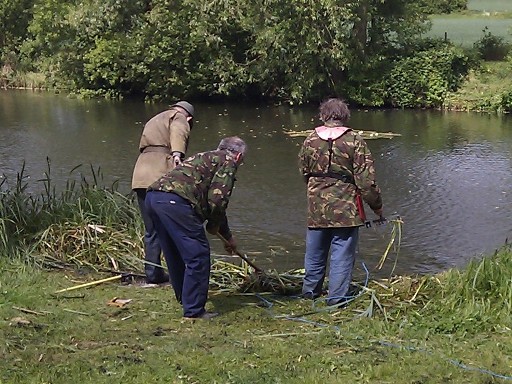 Jurassic gets the treatment
Colver was one of the main focus points for this week. The Island vegetation got cut back, as did the reeds and long grass on the banks. Missing "anti cormorant" ropes were replaced and the peg numbers were re-painted.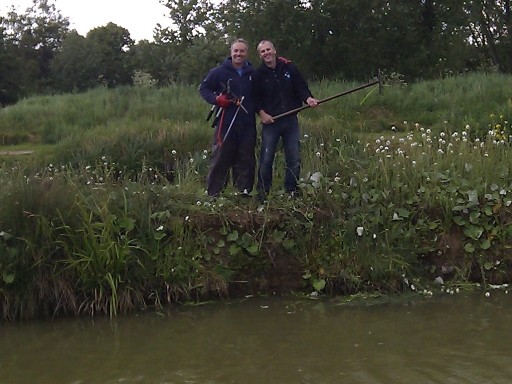 The poseurs......posing!

Once again the Boat came out and the frustrated sailors were queuing up to book their trip on HMS Broome

. The rapidly growing trees on Sanctuary were pruned back to enable better access to the pegs.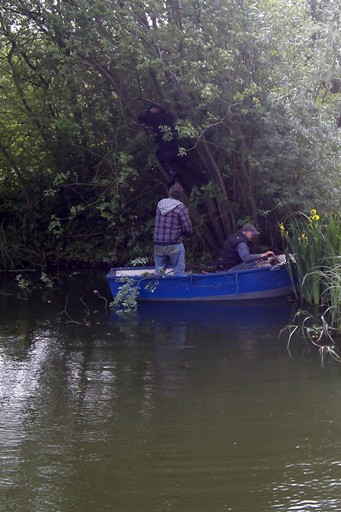 Dave, Keith and Chris...some of our keenest sailors

The tree branches that were starting to encroach on the pathway at the back of Jasons were cut back. Den stripped to his underpants to wade in to Jasons Lake and clear some of the reeds on peg 4, and to open up peg 5....Sorry ladies but those pictures were censored in the name of good taste...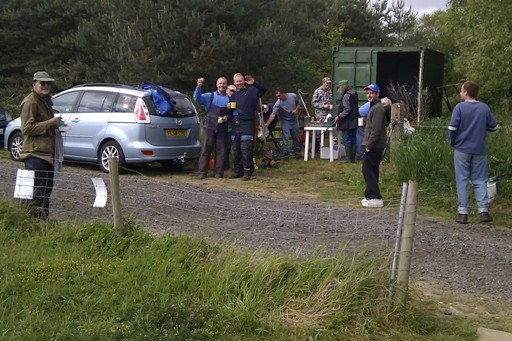 Best time of the day.....a cup of Brian's Brew
The access between BJ's and Jurassic was cleared and safety fencing fitted. Swims on Jurassic were dragged to clear underwater snags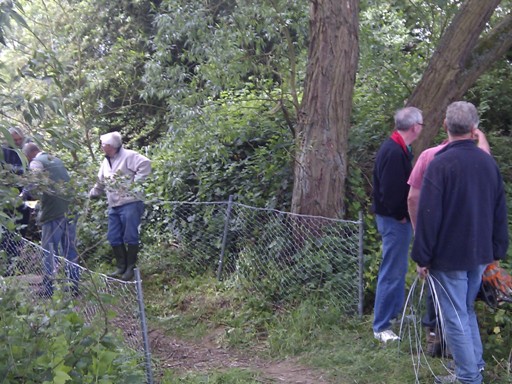 Nearly done now lads
Once again we would like to say thanks to all who gave up a few hours of their Sunday morning to help out. There have been a lot of new faces so far at the work parties and a lot has been achieved in record time....well done to everyone



The "Workparty Sweepstake" for this week took place on Smiggies Lake. The high winds made the fishing extremely difficult...to say the least!! But as you can see from the results there were a few fish to be had between the gusts!!

Vandalised Mail 21/5/11
Membership Secretary, Roy Parkes, has asked me to inform members, specially those that live in the Birstall area, that he has received some applications for Broome membership that have been damaged. Apparently a Post Box in Birstall was recently vandalised. If you have sent off your Membership application or renewal and are concerned that it may not have been received could you, please, contact Roy at roy.parkes@sekrap.co.uk or by telephone (Roy's number is in your membership book) and he will confirm whether your application has been received.

Frisby Work party 16/5/11
This years first work party took place last Sunday (15/5/11), and it was great to see such a good turnout of volunteers and a tremendous amount was achieved.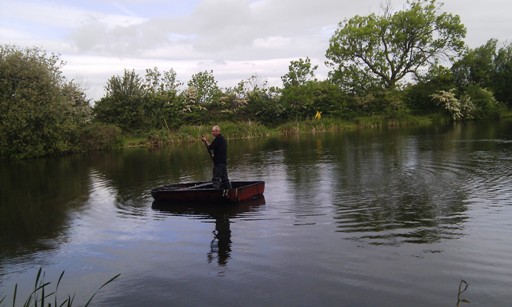 Keith guiding the boat back to dry dock
New pegs were cut out on BJ's Lake, a lot of overhanging tree branches were pruned back to enable casting etc and all of the pegs were generally tidied up enabling easier access.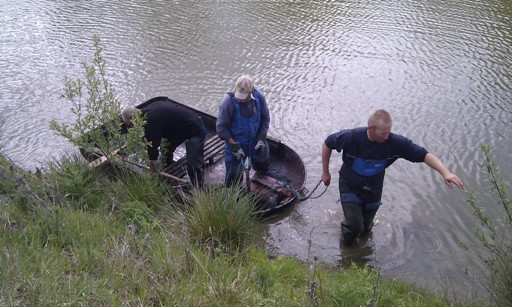 The young'uns do the heavy work...as Simon demonstrates!!
Smiggies Lake also received a facelift. Some of the reeds and rushes planted a couple of years ago have now taken a real hold and needed pruning back a little. They really have made a difference to the look of this Lake. Some reeds were replanted up around the pegs 11-15, so please be careful not to disturb them until they have taken a hold.
"Ahh good" Brian's got the Kettle on....
Some work was started on Jurassic, and the Road entrance received a good tidy up. Its amazing how much things grow in 12 months...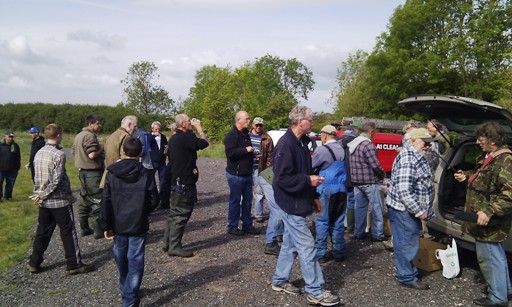 Half time and the workers enjoy a well earned cuppa
Thanks to all those who turned out. Its great to see members putting something back into the club, and as we always say....the more the merrier! Brian always see's that everyone gets a cuppa and a bite to eat...So come along and join us next week, you might even enjoy it

.
As usual there was a sweepstake match after the work was completed for all who were interested. Colver was the chosen venue. It turned out to be a very close competition. the results were as follows....

| | | | |
| --- | --- | --- | --- |
| Place | Name | Peg | Weight |
| 1st | Dave Kimber | 43 | 63lb 4oz |
| 2nd | Jason Farmery | 27 | 61lb 4oz |
| 3rd | Phil Sansby | 12 | 57lb 4oz |
| Sec 1 | Steve Kinch | 18 | 50lb |
| Sec 2 | Geoff Taylor | 46 | 50lb 4oz |

Jasons Lake Sweepstake 10/5/11
Ten members gathered for an 8.30am draw to fish a sweepstake match on Jasons Lake last Sunday. With the slightly cooler, breezy weather and the conditions not quite so bright as they have been recently everyone was hoping for a good days fishing....

.
Although the Lake didn't fish terribly, sadly, it was not up to the earlier expectations either!
It was the end two pegs that were to dominate the match, with Jason Farmery on peg 4 just edging out Steve Kinch (peg 6) for the top spot. Peg 4 is notorious for lost fish because of the close proximity of the reeds, and the fish's tendency to head for them as soon as they are hooked!! Jason reckoned, though, after the match that most of the fish he hooked in his 34lb 13oz actually swam AWAY from the reeds!!!.....say no more!!!



.
Steve Kinch sitting opposite Jason on peg 6, lost more fish than he landed, and just one more fish to add to his 31lb would very likely have snatched the top spot from Jason....but it wasn't to be, so Steve had to settle for the runner up place.
Section 1 winner, Dave Kimber, probably had more fish than anyone else with around 7lb of Silvers...add to that two bruisers, one of 5lb and another of 8lb, Dave's 20lb was enough for the Section and the super pool.
The only money winner from the southern half of Jasons was "The Cormorant" Chris Shore, Chris, on peg 10, took home the Section 2 prize with 19lb 8oz. Sadly for Chris, though, it turned out to be an expensive day as he broke one of the big sections of his Pole, just shipping back after missing a bite......ouch!!!
| | | | |
| --- | --- | --- | --- |
| Place | Name | Peg | Weight |
| 1st | Jason Farmery | 4 | 34lb 13oz |
| 2nd | Steve Kinch | 6 | 31lb |
| Sec 1 | Dave Kimber | 2 | 20lb |
| Sec 2 | Chris Shore | 10 | 19lb 8oz |

Smiggies Lake Sweepstake 3/5/11
Fourteen members fished a Sweepstake match on Smiggies Lake, last Sunday, and once again the Matchmen found it very tough going. It has to be said that the windy conditions didn't help much, and with the wind coming from an easterly direction it seemed to push the feeding fish right up to the far end of the Lake.
Phil Sansby pulled out peg 13, and as the number might suggest, not always the best of pegs. But with the wind blowing directly into the peg it made for an uncomfortable days fishing....but a winning days fishing!!! Phil had three good Bream and a few silvers in his winning weight of 14lb 6oz.
Keith Macfarlane loves to fish for the Silvers, so he was quite happy to draw peg 24, an area noted for Silver fish, Keith probably had the best days fishing of all with a good net of 12lb 6oz, and the second place prize money made him even happier!

.
Den Porter was not a happy man

... having to sit with the wind in his face he was very concerned about his windswept hair spoiling his film star good looks.... He was walking the bank after a biteless first two hours, spreading words of wisdom to anyone who cared to listen...and biting off the head of anyone who disagreed...



. His mood was to change abruptly as when he eventually returned, growling, to his peg; next "put in" he hooked a 4lb Bream! Another of similar size and a big Skimmer of around 2lb carried a now smiling Den to third place with 10lb 6oz
Paul "Cookie" Cooke took Section 1 with 6lb from peg 9 and Cormorant Chris Shore's 4lb 4oz from peg 27 was enough to win Section 2.
| | | | |
| --- | --- | --- | --- |
| Place | Name | Peg | Weight |
| 1st | Phil Sansby | 13 | 14lb 6oz |
| 2nd | Keith Macfarlane | 24 | 12lb 6oz |
| 3rd | Den Porter | 18 | 10lb 6oz |
| Sec 1 | Paul Cooke | 9 | 6lb |
| Sec 2 | Chris Shore | 27 | 4lb 4oz |

Terrys Day on Smiggys Lake
Terry Newton has sent in a report on his recent pleasure session on Smiggys Lake, read his account below...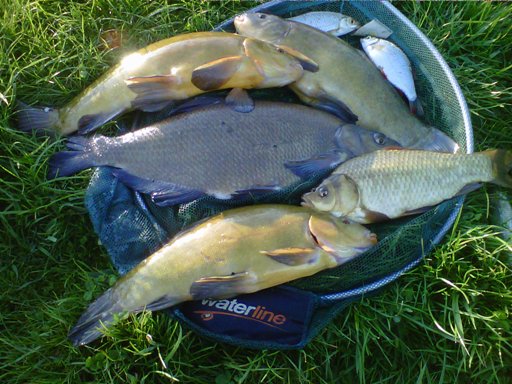 Having only joined Broome anglers in September, I am still learning the the best methods to fish on all the lakes. I have been concentrating on Smiggys Lake, trying for a decent bag of fish. I have had good bags of silver fish using light tackle but the bigger fish fish have been harder to come by; only coming in one's and two's. Recently I had a couple of hours to spare, so arriving at Smiggys at 4pm I found I was the only angler on the lake. I chose to fish peg 1 and fished pole up to the margin reeds on sweetcorn. In two hours I had this nice bag of fish. Although not the big bags I am trying for, not bad for a couple of hours fishing.

Pleasure session at Smiggys
We often have to report that the Matchmen have had to struggle for bites when fishing on Smiggys Lake....To be fair this is often the case when a Fishing Match takes place. The disturbance of sixteen or so anglers all arriving at the same time, bait being introduced all around the Lake, early fish being caught etc etc can all help to make catching fish a little more difficult!
We have David Holmes to thank for sending in some pictures of a couple of his recent pleasure sessions on Smiggys, just to show what can be caught from this water when it is a little quieter...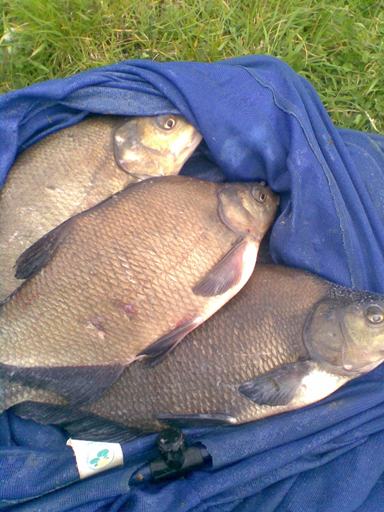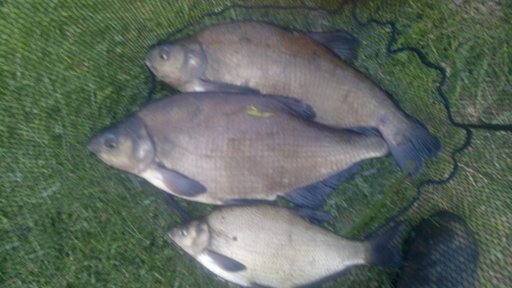 Two good pleasure fishing catches I had on Smiggys Lake!!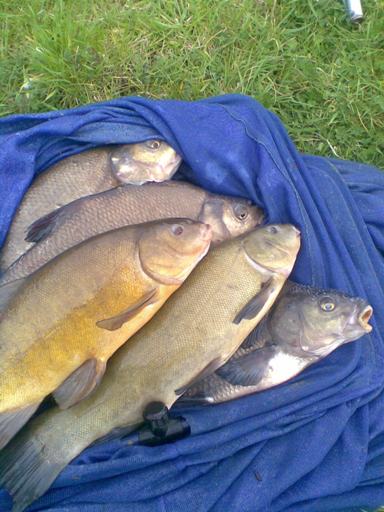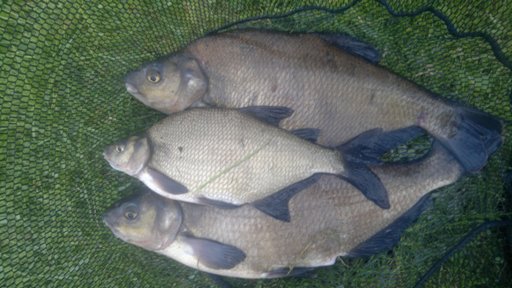 Bream between 2.5 lbs and 4lbs. Tench from 2-3lb and plenty of Skimmers and other Silver fish!

Jasons Lake Sweepstake 26/4/11
Fourteen members fished a Sweepstake match after the AGM on Sunday afternoon, on Jasons Lake.
Mark Aikins was top rod on the day with a respectable weight of 37lb from peg 7. Paul Cooke caught well in the final stages of the competition and one more fish would have probably earned him first place, but he had to settle for runner up spot with 34lb off of peg 10. Dave Kimber taking the last frame place with 26lb 13oz from a peg that he seems to draw with some regularity, peg 4!!
Malc Spring made a rare visit, and was rewarded with a Section 1 win, Malc netting 16lb 12oz from peg 6. Section 23 went to Simon Pepper with a good weight of 22lb 4oz from peg 12.
| | | | |
| --- | --- | --- | --- |
| Place | Name | Peg | Weight |
| 1st | Mark Aikins | 7 | 37lb |
| 2nd | Paul Cooke | 10 | 34lb |
| 3rd | Dave Kimber | 4 | 26lb 13oz |
| Sec 1 | Malc Spring | 6 | 16lb 12oz |
| Sec 2 | Simon Pepper | 12 | 22lb 4oz |

Course fish Pellets now allowed on Broome Waters 24/4/11
After a good debate at this years AGM it was voted by the members present at the meeting that as from 12.00pm 24/4/2011, Coarse Fish Pellets (only), would be allowed on all of Broome AS Waters. the vote was approximately 80% for, 20% against.
High Oil Pellets, such as Halibut Pellets and Trout Pellets will, however, not be allowed. Various studies have shown that high oil pellets can cause damage to coarse fish as they find them indigestible. If you choose to use pellets please respect the decision of the majority of the membership, and use only coarse fish (low oil) pellets.

Steve Halford Bags at Jasons 21/4/11
Steve Halford had a great day at Jasons Lake last Sunday 17/4/11. Read his account below...
I had a go on Jasons on Sunday 17th April 2011, seems like I'm not having much luck catching carp recently, but I couldn't complain with this net of Silver fish. After no bites on either meat, sweetcorn or paste I started to flick a few maggots in. After about 15 minutes the water was "boiling". I set up a short pole rig fishing up in the water and started catching! Every few fish I caught, the Silvers moved further out, so I kept flicking maggots without casting until they came back in close, and repeated the cycle throughout the afternoon The final tally 42 Silver fish all 8oz -1lb, and a few over the 1lb plus a dozen assorted, Perch and Skimmers! a very enjoyable session!!!

Michaels day on Sanctuary Lake 20/4/11
Michael Mottram had a good day on Sanctuary Lake last Sunday 17/4/11 read his account below...
A days pleasure fishing on sanctuary on the Pole, with a feeder rod on the side, with a bite alarm. I started at 11am things where slow at the start but then the small silver fish started and I ended up with about 15 Rudd and Roach to 6 inches.
At 6pm I had a take on worm maggot cocktail on the pole, it was clearly a good fish, I quickly managed to get it into clear water. Then the fun started when it realised it was hooked and of it went not the fast run of a Carp but a steady pace like a tank just going and going. With my elastic at full stretch I quickly added the rest of my pole sections and was just in control when I saw it roll... I first thought I may be on for a double, after about 10 minutes I was able to bring it to the and land it. Not as big as it felt but a plump 5lb 10ozs.
After I had weighed it I left it in the weighing sack and got the camera ready. I was just putting it back on the unhooking mat when my feeder rod went I quickly put the sack back in the water and went to my feeder rod... after a short fight I landed a nice 2lb 8ozs Tench both where released after the photos. I would not mind hooking the Carp again after it has put on about 10lb what a fight that would be.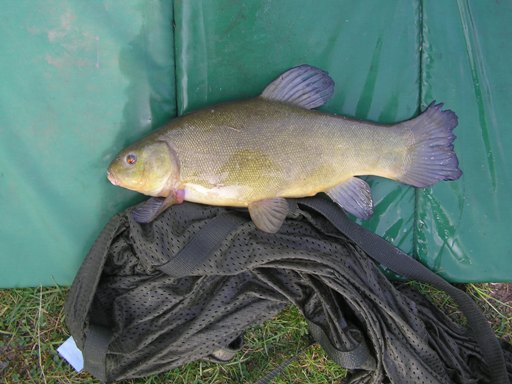 After that the only bite I had was a 9 inch Tench that was fin perfect without a mark on it small but a pleasure to catch.

Colver Lake Sweepstake 18/4/11
With the official Match program now completed fifteen members organised a sweepstake match on Colver Lake last Sunday. After carefully pegging around the four or five pleasure anglers already fishing, it was all set for a prompt start at 9.30. The signs were promising as some of the pleasure anglers were catching quite well.
The fish have spread out over Colver but the first four southern end pegs are still the place to draw...The top four weights in the competition all came from these pegs.
Given a half decent draw Jason Farmery is always going to be asking all the questions, especially on Colver. So when he pulled out peg 16 he was always going to be in the running. It was quite a slow start for Jason, but as so often happens he timed his run immaculately and was catching some good sized Carp at a fairly regular pace toward the end. His 64lb 4oz was well in front by the "all out"
Phil Dayman is fast earning the nickname "End peg Dayman"

, as he seems to have developed the knack of regularly pulling out end pegs!! On Broome waters, not a bad knack to have! Phil spent the first half of his match netting fish out of peg 21!! His catch rate seemed to slow towards the end though, and this probably allowed Jason to overtake him for top honours....54lb 12oz still represents a good days fishing and second place overall plus first in the super pool ain't a bad reward

.
Simon Pepper drew the regular money winning peg 18, and he and Phil were going fish for fish for the majority of the day. At the weigh-in, though, Simon was just a couple of fish short and had to settle for third spot with a level 50lb.
Section winners on the day were, Mark Aikins, who took Section 1 from peg 2 with 46lb 1oz. Section 2 went to yours truly with 42lb 10oz from peg 12, and Phil Sansby took Section 3 with 48lb 1oz from peg 23.
| | | | |
| --- | --- | --- | --- |
| Place | Name | Peg | Weight |
| 1st | Jason Farmery | 16 | 64lb 4oz |
| 2nd | Phil Dayman | 21 | 54lb 12oz |
| 3rd | Simon Pepper | 18 | 50lb |
| Sec 1 | Mark Aikins | 2 | 46lb 1oz |
| Sec 2 | Steve Beckhurst | 12 | 42lb 10oz |
| Sec 3 | Phil Sansby | 23 | 48lb 1oz |

Good day at Hill farm 17/4/11
Steve Halford decided to try his luck at Hill Farm last weekend, and things turned out pretty well for him. Read Steve's account below...
I went up to Hill Farm last Sunday (11/4/11)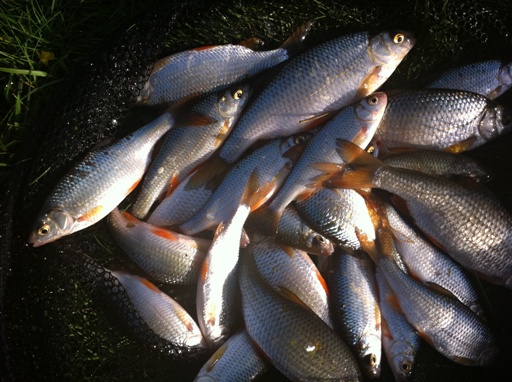 After a Biteless two hours on the "method Feeder" trying to tempt the Carp I decided to change tactics, and have a try for some smaller stuff....I ended up catching this good net of nice Roach on sweetcorn, using the waggler.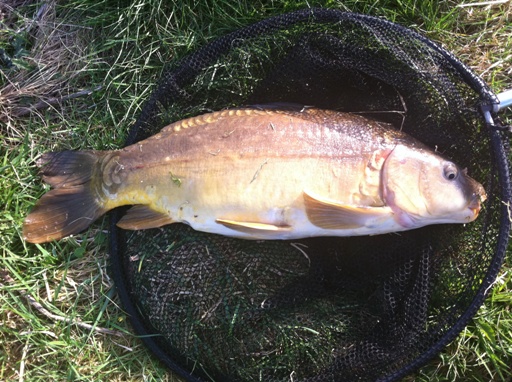 All of a sudden this fine Carp of around 5lb took the corn. I'm sure I would have caught a lot more fish if I'd have had castors or maggots with me...

Smiggys Lake Sweepstake 3/4/11
Twelve members fished a Sweepstake match on Smiggys Lake last Sunday. With the weather set fair and with a few fish spotted moving about, hopes were high that Smiggys Lake might return to a little bit of form. On reflection, although some anglers struggled for bites, there were more fish caught this week than of late.
It does seem that a few fish have moved to top corner recently, an area that once seemed pretty barren. Dave Kimber was very happy to draw peg 15, and especially so when he found that the breeze was off his back and he would be able to fish his favorite waggler method. Dave put a steady run of Silver fish into the net in the opening couple of hours on the Waggler untill the wind picked up and made bait presentation difficult. A switch to the long Pole proved successful as a decent Bream fell for his double red maggot bait. Dave kept switching methods and picking off fish throughout the match, finishing up with 12lb 4oz and first place.
Next peg, 17, was Keith Macfarlane, he must have speeded up his "tackle setting up" technique, as this week we were only ten minutes late for ther "All in"

. Keith started catching Silvers much later in the day than Dave, so it was pretty obvious that big fish were going to be needed to have any chance of catching him. Keith got his head down, and it almost worked

...two good Bream plus his Silvers gave him 10lb 4oz. A lost Bream, hooked in the last half hour, would have surely given Keith top spot...but it was not to be so he had to settle for the bridesmaids position for the second week running!
Phil Sansby probably had the most enjoyable day as his third placed 9lb 4oz was all made up of Silver fish and small Skimmers. Phil fished Pole at about 10 meters. Apart from a barren hour and half Phil caught virtually all day.
Section 1 went to Alan Smith with 5lb of small Skimmers from peg 7 (drawn by me....again!!!). And Paul Cooke took Section 2 with 8lb from peg 28.
| | | | |
| --- | --- | --- | --- |
| Place | Name | Peg | Weight |
| 1st | Dave Kimber | 15 | 12lb 4oz |
| 2nd | Keith Macfarlane | 17 | 10lb 4oz |
| 3rd | Phil Sansby | 5 | 9lb 4oz |
| Sec 1 | Alan Smith | 7 | 5lb |
| Sec 2 | Paul Cooke | 28 | 8lb |

Jurassic Bream
We must say thanks to Steve Halford for sending in his pictures of two fine and healthy looking Bream that he caught recently on Jurassic Lake.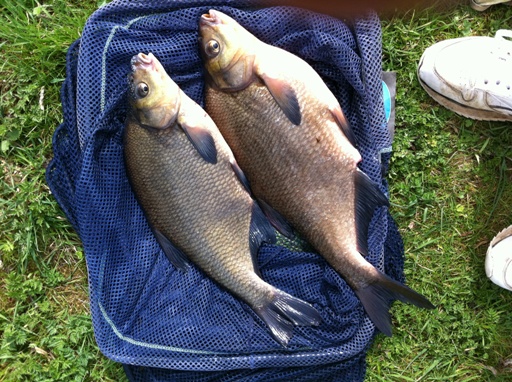 Steve caught both fish using Pole tactics, with maggot as bait. The larger of the two fish weighing in at 4lb 8oz was a female laden with spawn and the smaller, a male, weighing 4lb had spawning tubercles on its head.

Website Update 1/4/11
We are in the process of updating the software that is used to operate the Website. It is possible that there may be some glitches, or pages may not seem quite as they should. Please bear with us while the update is being completed. Thanks.

Colver Lake Sweepstake 20/3/11
Fourteen members turned up on a fine Sunday morning to fish a sweepstake match on Colver. It was interesting to see that of the six or so pleasure anglers already fishing, only the anglers on pegs 15 and 18 seemed to be catching with any regularity. The anglers fishing at the north end, pegs 1 and 2, 45 and 46, seemed to be fiding bites more difficult to come by. This seemed to bear out the chat between the match lads prior to the draw, those that had been to the lake earlier in the week said that a lot of fish were spotted in the 30's and the southern end pegs. As it turned out, though, those pegged in the 30's were the one's who found the going the toughest!
They don't always produce but anyone would be happy to draw a south end, end peg. So when Den Porter found peg 21 in the draw bag he was more than happy....And a happy Den is not a very regular occurance!!

....When Cookie pulled out next peg, 23, Ladbrokes closed the book on the first and second place betting

. As we all know, don't take on the bookies, as they were absolutely right...Den weighing in with 35lb 6oz to come romping home by a furlong or two, with Cookie coming up on the rails as the runner-up. Den was the only angler to catch pretty steadily throughout the match as sport wasn't as prolific as we had all hoped.
Paul Cooke caught most of his fish in the very early stages and then again at the end of the competition to finally put a second placed 27lb 5oz on the scales. The Carp were not really in a feeding mood, everyone, except Den, was struggling until the last hour or so, when, once again, most of the fish were caught. Third place went to my good self

. I managed to net three decent Carp, early on, from peg 8 then switched to a Silver fish approach when it became evident that the Carp were not really "having it". This stood me in good stead as my 6lb+ of Silvers just managed to keep section 2 winner Phil Dayman at bay.... Phil, on end peg 43 struggled until the last hour, when he started catching....By the "all out" Phil was flying and I thought he would beat me for third place. He ended up just one fish short and with 23lb 3oz Phil settled for the Section 2 prize.
Alan Smith has taken to asking me to draw his peg for him.....and it seems to be working.....Al picking up money in three of the four matches that I have done the honours for him!! This week was no exception. I handed him peg 12, and he took Section 1 with 11lb 8oz!!! I reckon I'll have to negotiate a 20% fee from now on!!!

.
| | | | |
| --- | --- | --- | --- |
| Place | Name | Peg | Weight |
| 1st | Den Porter | 21 | 35lb 6oz |
| 2nd | Paul Cooke | 13 | 27lb 5oz |
| 3rd | Steve Beckhurst | 8 | 23lb 14oz |
| Sec 1 | Alan Smith | 12 | 11lb 8oz |
| Sec 2 | Phil Dayman | 43 | 23lb 3oz |

Broome AS Close Season 20/3/11
The Close Season for fishing on Rivers came into force on 15th March 2011. We have had reports of two members continuing to fish on the River Soar last week. The Environment Agency take a very dim view on this, and they have been known to issue very hefty fines to anyone who breaks the law by fishing on Rivers during the Close Season (15/3/11 - 15/6/11inc). We know that because of the abolision of the Close Season on still waters, sometimes, people may forget, but this is not an excuse that the EA will entertain. If you do happen to see anyone fishing on any of our River venues (River Soar at Flash Farm, Narborough & River Soar at Rothley) Kindly remind them of the law and ask them, politely, to cease fishing. Failing that please inform our Bailiffs. Thank you.
The Committee.

Away Day 6/3/11
The regular Broome Match Anglers decided to try an "away day" last Sunday. Frank Lyons, who fishes Saturday matches at "Mill-on-the-Soar" fishery, suggested that we have a day at "The Mill". The fishery is a very shallow lake with an island in the middle, with 38 pegs in all. It has a large head of Carp and Skimmers and is generally best suited to Pole or Legering tactics.
Dave Kimber drew, noted, peg 12 and won the match at a canter. Dave weighed in 41lb 10oz of Pole caught Carp to push Keith Macfarlane into second place with his mixed Carp and Skimmer net of 26lb 12oz. Den Porter drew peg 35 and did what he likes to do most of all, he fished a swim feeder over to the Island and caught a, slow but steady, run of Carp in the 3-4lb bracket to end the day in third place with 25lb 4oz.
On a predominantly pellet water, Mick Farmery took Section 1 by fishing....Pinkie and Maggot!!

. Mick had a mixed net of Silvers, and Skimmers for a very respectable 20lb 6oz from peg 8. Venue suggestee Frank Lyons was rewarded for his patience, as most of his fish came in the latter part of the match, he put 18lb 8oz on the scales for a Section 2 win. A good day was had by all as almost everyone weighed in

.

Smiggys Lake Sweepstake 20/2/11
Twelve members fished a match on, the recently stocked, Smiggys Lake last Sunday, and by the "all out" about half of them wished that they hadn't bothered!!!

. It was pretty dire to say the least. The Lake was very clear and with a cold easterly wind things looked pretty ominous from the off.
The standout weight was, by far, Dave Kimbers 10lb 6oz from peg 24. Dave netted about thirty or so Silver fish, mostly caught on the waggler fished to the far bank. He was the only angler to put together any number of fish. his weight could have been a whole lot better but for a lost big fish toward the end of the match.
Chris Shore started the competition by fishing close to the near side edge for small fish, and was suprised when a Bream of about 4lb snapped up his bait! A great start for "Cormorant", Chris was one of the few other anglers to catch a few silvers and his 7lb 12oz was easily enough for second place. Alan Smith, peg 14, carried on with his recent good form. A few small fish in the first hour were suplimented by a bonus Bream and his 4lbtook third place.
Section 1 was definately NOT the place to be!!! three hours into the match and not one angler from peg 1 to peg 9, had caught anything at all. The last hour saw everyone scratching for tiny Perch or Roach, and by the end, all had "Landed" at least one or two, two inch long specimens! Paul Cooke managed to coax about five or six minnow sized fish to take the section with just 3oz. Simon Pepper took section 2 from peg 26 with 2lb 8oz of Pole caught silvers.
| | | | |
| --- | --- | --- | --- |
| Place | Name | Peg | Weight |
| 1st | Dave Kimber | 24 | 10lb 6oz |
| 2nd | Chris Shore | 18 | 7lb 12oz |
| 3rd | Alan Smith | 14 | 4lb |
| Sec 1 | Paul Cooke | 1 | 3oz |
| Sec 2 | Simon Pepper | 26 | 2lb 8oz |

Lost Landing Net 20/2/2011
Michael Mottram lost a Landing Net and Telescopic handle on Tuesday 8th February at Jurassic Lake. If anyone can re-unite Michael with his Landing Net could you, please, give him a call on 07561 343128.

Colver Lake Sweepstake 6/2/11
After the ice cometh the wind!!! Once again the weather seemed to save its most testing conditions for Sunday, when most of us can spare a few hours for a spot of fishing... The members who fished a sweepstake on Colver last Sunday were no exception to the "Pole busting" elements. With the recent additional stocking, though, it really didn't spoil the sport to much. The majority of the fish caught were the new boys, they seemed prepared to feed wherever the peg was baited...They obviously haven't learnt the subtle art of baited hook dodging yet...(it won't take long!

).
In fact, winner on the day, Paul Cooke, 27lb 10oz, was the only angler to catch any number of the original bigger Carp. This was probably due to the fact that the pegs at the southern end of the Lake were not quite so windy as those at the other end and that former body builder Cookie discovered that at least some of his muscles have not yet turned to fat, and he could just about fish to the far bank!!!



.
Dave Kimber, at the other end of the Lake on peg 40, decided to opt for a line that would be easier to obtain better bait presentation. Dave netted a mixture of the new Stockies and a few silver fish for second place with 24lb 5oz all caught at about 9 meters on the Pole. Phil Dayman had a similar approach on peg 44, and caught a net of fish similar to Dave's. Phil's 18lb 10oz earned him the third place money.
Den Porter sat between Dave and Phil, on peg 42, and spent the first couple of hours trying to tempt a few of the bigger fish, without any response... So a change of tactics to fish for the new stockies was probably a little to late to challenge for the main frame prizes. Dens 15lb 6oz, though, was enough, to take the Section 1 prize. As we all know Cormorants like to sit where the fish are most likely to be found...Our very own Cormorant, Chris Shore, is no exception

... Chris pulled out peg 18, almost a guarantee of some sort of payout, and he didn't disappoint, taking Section 2 with 15lb 8oz...

.
| | | | |
| --- | --- | --- | --- |
| Place | Name | Peg | Weight |
| 1st | Paul Cooke | 25 | 27lb 10oz |
| 2nd | Dave Kimber | 40 | 24lb 5oz |
| 3rd | Phil Dayman | 44 | 18lb 10oz |
| Sec 1 | Den Porter | 42 | 15lb 6oz |
| Sec 2 | Chris Shore | 18 | 15lb 8oz |

Pre season Stocking completed
The additional pre season stocking was completed on Friday 28th January. A further 300 Silver fish were added to both BJ's lake and Sanctuary Lake. They also received 500 Tench of around 8-9 inchs. Colver Lake had an additional 600 Carp added, all between 3oz & 8oz. Hopefully all of these extra fish will be "bedded in" and feeding well, once the warmer weather starts to show.

Frisby Complex Stocking
During the recent lull in the icy conditions, the lakes at Frisby Complex received additional stocks of new fish. There were 900, 4-6 inch Skimmers added to Smiggys Lake, Bj's Lake received 100, 7-9 inch Skimmers. Colver Lake had a further 900, 4-6 inch Skimmers. Both Jasons Lake and Sanctuary Lake had 900, 4-6 inch Skimmers and 100, 7-9 inch Skimmers added. There will, also, be a further £4,000.00 worth of new fish added in the near future. Keep checking on the website as we will give full details of the additional stocking once it has been completed.

Colver Lake Sweepstake 23/1/11
After the big thaw of the previous week we were all hoping that we would get a little respite from the winter weather, we did, but not for long!!! With temperatures once again dipping down as low as -6 deg in midweek, the lakes were, once more, covered in a thick sheet of ice....As late as Saturday, anglers were still struggling to be able to break through it to enable a bit of fishing.
Sunday morning saw thirteen of the regular match crew gather around Colver for a sweepstake match. Thankfully with mild overnight temperatures the ice had all but gone from Colver. A few pegs at the north end of the lake still had the remains of the ice lingering on, but the lake was, on the whole, pretty clear.
If you didn't draw a peg at the southern end of the lake, frankly, it was a waste of time. All of the money winners came from the southernmost pegs. Topping the lot with, for the day, an outstanding weight of 16lb 8oz was the Cormorant himself! Chris Shore pulled out peg 16 and made good use of it, Chris was the only angler to put any number of Carp together, eight in all, and along with a couple of Chub, all caught on the Long Pole, with good old bread for bait, Chris took the top prize at a canter.
Dave Kimber took up residence on his usual peg, 21

... The soil on this peg has an indentation of Dave's box on it he has drawn there so many times!!

. Dave found some Lob worms in his bag that he had been using on the River Soar lately and used them to good effect, netting a Carp and a couple of big Perch prooving that oldest fishing baits still catch the fish

. Along with a few Silver fish caught later on in the match Dave took 7lb to the scales for second place.
Alan Smith has a new tactic that seems to be working well...he has been getting Paul "Cookie" Cook to draw his peg for him...Once again Cookie pulled out a good'un, peg 25, for Smiggy....Two decent Carp in the first two puts was a great start on what was always going to be a tough day. Alan also found a nest of Roach in his peg, and try as he might to "feed them off"

, they kept coming back for more... His final tally of 6lb 8oz was enough to land third spot.
Vinnie Logi drew fancied peg 18, but with the carp reluctant to feed it ended up as a real struggle. One Carp, hooked with his first cast at the far bank, was Vinnie's only bite of the day. Such was the lack of action for most anglers, though, it was still enough, at 1lb 12oz, to take section 1. A monster Perch, approaching the 3lb mark, helped to boost Mick Farmery's Silver fish weight and with it, take section 2 with 5lb 4oz.
| | | | |
| --- | --- | --- | --- |
| Place | Name | Peg | Weight |
| 1st | Chris Shore | 16 | 16lb 8oz |
| 2nd | Dave Kimber | 21 | 7lb |
| 3rd | Alan Smith | 25 | 6lb 8oz |
| Sec 1 | Vinnie Logi | 18 | 1lb 12oz |
| Sec 2 | Mick Farmery | 27 | 5lb 4oz |

Jasons Lake Sweepstake 9/1/11
Ten members decided to, once again, don the thermals and get on down to Frisby for a spot of Ice Bashing!! After they had all got suitably warmed up from the well practiced art of swinging the lead some mad fool suggested a fishing match!!!! (it takes all sorts

) It's amazing what a dose of Cabin Fever can do to a man!
So the fishing it was.... Vinnie Logi came out on top with the, not inconsiderable, help of a Perch of 1lb+....Vinnie also managed to get a few of its smaller brothers and sisters into the net to finish up with a total of 2lb from peg 13. Unfortunately for everyone else, it was just the small brothers and sisters that were prepared to play ball. Mick Farmery catching the most of them with 14oz of small stripey's from peg 19 for second place.
Dave Kimber prooved that there are still some silver fish about, by adding two or three Roach to his team of small footballers for a section 1 winning weight of 12oz from peg 2. Alan Smith added evidence to his oft repeated claim that he only draws fliers when the waters are out of sorts by drawing peg 10.....a flyer

. He did manage to take section 2 though, with another all Perch catch of 12oz

.
| | | | |
| --- | --- | --- | --- |
| Place | Name | Peg | Weight |
| 1st | Vinnie Logi | 13 | 2lb |
| 2nd | Mick Farmery | 19 | 14oz |
| Sec 1 | Dave Kimber | 2 | 12oz |
| Sec 2 | Alan Smith | 10 | 12oz |

Pike Match re-arranged
Because of the frozen condition of our Lakes the Pike Match scheduled for 9/1/2011 has been re-arranged for the following week 16/1/2011. The match will be fished at Meadow Lane, Syston...Conditions permitting!

Membership Closed
Membership Secretary, Roy Parkes, has asked me to inform you that as of 1st January 2011 Broome A.S. has reached the upper level number of members and therfore will be closed for new membership untill further notice.