Micks Pike
Mick Gray hooked up with this monster, once again, in the recent Pike Match fished at the Frisby Complex. They must be getting quite aquainted now, as this is the same fish that Mick caught during last seasons Pike Match Series!!!

. Needless to say, Mick won the match with this fish alone....He tells the tale below...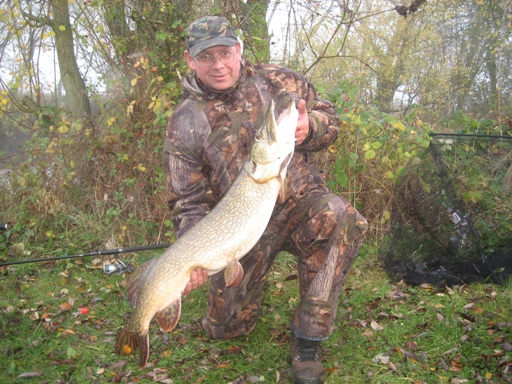 I was in the process of setting up the rest of my tackle, when my float started bobbing about. I put my landing net together...and then struck! She had fallen for a Mackeral tail at about four feet deep and she gave me a good old run around.

Smiggys Lake Sweepstake 14/11/10
Eleven members chose a very dull, still and cold day to fish a sweepstake on Smiggys Lake last Sunday. After all the high winds and rain of the previous few days it seemed as if nature had just stopped to take stock, before deciding what to throw at us next!!

. It seemed pretty much the same with the fishing....After some early action with Silver fish being caught in odd pegs by anglers who were specifically targeting them, the match started to turn into a hunt for anything with fins...
Mick Farmery remained patient whilst early Silvers were being caught in nearby pegs, and, as usual, Micks patience finally paid off netting two Bream and a Tench for a winning weight of 11lb 14oz. All of Micks fish caught at 14meters on the long Pole from peg 9.
Wayne Mitchell chose similar tactics on peg 3, and a couple of bonus fish helped push his weight over 10lb and ease into the runner up spot. Third place went to Chris "Cormorant" Shore....Chris had a mixed bag of Perch and Silvers for a creditable 6lb 12oz from peg 12, not one of the most favourable draws.
Mark Aikins and Keith Macfarlane shared Section 1 with 3lb 12oz apiece, Keith netting a few silvers on the waggler in the first hour before they, inevitably, dried up. Section 2 went to Chris Crane who landed a Bream and a few Silvers from peg 30, again on the long Pole, for a round 5lb.
| | | | |
| --- | --- | --- | --- |
| Place | Name | Peg | Weight |
| 1st | Mick Farmery | 9 | 11lb 14oz |
| 2nd | Wayne Mitchell | 3 | 10lb 8oz |
| 3rd | Chris Shore | 12 | 6lb 12oz |
| Sec 1= | Mark Aikens | 15 | 3lb 12oz |
| Sec 1= | Keith Macfarlane | 20 | 3lb 12oz |
| Sec 2 | Chris Crane | 30 | 5lb |

Jasons Lake Sweepstake 31/10/10
Six members, who are part of the usual Broome Match crew, decided that the River was not for them, and so met up at Jasons Lake to fish a sweepstake match. It turned out to be a good choice of venue, as both the Silver fish, and Carp were feeding well. There were not any outstanding weights but everybody had a fair few fish to take to the scales once the "weigh in" started.
Phil Sansby pulled out peg 12, which seems to be a very moody type of peg.....sometimes it is dire, sometimes it fishes really well. Phil was pleased to find the peg in one of its better moods this week

. His winning weight of 28lb 7oz whilst not a massive weight for this Lake, it is a good weight for this season; as Jasons has not really produced so far....mainly due to the low water levels.
Jason Farmery drew peg 4, another peg that, this season has not lived up to its previous reputation. Jasons mixed catch of 25lb 2oz, though, has restored the pegs form somewhat. Mark Aitkins elected for a feeder approach to tackle peg 10, concentrating on an area close to the gap between the two halves of the Lake. His 15lb 10oz closing weight good enough to secure third place.
All the competitors had double figure, or close to double figure nets, so it looks like Jasons may well be on its way back to the form it has showed in previous seasons.
| | | | |
| --- | --- | --- | --- |
| Place | Name | Peg | Weight |
| 1st | Phil Sansby | 12 | 27lb 7oz |
| 2nd | Jason Farmery | 4 | 25lb 2oz |
| 3rd | Mark Aitkins | 10 | 15lb 14oz |

Rothley River Soar Sweepstake 31/10/10
Eight members turned up to fish a sweepstake match on the River Soar at Rothley on Sunday. With the four pleasure anglers, who were already fishing, it is good to see that the river is turning out to be quite a popular venue. Unsuprising, really, considering the excellent sport on offer... The Roach are still feeding, and as you can see from the results, there are good catch's to be had.
Top rod of the day was Chris Crane who banked a 12lb 2oz haul of quality redfins... Chris, on peg 3, caught all of his fish using "Long Pole" tactics, feeding hemp and caster slowly building his peg towards the last two hours of the match when the fish were feeding confidently, and Chris was able to boost his catch rate.
Second place Paul Cooke, on peg 7, the first peg downstream of the moored boats, also used Pole tactics, but prefered a maggot approach. It almost paid off as a steady stream of Roach left him just 2lb short of the top prize. A further 2lb behind, Mick Farmery, secured 3rd place with 8lb 3oz.....again it was Pole tactics to catch Roach that proved successful. A decent first hour followed by three struggling hours left me, on peg 1, with to much to do in the last two hours to make any impression on the top three places. In the last two hours, though, there were plenty of good Roach feeding and a thoroughly enjoyable days fishing was had!!
Everyone had a few fish to weigh...So if you fancy getting on a bit of moving water and would like to see your float disappear....get yourself down to Rothley and enjoy a bit of River angling

| | | | |
| --- | --- | --- | --- |
| Place | Name | Peg | Weight |
| 1st | Chris Crane | 3 | 12lb 2oz |
| 2nd | Paul Cooke | 7 | 10lb 2oz |
| 3rd | Mick Farmery | 5 | 8lb 3oz |
| 4th | Steve Beckhurst | 1 | 6lb 12oz |