2009 News Archive
Christmas messages

Read, below, xmas messages that members have asked me to pass on.... Please feel free to add yours

A very merry Christmas from Terry Branston and all the committee to all our members and may you all beat your personal bests in 2010... Terry Branston
TO ALL AT BROOME ANGLING SOCIETY TIGHT LINES FOR 2010 FROM MICHAEL MOTTRAM


Cold snap, bites! 21/12/09

Eight intrepid members donned their Eskimo costumes on a bitterly cold sunday morning, and attempted to clear a few swims on Sanctuary Lake to enable a sweepstake match to take place!!! With the temperature hovering around the minus 6 mark, pretty inevitably, the water was re-freezing almost as soon as the ice was cleared.
The only sensible course of action (if "sensible" and attempting to fish in such temperatures can be used in the same sentence

) was to drive over to Rothley and give the River a try.
It was, obviously, going to be tough, with the freezing conditions and the river pushing through at a pace. It seems that we anglers must be eternal optimists, but sadly it was unfounded on this occasion... After no one had had so much as a bite, the decision to abandon the match came at 1.30pm, and all stakes returned....Possibly, the only truly sensible decision of the day!!!


Colver Sweepstake 7/12/09

The rain was once again hammering down as 10 members gathered for the draw on the Frisby car park for a sweepstake on Colver lake last sunday. Thankfully the rain had all but cleared by the time the "all-in" sounded....only to be replaced by a stiff gusting wind

. The joys of winter fishing!!!

. Two pleasure anglers were fishing on the disabled pegs, a wise choice as the wind was behind them!!! The signs for the day ahead were not to promising, though, as both pleasure anglers said they were struggling for bites...
The bad news is that very few carp were caught in the competition, but the good news is that, for those who fished for them, the silver fish seemed happy enough to feed. Further good news is that the, newly stocked, small carp are also feeding well.
Mick Farmery, fishing peg 46, was one who managed to land three or four carp and along with a couple of decent chub and silver fish Mick put 21lb 6oz on the scales for first place on the day. A couple of carp, one nudging 7lb, helped to boost my silver fish weight to just over 15lb, and that was enough to take second place. All my fish coming to long pole and maggot tactics.... as my shoulder muscles will testify to, due to wrestling with the strong breeze all day!
Phil Sandsby took 3rd place thanks, mainly, to the new stock fish

. Phil put 12lb 2oz on the scales, largely made up of the new stockies.
Jason Farmery took Section 1 from peg 7 with 6lb 14oz. A "last gasp" carp helped Chris Crane to a total of 7lb 15oz, and the Section 2 prize money! Another difficult day, weatherwise, but there were a few bites for all.
| | | | |
| --- | --- | --- | --- |
| Place | Name | Peg | Weight |
| 1st | Mick Farmery | 46 | 21lb 6oz |
| 2nd | Steve Beckhurst | 15 | 15lb 4oz |
| 3rd | Phil Sandsby | 3 | 12lb 2oz |
| Sec 1 | Jason Farmery | 7 | 6lb 14oz |
| Sec 2 | Chris Crane | 13 | 7lb 13oz |

River Soar, Rothley

After a request by members the Committee have decided to allow the use of Boilies and Pellets on the newly aquired stretch of the River Soar at Rothley.
Please note though, that this applies to the River ONLY and NOT to either of the two Lakes at the venue.

Jasons Lake Sweepstake 23/11/09

Eleven members fished a sweepstake match on Jasons Lake last Sunday, in very blustery and at times wet conditions!!! I don't suppose we should grumble to much, as with December almost upon us, it was the first time that I have felt cold whilst fishing since last winter...
Probably what helped keep the resolve up, with a harsh wind blowing smack into the kisser, was catching a few fish

. Finishing up top of the pile was an added bonus as well

, All my fish were caught at about 9 meters from the bank on peg 12, and consisted of around 7lb of silver fish and one Carp of about 3-4lb. The Carp were conspicuous by their absence for everyone, but strangely I hooked three carp in the last 15 minutes of the competition....one landed and two lost!!!
With the Carp not really feeding there has been the odd Tench caught recently, and second place Chris Crane included two in his final tally of 8lb 12oz from peg 15. Chris caught most of his fish about 1 meter from the bank fishing toward the corner.
Dave Hemmings hooked and landed a good Carp with the very first "put in" but it turned out to be a bit of a struggle for the next 5 hours and 55 minutes....

. Dave, though, put 7lb 8oz on the scales for third place from peg 1.
Paul Cooke landed a Carp and a skimmer Bream on the feeder from peg 18 to take section 1. Den Porter managed to take three awards in one day.... Section 1 for his level 4lb....Lunatic of the day award for, after losing the top half of his pole, stripping off (not a pretty sight) and wading in the freezing water to retrieve it.... and, spawny bloke of the year award on two counts. First, the fish was still attached to the lost section of pole when he eventually got it back....


. Second.... Den lost his pole section about three months ago and had an estimate of £500.00 for a replacement!!! After the match, Keith Macfarlane was relieving himself in the bushes....as you do....and....yes you've guessed....he noticed he was relieving himself all over Dens long absent pole section



. A bottle of Keiths favourite Malt is in the post....we hear....

.
| | | | |
| --- | --- | --- | --- |
| Place | Name | Peg | Weight |
| 1st | Steve Beckhurst | 12 | 10lb 12oz |
| 2nd | Chris Crane | 15 | 8lb 12oz |
| 3rd | Dave Hemmings | 1 | 7lb 8oz |
| Sec 1 | Den Porter | 4 | 4lb |
| Sec 2 | Paul Cooke | 18 | 5lb 7oz |

Frisby Stocking 17/11/09

The on-going stocking of Frisby Complex, today saw the successful introduction of new young fish into three of our lakes.
Colver Lake received £1000.00 worth of Carp, all around 6-8 inchs. £1000.00 worth of Skimmer Bream went into Sanctuary Lake. Smiggies Lake received £1000.00 worth of Skimmers and also £1000.00 worth of Tench, all, again, around the 6-8 inch mark.
Happy Fishing....


Chairmans League Final 15/11/09

The final Match of this seasons Chairmans League will be held on the two new lakes at Rothley.
If the lakes are frozen, or in any other way unfishable, the match will be switched to the River Soar at Rothley. The match is scheduled to take place on 13th December 2009. The venue will be closed to all other anglers for this day only.


Colver Sweepstake 9/11/09

A sunday sweepstake match on Colver certainly produced a remarkable result. Every angler, apart from one, Chris Crane, struggled for so much as a bite.... Chris, on end peg 18, however, caught fish almost everywhere in his peg!!!
The results speak for themselves Chris's 51lb 6oz was more than five times higher than the second placed weight!!! It has always been a well known fact that the Carp congregate at the ends of the lake once the weather gets colder, but without the onset of any really sharp frosts as yet, it is unusual for the fish to shoal up quite so tightly, so early. Lets hope that this was a one off and the fish spread out again for a few more weeks at least.
Dave Hemmings and Phil Sandsby fought out the battle for second and third place, Dave just coming out on top with 8lb 8oz from peg 24. Phil just falling behind with 7lb 14oz.
Den Porter took Section 1 with 6lb 4oz from peg 32, and Keith Macfarlane's level 3lb was enough to take Section 2. Keith had the added bonus of watching Chris Crane "baggin up" all day!!!



Lets hope he was also picking up a few tips....

| | | | |
| --- | --- | --- | --- |
| Place | Name | Peg | Weight |
| 1st | Chris Crane | 18 | 51lb 6oz |
| 2nd | Dave Hemmings | 24 | 8lb 8oz |
| 3rd | Phil Sandsby | 28 | 7lb 14oz |
| Sec 1 | Den Porter | 32 | 6lb 4oz |
| Sec 2 | Keith Macfarlane | 16 | 3lb |

Access to Rothley Lakes 6/11/09

Apparently there has been some confusion regarding the access to the two new lakes at Rothley, with people getting caught on barbed wire! To get to the lakes please follow these directions.
From the car park, go over white bridge. You can see lakes over the ditch on your left, from the footpath. DO NOT APPROACH LAKES THROUGH THIS GAP AS THERE IS BARBED WIRE IN THE DYKE. Go further along the towpath to the narrow boats, go through this gate and turn immediately left through a gate that has "private" on it. One lake is on your right and one is on your left.
Lets hope this will stop any further confusion

.

New Water 3/11/09

We have recently aquired the fishing rights to a new water. It is the stretch of river at Rothley, and also two lakes at the side of the river. This water is available to Broome members now. The current Broome rules apply. Pleasure anglers are reporting decent catches of roach on the pole, stickfloat and waggler.
River fishing between yellow lines only (approx 22 swims). Fishing from car park and Lake bank only.
Lake 1 and Lake 2 are also available for fishing for Broome members only
Enter site from Rothley to Mountsorrel road (Old A6) Gates are padlocked, Padlock Number same as Frisby. Gates MUST be shut and re-locked.
Car parking in field, as indicated, only.
Note: There are three residential Houseboats on the stretch of river. Please respect the occupants privacy at ALL times.

Meadow Lane sweepstake 26/10/09

11 members fished a sweepstake match on sunday at Meadow Lane, Syston. There was a fairly stiff breeze blowing and the water was very clear, however, there had been reports of reasonable Roach catchs recently.
As usual, under match conditions, the Roach were not as forthcoming as hoped for. In the last hour a few of the Carp decided to have a bit of a nibble

When the Carp are nibbling then you can be sure that there will be a Farmery nearby....

and so it proved on sunday.... both Farmerys in fact!!!
Jason topped, dad, Mick by just under 2lb. His mixed net of Carp and Roach leveled the scales at a very repectable 20lb 4oz. Mick, on peg 1 at the narrow end of the Lake, put a mixed net of Carp and Perch on the scales for a second placed weight of 18lb 8oz.
Barry Crane, on peg 2, also in the narrows, took third place with 3lb 12oz of Roach and Perch but couldn't find any bonus fish to challenge the Farmery's.
Section winners on the day were Keith Macfarlane with 1lb 8oz from peg 5, and myself with 2lb 12oz of small Roach from peg 10.
| | | | |
| --- | --- | --- | --- |
| Place | Name | Peg | Weight |
| 1st | Jason Farmery | 11 | 20lb 4oz |
| 2nd | Mick Farmery | 1 | 18lb 8oz |
| 3rd | Barry Crane | 2 | 3lb 12oz |
| Sec 1 | Keith Macfarlane | 5 | 1lb 8oz |
| Sec 2 | Steve Beckhurst | 10 | 2lb 12oz |

Rod bag found 18/10/09

An empty rod bag was found on Sunday 18/10/09 at Meadow Lane, Syston. If this item of tackle is yours, or you know who may have lost it, please email me with a brief description, and I will contact the member who found it and re-unite you with your kit.

Fly Tipping 4/10/09

Today I had this rather disturbing Email from our Deputy Water Officer, Terry Branston:-
Last Sunday I arrived at Frisby at 5-40am to check on Cormorants, and Mink. On entering the complex, on the carpark, opposite the gate to Smiggys, was a "neat" pile of:
1 - Microwave Oven
3 - Bags of broken plaster
2 - Bags of Plasterboard/Plywood off cuts
Half a bag of solid cement
Assorted timber off cuts
All of this I have taken to Sileby Tip! We have enough problems with the beer cans, pop bottles, chip and crisp bags, etc that litter the place up. If you are a member that wishes to do this... WE DO NOT WANT YOU and we will, willingly, refund yourmembership fee just to get rid of you! It almost certainly a "member" who left this rubbish as it is within our complex, a member that we do not want!!! No more warnings will be issued, leave litter and you are out, we are sick of cleaning up after you. The above is not litter, though, it is Fly Tipping for which you can be prosecuted and your vehicle crushed, as happen to the White Transit that was caught on cctv cameras at Eye Kettleby.
As you can probably imagine Terry is very upset about this. The water officers do a great deal of unpaid hard work on behalf of the club members, and having to spend time clearing up rubbish from thoughtless members is a task they could well do without. Fly tipping, though, as Terry has stated, is Illegal and any member found fly tipping on our site will be thrown out of the club, and reported to the police.

Barbed Comment! 20/9/09

This "rig" was recently removed from a Carp on Colver by one of our members, Alan Hill. Once again, it seems, certain members have a blatent disregard for the club rules.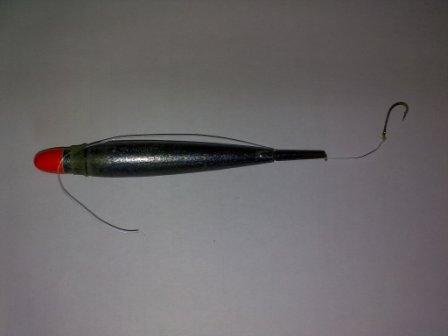 Rule 33 states:-
"Barbless hooks only, are to be used on all club waters except Manor Farm, Flash Farm and BJ's Lake. On these waters only, micro barbed hooks are allowed."
We try to run a friendly club, but rules are in place for a purpose! Anyone who is caught breaking the rules of the club will have to explain there actions to the committee. Persistant offenders will be thrown out of the Society
Many thanks to Alan for bringing this matter to the notice of the Committee.

R.I.P.Mick
The very sad news reached us this morning concerning the passing of, long time Broome member, Mick Burnham. Mick passed away suddenly, early last week. It was a great shock as only last week Mick was fishing with us at Manor Farm in a sunday league match. Mick will be sadly missed. Our thoughts and condolences go to his wife and family.

Website returns!!!
Hello all its good to be back!!! First I must apologise for the website being off air for so long.... this was due to a problem with our web-server. In the end we had to cancel the contract with the Server and set-up a new account. This has caused us a lot of work in having to, just about, re-write the whole website.
Former webmaster, Tony Branston, has spent a good deal of his spare time helping me to get the site back on air, and without his help its doubtful whether we would have got "up and running" again so quickly. So, once again, many thanks Tony

You will probably notice that some of the links are not working correctly and some of the pages may seem a little strange.... Please bear with me as I am trying to sort all of these problems page by page. I thought it best to get the site back on air with a few problems; then at least members will know that we are back

If you are reading this page then you will probably be aware that the site has a new address:
www.broomeanglingsociety.co.uk
I would be grateful if anyone reading this will tell any other members of the new address as it will be difficult to let other members know until the next newsletter is circulated
Thanks to you all for your patience

Charnwood Teach-in
This years Charnwood Teach-in days will be on friday 24th & friday 31st July. The teach-in will be held on Colver Lake and will start at 9am finishing at approx 3pm. Members please note that Colver Lake will be closed to ALL OTHER ANGLERS until 3.30pm on the above dates
These days have been a great success in previous years with many youngsters learning a lot of tips whilst having a fun day out. For more information on the Charnwood Teach-in Days, please contact Roy Parkes. Roys number can be found in your membership book
On the same subject, would any member who is able to offer ANY help whatsoever, again, please contact Roy.


P.D.F. Cup 5/7/09

Specialist Contract Flooring, Company owner, and Broome member Paul Cooke; Sponsered an Invitation Only competition on "The Cattery" Fishery near Stoney Stanton today.
Paul is one of the regular matchmen, and those invited to take part in this competition were the usual match anglers, who turn up most weeks come rain or shine! Many thanks go to Paul who paid for fishing permits at the lake with a cup of tea and a bacon butty...

Paul also put up £100 towards the prize money.
Because of his generosity, we thought it only right to let him win the match!!!

We matchmen are very nice like that.... well sort of

Paul drew peg 4 and a good last two hours saw him put 40lb 10oz on the scales to win the PDF cup with plenty to spare.
Having fished this venue a few times now the anglers were rather more ready for action than on previous occasions when many fish were hooked and lost in the abundant lily pads that feature heavily.... Inevitably some big fish were still lost but that was always going to happen.
Dave Hemmings fished a method feeder up against the reeds on, fancied, peg 8 and he was able to pull the fish away from the snags before they had a chance to entangle themselves. Dave finished in third place, after a biteless last two hours probably cost him the match.
Second and fourth place in the match went to anglers on lake two. Den Porter taking second place with 32lb 10oz from peg 10. Den started like a train catching fish on the long pole early on in the match, slowing, somewhat, towards the end. Alan Smith, however, on next peg 11, started to catch better as the competition went on. Alan was steadily catching, and, if not for a lot of lost fish he could have caught up with Den.
Section winners were Jason Farmery, Kev Harty and Chris Shore.
The pleasant weather made it a good day for all, although the fishing was a little slow for some...Once again many thanks go to Paul Cooke



| | | | |
| --- | --- | --- | --- |
| Place | Name | Peg | Weight |
| 1st | Paul Cooke | 4 | 40lb 10oz |
| 2nd | Den Porter | 10 | 32lb 10oz |
| 3rd | Dave Hemmings | 8 | 30lb 11oz |
| 4th | Alan Smith | 11 | 24lb 8oz |
| Sec 1 | Jason Farmery | 2 | 15lb 2oz |
| Sec 2 | Kev Harty | 9 | 8lb 14oz |
| Sec 3 | Chris Shore | 16 | 23lb 2oz |

Smiggys Sweepstake 7/6/09

The sudden cold snap and the stormy, wet weather certainly slowed sport for the eleven members who fished a sweepstake match on Smiggys Lake last sunday.
Paul Cook needed just four bream from the form peg at the moment, peg 26. The 12lb 4oz that Paul took to the scales was a lot lower than the recent weights from this water. Reports from various other waters across the county show that low catches were widespread.
Dave Kimber, peg 20, caught two tench and a bream to take second place with 11lb 11oz.
Section winners on the day were Mick Nash with 9lb 12oz from peg 9 and Lee Nash, peg 29, with 5lb 2oz.
The weather forcast for this weekend seems to be a bit more favourable, so hopefully this will see an increase in catches.
| | | | |
| --- | --- | --- | --- |
| Place | Name | Peg | Weight |
| 1st | Paul Cook | 26 | 12lb 4oz |
| 2nd | Dave Kimber | 20 | 11lb 11oz |
| Sec 1 | Mick Nash | 5 | 9lb 12oz |
| Sec 2 | Lee Nash | 29 | 5lb 2oz |

Frisby Work-party 31/5/09

Another good turn out meant that sundays work party would be the last one required for 2009! The excellent turn outs have enabled the usual six weeks of work to be completed in just four weeks. Very well done and a huge thanks go out to all those who turned up to offer their assistance



Sanctuary Lake was the venue for this weeks operations. It was the usual fare of swim clearing and tree pruning that was the order of the day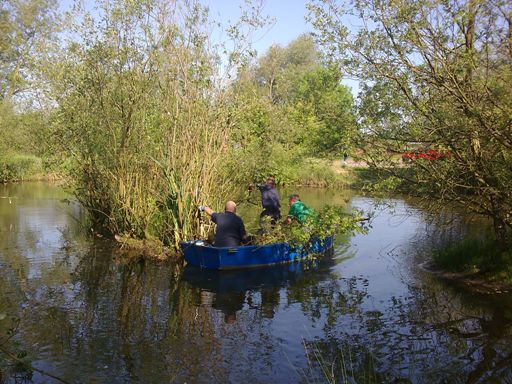 As you can see, above, the boat came out and three "willing" members were press-ganged into taking a voyage to snake island. As Keith, Barry and Dave are the ones who usually drink the most tea, and eat the most biscuits at tee-break.... it was decided that they should remain marooned so that some of the others might get a look in!!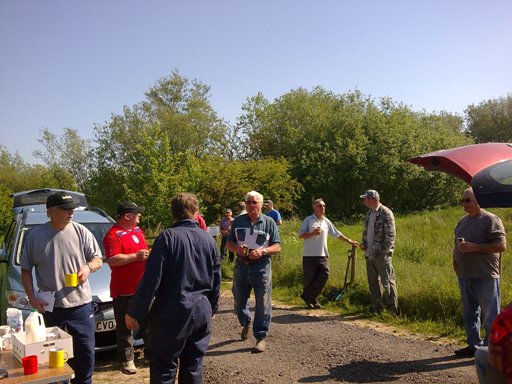 Colver was the chosen venue for the "workparty match" and with the sun beating down, most thought that it might be a bit of a struggle.
Although Colver didnt throw up any spectacular weights on the day there was still pretty good sport for most. Malc Spring on fancied peg 17 and Chris Shaw on peg 32 could not be seperated at the weigh in, both tipping 66lb 8oz of carp onto the scales for a joint 1st place
After a slow first three hours Jason Farmery started to catch carp on his nearside line, but they came a little too late and Jason had to settle for 3rd place with his 40lb 8oz from peg 42.
Section 1 also saw a tie with Keith Macfarlane and Paul Cook, Keith on peg 9 and Cookie on peg 13, both locked together with 26lb
Section 2 went to Dave Kimber with 34lb 12oz from peg 26 and Vinnie Logi took the third section prize with 24lb 8oz from end peg 46.
| | | | |
| --- | --- | --- | --- |
| Place | Name | Peg | Weight |
| 1st= | Malc Spring | 17 | 66lb 8oz |
| 1st= | Chris Shaw | 32 | 66lb 8oz |
| 3rd | Jason Farmery | 42 | 40b 8oz |
| Sec 1= | Keith Macfarlane | 9 | 26lb |
| Sec 1= | Paul Cook | 13 | 26b |
| Sec 2 | Dave Kimber | 26 | 34lb 12oz |
| Sec 3 | Vinnie Logi | 46 | 24lb 8oz |

Baiting Spoon Lost

Please dont ask me what a Baiting Spoon is, or what one looks like!!

But, apparently, a Baiting Spoon with an extending handle been lost at Meadow Lane recently.... and its owner would very much like it back. So if you happen to come across it could you, please let me or another member of the committee know and we will see that it is returned to its rightful owner. Thank you.


Frisby Work-party 24/5/09

Again, another good turn out, saw a lot of work completed on the Frisby Complex. Thank you to all those who turned up, it really does make a difference and it gets all the neccessary tasks completed a lot faster.
This weeks work was done on Colver and Jasons. Most of the tasks included the usual vegetation clearage around the swims. All of the ropes were re-set on Colver and work was also done to cut back the "greenery" on the island....so, hopefully, not so many floats will be lost

Many of you may have noticed that the entrance to Frisby Complex has been getting slightly overgrown! Well one of the tasks was to clear some of the overgrown bushes, brambles etc.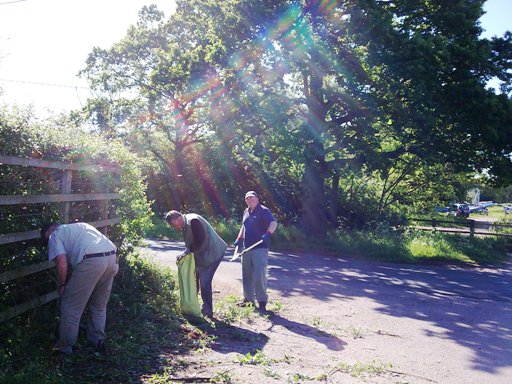 Above you can see some of the lads hard at work making the entrance seem twice as wide as it did

It has to be said that some of the work party helpers are probably slightly more enthusiastic than others....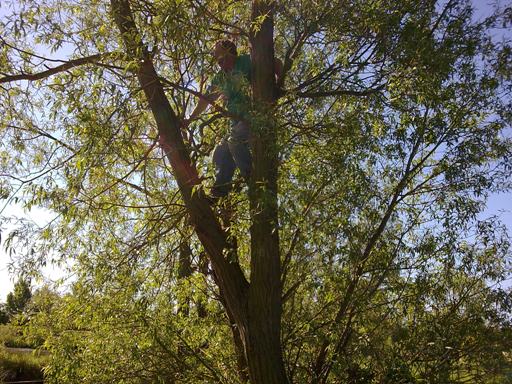 Dave is often at the front of the queue when volunteers are required to scramble up trees!!! We think he likes to turn the clock back 40 years or so, to his schoolboy scrumping days. They used to say that "no orchards or birds were safe when Dave was around".......but thats another story


The customary match was fished at the end of the work party for those who fancied getting boiled alive in the hot sun.

In fact 15 anglers queued up for the draw to fish Smiggies and despite the hot, bright conditions the weights were quite good.
Paul Cook who drew peg 20 came out on top with 22lb 8oz of mainly Bream. Paul fished 16meters of pole to tempt most of his catch in the shallower water. Mick Farmery with 16lb 1oz claimed the runner up spot. Mick pulled peg 9 out of the hat....which was not really much of a suprise as Mick always seems to draw peg 9 or peg 7!!!

Well he must be getting to know it now as he caught most of his fish close to the near bank. 3rd place went to Den Porter. The last 10 minutes proved decisive for Den as he put two big bream in the net just before the wistle... which, somewhat, proves the saying "it ain't over, till the fat lady sings"
Section winners were Jason Farmery on peg 7 with 12lb 4oz and Dave Hemmings with 12lb 12oz from peg 26.
| | | | |
| --- | --- | --- | --- |
| Place | Name | Peg | Weight |
| 1st | Paul Cook | 20 | 22lb 8oz |
| 2nd | Mick Farmery | 9 | 16lb 1oz |
| 3rd | Den Porter | 11 | 15b 4oz |
| Sec 1 | Jason Farmery | 7 | 12b 4oz |
| Sec 2 | Dave Hemmings | 26 | 12b 12oz |

"Death Rig"

Club Water officer, Terry Branston, recently came upon the "rig" described below whilst a work party was taking place...Terry showed the rig to his son, Antony, who posted the following, onto a Internet Forum...Terry asked me to place a copy onto the website to try to educate that rigs such as these are unacceptable.
My dad (Terry) was strimming a swim and he came across a load of line which entered into the water towards some rushes. So he donned a pair of chest waders to retreive the line. After some pulling and strong language the line came free but attached to the end was a body of a dead, bloated carp in the region of 10 - 14lbs with the rig that caught the unfortunate soul still attached
The rig is the most disgustingly, disgraceful rig I have ever had the misfortune to set eyes on.
It consists of a 30" lead-core leader which is attached to a semi fixed lead clip set up. As you can see from the picture it looks normal but I have a minor gripe about it. The flat pear lead is attached to the lead clip by the means of the brass loop inside the lead, not the swivel. IMO this does not aid the lead to come free easily in the event of it getting snagged because of the tight fit of the brass loop on the lug of the clip.
The major gripe I have is that the tail rubber is pushed too tightly onto the clip and it has been SUPERGLUED in place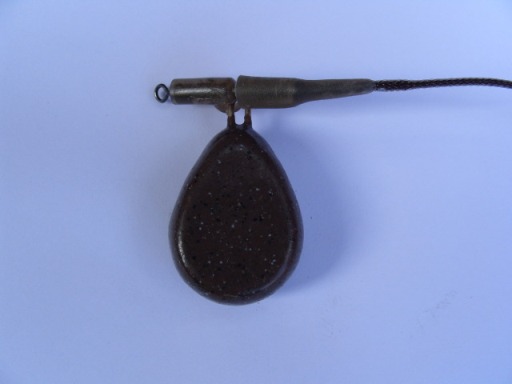 In normal circumstances the hooklink would be attached to the swivel inside the lead clip, but in this instance the hooklink was tied onto a leger bead which was sliding on the lead-core leader just like a chod set up.....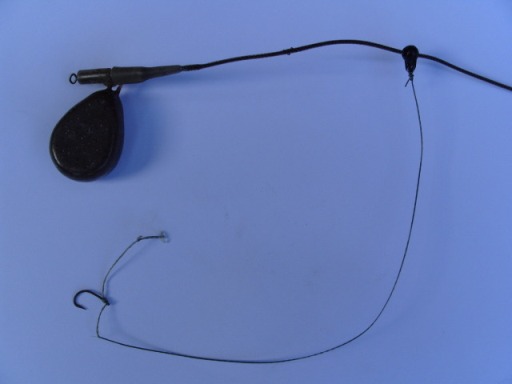 Unfortunately that is not all. There is a bead on the end of the leader which has absolutely no chance of coming free because the inner bore of the bead is too small to pass over the spliced loop on the end of the leader. Also the knot which is used to tie the mainline to the leader is far to bulky. It makes no difference anyway because this bead has also been SUPERGLUED in place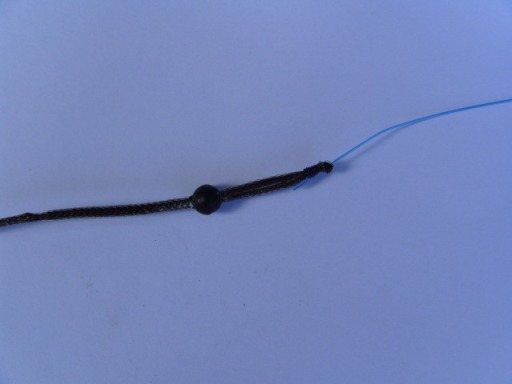 And yes, your eyes are not deceiving you, that is blue SEA fishing line the angler was using for the mainline
I am that appalled and angry that some anglers in my club are using rigs as such as this, that tonight my dad has a committee meeting to attend to and I've asked him to put my name forward immediately to become a bailiff. I know that I'm no carp expert, but I do know the difference between safe rigs and death rigs. So if I can find one angler that uses rigs as poor as this and point him in the right direction to safeguard the welfare of the fish that they are trying to catch, then it will be worth it.

Syston Work-party 17/5/09

Another reasonable turn out for the Meadow Lane workparty, again, saw a good deal of work achieved in a relatively short space of time... It just goes to show that a few extra willing hands make all the difference. What was also good was to see a few new faces turning out to offer their help... Thank you very much



Again the majority of the tasks completed involved clearing swims, cutting overgrown branchs from trees, clearing access to pegs etc.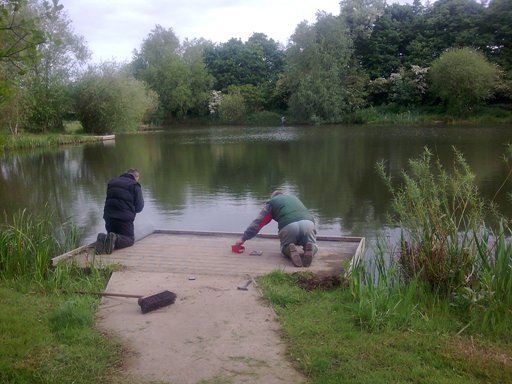 As you can see, above, work was also done to fit anti-slip mesh to the platforms. these platforms are fantastic for fishing from, and provide excellent access for disabled anglers... They can be rather slippery, though, once they get wet!!! Dave and Phil (pictured) and a few others, did a great job with the platforms.
A match was held for any of the workparty who were interested, and eleven optimistic hopefuls queued up for the draw!!! It has to be said that Syston has been fishing really well for roach and the odd tench in the last few weeks...Sadly this was not reflected in the competition, with only four of the eleven starters still present at the final whistle.
It was very likely the amount of bankside disturbance, during the workparty plus the usual detrimental effect of eleven anglers, in a match, all starting fishing at the same time...But it was a struggle to say the least!!! To cap it all, as soon as the fishing started...so did the rain!! and boy...did it rain

In form, Jason Farmery, once again, came out on top. Jason was on peg 24 and he caught slowly but steady for the first two hours, tempting some decent sized roach and perch from under the branch of the overhanging tree. A switch in tactics later in the match saw Jason hook a bream of 5lb 6oz to boost his weight to a match winning 8lb 6oz. Kieth Macfarlane fished long pole on peg 17 to just about reach the sunken island...It was very hard work as the cross wind made presentation extremely difficult. kieth persevered, though, and was rewarded with second place for his hard fought 2lb 4oz. Third place went to myself with just 1lb 8oz... constant switching of tactics was required to try to winkle out a odd fish here and there, and although it was hard work, I quite enjoyed it in a perverse fishing sort of way!!!


| | | | |
| --- | --- | --- | --- |
| Place | Name | Peg | Weight |
| 1st | Jason Farmery | 24 | 8lb 6oz |
| 2nd | Kieth Macfarlane | 17 | 2lb 4oz |
| 3rd | Steve Beckhurst | 3 | 1lb 8oz |

Frisby Work-party 10/5/09

Once again the Work-party season is upon us, so it was great to see a good turn out of members for the first one at the Frisby complex. What was not so great was the fact that some members were already fishing at the venue after it had been made clear that no fishing is allowed at a workparty venue until 2.30pm of that particular day!
Please remember that the work partys are carried out by fellow club members, for the benefit of ALL members. Thanks go to all those who turned up, in their own free time, to offer their assistance. What we can all do without is an angry outburst, such as that received from one member, when told he wouldn't be allowed to fish until 2.30pm. A couple of other members turned up to fish, having forgotten about the work, but they pitched in and helped...thanks very much to them

Because of the good turn out a lot of work was completed at Smiggys Lake, B.J.s Lake and Jurassic...Swims were cleared, overgrown tree branchs removed, Slabs cleared and re-set where required etc etc. The next work party will be at Meadow Lane, Syston 17/5/09...So please remember no fishing at that venue until 2.30pm at the earliest...

Why not come along and help, you will be most welcome.
A competition, on Jasons Lake, was held after the work party for all of those interested, who had helped... and it proved to be a very frustrating day for almost all who fished!! All afternoon long, fish, some of them quite sizeable, could be seen cruising just beneath the surface. They just did not want to get their heads down and feed properly! Many fish were hooked, and lost... Dave Kimber and Simon Pepper losing about 17 to 18 fish between them. Most other anglers lost at least 2 or 3 fish each...
Having said that, there were still some reasonable weights caught. Jason Farmery came out on top with 39lb 8oz from peg 2. His net included some nice sized carp, all caught using pole tactics. Dad, Mick Farmery, claimed runner up spot with 3 pole caught carp, for 17lb 8oz from peg 21... Mick did his best to help Jason, by missing his keepnet with a monster carp he had just spent 30minutes tussleing with....Mick estimated it would have gone close to 12lb.... To all those that witnessed Mick throwing back his leviathon.....well done for keeping a straight face

Section winners were myself, on peg 12 with 13lb 5oz; and Vinnie Logi with 16lb 5oz from peg 7.
| | | | |
| --- | --- | --- | --- |
| Place | Name | Peg | Weight |
| 1st | Jason Farmery | 2 | 39lb 8oz |
| 2nd | Mick Farmery | 21 | 17lb 12oz |
| Sec 1 | Vinnie Logi | 7 | 16lb 5oz |
| Sec 2 | Steve Beckhurst | 12 | 13lb 5oz |

Scales Found

A set of scales was found by one of our members. They were handed in at the AGM. It is believed that they belong to two lads who were fishing on Colver Lake around 22nd/23rd of April. If they belong to you, or you know who they belong too... get in touch with me and I will get you re-united with your property.

Please watch your youngsters!

I received an email from a member, today, saying that whilst he was fishing at the Frisby Complex at the weekend; a young lad of around 7 or 8 years old was running around and generally making a bit of a nuisance of himself. Apparently he was splashing the water with a landing net and getting very close to the waters edge, putting himself in danger of falling into the water.
Please, Please, Please Parents....if you take your children fishing with you, keep them under control, and don't allow them to spoil the enjoyment of other anglers. Fishing tackle can be very expensive these days, and can be easily damaged by an exited youngster. Even more priceless is the life of your child... Some of our lakes are very deep, the consequences of deep, cold water and an unsupervised child do not bear thinking about...

Smiggys Lake Sweepstake 26/4/09

After the AGM on sunday, eleven members decided to hold a sweepstake match on Smiggys Lake, with the draw for pegs to be at 12.30pm and kick off 1.30pm. The lake looked in fine fettle, with a moderate breeze and the sun warming the air, everyone was hoping for a good afternoons fishing.
Although the lake didn't fish particularly badly...it wasn't quite up to expectations either. The main reason was that the Bream refused to feed in any great numbers. section winner Mick Farmery was the only angler to catch any number, Mick netted seven Bream in his 18lb 1oz section winning weight.
Match winner was Dave Kimber who drew peg 22. Dave caught small silver fish aplenty in the first hour, and when they slowed Dave turned to the long pole. This proved to be a good move as he steadily built his weight with a mixed net of Tench, big Skimmers, and a couple of decent bream.... the last one coming just on the whistle.

This last fish was just enough to push Jason Farmery into second place.
Jason, fishing peg 26, netted one Tench, and one Bream but the bulk of his weight came from Skimmer Bream...a very welcome sight. The match also saw quite a few Chub being caught...the biggest going almost 3lb! Mick Nash, with 11lb, took the other section prize.
They were not really targeted by the matchmen, but plenty of silver fish were feeding, so anyone who would like to get a few bites with the added chance of a few bigger specimens, could do a lot worse than paying a visit to Smiggys Lake.

PLEASE NOTE: THE GATE AT FRISBY, THAT LEADS TO SMIGGYS LAKE AND B.J.s LAKE WILL REMAIN LOCKED WHILST WORK IS CARRIED OUT ON THE NEW ROAD.
| | | | |
| --- | --- | --- | --- |
| Place | Name | Peg | Weight |
| 1st | Dave Kimber | 22 | 23lb 4oz |
| 2nd | Jason Farmery | 26 | 22lb 2oz |
| Sec 1 | Mick Farmery | 7 | 18lb 1oz |
| Sec 2 | Mick Nash | 20 | 11lb |

Michaels Tench Day 24/4/09

Michael Mottram decided to have an afternoons pleasure fishing on Sanctuary Lake recently. Part of his catch were these fine looking Tench...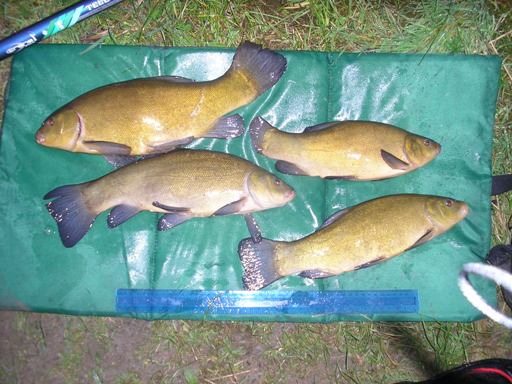 After the summer pollution incident, it was thought that a lot of the Tench had been lost from this water, so it is good to see four such fit looking fish caught in one session. Michael lost three other big fish that afternoon, and also netted about a dozen Rudd, Roach and a Perch of around 8oz.

Another good day for Alan 21/4/09

It has to be said that the best way to keep a fishery stocked is when the fish, themselves, are doing what comes naturally. This is especially so on a new water such as Smiggys Lake...It shows that the water conditions must be therabouts. So Alan Snow's account, below, of his recent days fishing is very encouraging...
As Colver was being Match fished, I went with my mate on Smiggys and fished peg 16. Like most of the lake it was quiet at the start. I fed steady down the centre and eventually started to get big bream, they all seem to be around the same size 4lbs at a guess. I fished till around 6:30 by which time I had 15 fish, the interesting point was that 50 percent of them were in spawning mode covered in the white nodules. Hopefully if they are sucessful we will have an influx of new fish to complement the existing stocks.

Alan nets a whopper! 18/4/09

Broome Member Alan Snow caught this huge carp whilst on a pleasure fishing session at Colver. The quality of the photo is not too good and Alan apologises for this, but he only had his phone camera available at the time. Below the picture is Alans account of the catch...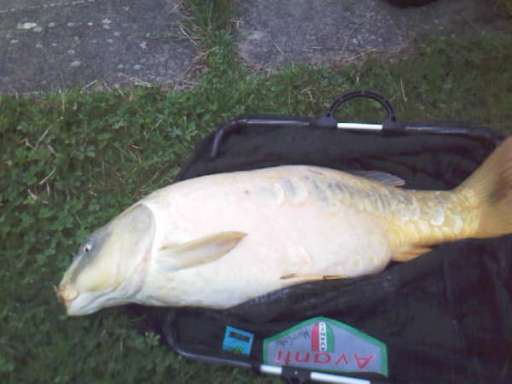 I pleasure fished Colver with my mate and had the pleasure of sitting next to Mick Farmery and opposite Dave Kimber, great banter but not a lot of fish. However, to the point, as usual the carp came on the feed about 4pm and I started to catch steady down the side, I had been feeding the far bank steadily all day with no response. I went over with a single grain of corn got an instant take, the fish took off and I never saw it for ten minutes with it going by both ropes, fortunately I kept it on and when it surfaced I was gob smacked by the size. When I netted it I had to slide it up the bank and still broke my net...

Colver Sweepstake 12/4/09

With the final round of the Winter League fast approaching, twelve members decided to hold a sweepstake on Colver...six other members were already pleasure fishing, and it was encouraging to see one or two fish coming out...
Unfortunately, though, after an initial burst of fish caught in the first half hour or so, by almost everyone, sport soon slowed down except for the chosen few! It seems as if most of the Carp are shoalled up in the pegs from 11 to 18 and from 22 to 34. Anglers pegged in these areas caught steadily for most of the match, whilst those pegged in the other half struggled, and had to rely on silver fish to get a few bites.
Making the most of his good draw was Paul Cook on peg 13. Paul caught steadily all day, and at the final whistle had managed an impressive 60lb 4oz for first place. Bridesmaid, was Keith Macfarlane, on next peg 17, Keith also caught steadily, but was always falling further behind Cooky. An exceptional last hour, though, saw Keith make a good attempt at catching up the lost ground...But it was all to no avail as Cooky held off the challenge and ended 20lb+ in front.
Section winners today were Steve Harrison who fished peg 24, and weighed in 23lb 7oz, and section 2 went to Den Porter on peg 34. Den tipped 34lb 6oz onto the scales for his section win.
Reports came in from the two pleasure anglers fishing pegs 1 and 3 that about an hour after the match had ended they started "baggin' up" One of them hooking and landing a Carp that tipped the scales at 17lb 8oz!!!
| | | | |
| --- | --- | --- | --- |
| Place | Name | Peg | Weight |
| 1st | Paul Cook | 13 | 60lb 4oz |
| 2nd | Keith Macfarlane | 17 | 39b 14oz |
| Sec 1 | Steve Harrison | 24 | 23lb 7oz |
| Sec 2 | Den Porter | 34 | 34lb 6oz |

Two Fine Fish!

Many thanks go to two members, John Caunt and Michael Mottram, for taking the trouble of sending in pictures of recent catches that they have made on our waters.
The first is John's splendid 17lb 8oz Carp.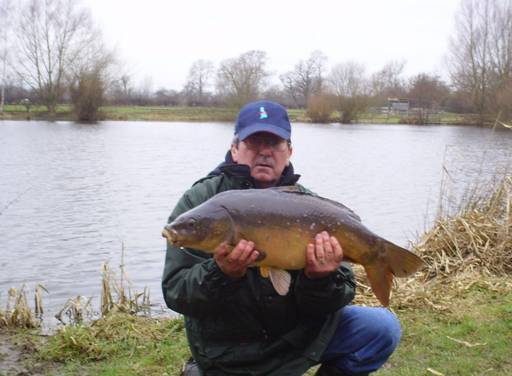 John caught this fine fish at the end of february this year, on a cold gloomy morning. Fishing a bolt rig with a cocktail of three grains of sweetcorn on the hair and four maggots on the hook, and though a cold day it still put up quite a fight...
Our second picture is of a proud looking Perch.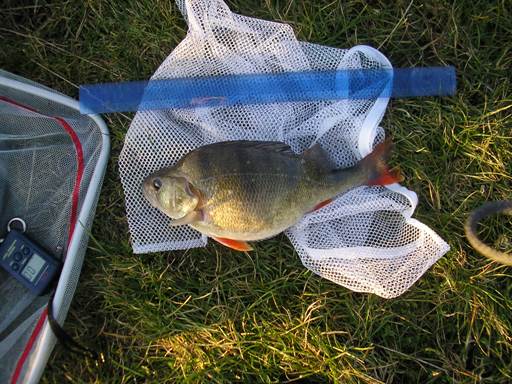 Michael was fishing Smiggys Lake on Sunday 3rd March, when the predator took his worm bait, and it also put up quite a scrap!! As you can see the fish is full of spawn, and when Michael put it on the scales the needle stopped at exactly 2lb.
Both of these pictures will, shortly, be moved into the Gallery section of the website. Remember; if you would like to see your memorable catch on the website...then send them in!! The pictures must be of a good quality...much the same as these two fine examples. Once again, thanks to both lads for sharing their pictures with us.

Landing Net found 6/4/09

A member has found a Landing Net at the side of one of our lakes recently. If you have lost, or know anyone who has lost a Landing Net; please get in touch with me and I will try to get you re-united with your property.

Manor Farm Sweepstake 22/3/09

With recent reports of high Cormorant activity, it was with slight trepidation that the eight members gathered for the 8.30am draw for a sweepstake match at Manor Farm. This water fished so well last summer, with good catches of the seemingly abundant Skimmer Bream, that it was, unfortunately, almost inevitable that the water would attract the unwanted attention of these birds.
To be honest, the jury is still "out" as to the extent of the damage done....The water was very clear, the weather was also cool with a cold wind howling across the open water, making it not ideal for catching large numbers of Skimmers. The eight anglers were well spaced out around the top half of the lake, and a few Skimmers were caught from almost every peg fished.
Dave Hemmings was top rod on the day. Dave caught a few Skimmers on the feeder in the first hour, then decided to try for the bigger Bream. The gamble paid off as Dave slipped two fine, worm caught, specimens into the net, and together with his Skimmers, Dave put 10lb 10oz on the scales.
Second place went to yours truly, a dozen or so feeder caught Skimmers were bolstered by a Bream of around the 3lb mark. On a day when pole fishing was virtually impossible, a slight drop in the windy conditions allowed me to see if anything had settled on the five balls of groundbait that were thrown in at the off... and luckily enough the 3lb slab obliged

my one and only bite on the pole!!!

Surely, sneakiest man of the day award goes to Jason Farmery.... Alan Smith was first to weigh, on peg 30, Alan put 4lb 4oz on the scales, good enough for third place.....or so he thought.... Jason weighed in next, everyone thought that Jason had had a rare off day, but the little blighter had somehow managed to sneak in a big Slab of about 4lb, without anyone else in the match knowing....When Jasons haul sent the needle around to 5lb.....well, as those of you who know "our Al" can imagine, his face was a not a pretty picture....



| | | | |
| --- | --- | --- | --- |
| Place | Name | Peg | Weight |
| 1st | Dave Hemmings | 25 | 10lb 10oz |
| 2nd | Steve Beckhurst | 13 | 8b 10oz |
| 3rd | Jason Farmery | 32 | 5lb |

Smiggy's Sweepstake 8/3/09

For anyone doing a spot of gardening, or taking a casual sunday stroll to the local, for a lunchtime pint or three...In fact anyone with a little shelter from the wind, would have taken sunday morning to have been a pretty fine early spring day....But for eleven members who fished a sweepstake on the open landscape of Smiggys Lake; it was flippin' freezing!!!!

The high, often blustery, cold winds were not enough, however, to stop Jason Farmery from bagging a fine catch of 33lb from peg 20 to win the match at a canter. Jason landed seven Bream and about 6lb of silver fish for his impressive haul, which more than doubled the second placed weight.
Simon Pepper was that man in second place, Simon also caught a few of the recently stocked silver fish, and three good Bream helped to boost his weight to 14lb 10oz. A Tench and two Bream were enough for Chris Shaw, on peg 12, to take third place on the day with 11lb 8oz.
A small fish approach is Vinnie Logi's usual modus operandi, and it paid off with 5lb of pole caught silvers and a solitary bream to help Vinnie's final weight to a Section winning 8lb 10oz. Lee Nash taking Section 1 with 4lb 2oz.
With the recently stocked silver fish already showing, Smiggys Lake is well worth a visit for anyone who wants to get a few bites...sundays conditions were by no means easy, yet there were some good nets of fish to be had...

| | | | |
| --- | --- | --- | --- |
| Place | Name | Peg | Weight |
| 1st | Jason Farmery | 20 | 33b |
| 2nd | Simon Pepper | 14 | 14b 10oz |
| 3rd | Chris Shaw | 12 | 11lb 8oz |
| Sec 1 | Lee Nash | 4 | 4lb 2oz |
| Sec 2 | Vinnie Logi | 17 | 8lb 10oz |

Apologies

Please accept our apologies for the website being "down" for the last couple of weeks. Apparently the host server has had some technical problems, and this was, unfortunately, beyond our control. It seems that the boffins have now sorted their wiring out, and remembered which socket the plug goes in, and hey presto here we are again!!!

Hopefully it will be full steam ahead from now on...So dont forget to tune in for your regular updates...

Jurassic Sweepstake 8/2/09

Yes....believe it or not there are still some mad men out there, who would rather sit around a freezing cold lake in freezing cold weather performing cryogenic experiments on maggots, than be at home in front of a roaring fire! I know this to be true; as I am one of them!

I wasn't with the Broome lads this week, I was "ice fishing" with some other nutcases....
Well there were six members in all, who, originally were going to fish a sweepstake match on Colver, but as expected that lake was frozen almost solid...in fact it was said that Todd Carty had been spotted practising for "Dancing on Ice"....

As the ice was a little thinner on Jurassic the six decided that, Jurassic it would be!!

Despite the freezing conditions, there were, in fact, a few fish to be caught.... Mick Farmery led the way with 1lb 14oz of small roach, all caught at about 3meters on the short pole from peg 31. Jason Farmery, on the next peg fished similar tactics, but couldn't quite catch the ageing maestro

, and had to settle for second place with 1lb 9oz. Keith Macfarlane, on peg 27, also caught small roach and his 7oz was enough to clinch third spot.... unfortunately for Keith, the only prize for third place, today, was a pat on the back, and a well done son...!

| | | | |
| --- | --- | --- | --- |
| Place | Name | Peg | Weight |
| 1st | Mick Farmery | 31 | 1lb 14oz |
| 2nd | Jason Farmery | 30 | 1lb 9oz |
| 3rd | Keith Macfarlane | 27 | 7oz |

Manor Farm Sweepstake 25/1/09

A very worrying sight was witnessed by the ten members who turned up to fish a sweepstake at Manor Farm on sunday....No less than fifteen Cormorants were circling the lake!!! It will be very sad if, as seems inevitable, the stocks of Roach and Skimmer Bream are once again decimated by this menace to all angling clubs. The summer fishing on this lake has been exceptional with 25-30lb of skimmers required to win most matches, and pleasure anglers hauls being even better. Short of throwing a huge net over the lake it seems impossible to stop these birds once they have discovered a food source.
Whether the cormorants had anything to do with the match result is, at the moment, debatable. The lake fished very poorly for most competitors, with only three catchers and seven dry nets. Your friendly Webmaster came out on top this week, with twenty Skimmers an one Perch for 6lb 4oz! I would like to say it was a masterful display of pole and feeder fishing.....but I'm not quite ready for the lynching party yet....

so I'd probably better stick to the facts!!!

Peg 16 is always a favoured winter peg as it is one of the deepest, and the fish tend to shoal up around there when the weather gets a little colder. So it proved on sunday with fish coming at the rate of three or four to the hour and everyone else struggling for a bite it was obvious where most of the fish were!
To emphasise the point, the only two other catchers were on the closest two pegs to 16; Steve Harrison on peg 23 and Keith Macfarlane on peg 14. Steve had one Bream that weighed in at 2lb 14oz and lost another good fish that, if landed, could well have pushed for top spot. Keith managed two Skimmers, both on the feeder and took third place with 2lb 4oz.
| | | | |
| --- | --- | --- | --- |
| Place | Name | Peg | Weight |
| 1st | Steve Beckhurst | 16 | 6lb 4oz |
| 2nd | Steve Harrison | 23 | 2lb 14oz |
| 3rd | Keith Macfarlane | 14 | 2lb 4oz |

Sanctuary Sweepstake 11/1/09

Six members, today, fished a sweepstake match on Sanctuary Lake. Once again it was an "Ice Breaking" start to the day as the slight lift in temperature wasn't enough to shift the thick ice that has been covering most of our waters.
Jason Farmery continued his good run of form by taking 2lb 5oz of small silver fish and perch from peg 11 for first place. Vinnie Logi hasn't been fishing the Broome matches for a while, but marked his return by finishing in second place with a similar catch to Jasons weighing in at 1lb 14oz. Not spectacular results, but after the freezing temperatures that we've recently been having, managing to get a bite is something of an event.....!
It seems that we may be getting some slightly milder weather in the coming week so lets hope that we can get rid of the ice and get a few more anglers on the banks!
| | | | |
| --- | --- | --- | --- |
| Place | Name | Peg | Weight |
| 1st | Jason Farmery | 11 | 2lb 5oz |
| 2nd | Vinnie Logi | 6 | 1lb 14oz |