2008 News Archive
Colver Sweepstake 28/12/08

The Broome matches are fast becoming the "Farmery Show" as both Mick and Jason both keep up their great run of form....This time it was Jasons turn to take the spoils, Mick chipping in with a section win.
Once again it was an "End peg bonanza" as all four end pegs won money. When Jason pulled out end peg 18 many thought that it would be a case of everyone else fishing for second place...

and so it proved. Jason caught a level 18lb all from the inside line, and finished the match almost 8lb ahead of the field. Simon Pepper, at the opposite end of the lake, made best use of his luck in drawing end peg 46, with 10lb 10oz and second place. Ian Watson made a rare visit, but it paid off with a creditable 6lb 12oz from, unfancied, peg 33. Ian netted five Carp on the long pole but lost three good sized Carp, which, if netted, could well have pushed the winner.
Most of the action took place in the first two hours of the match, once the sun disappeared behind cloud, the fish seemed to disappear with it!! Most of the competitors really struggled for so much as a bite in the second half of the competition. In fact the only real bite in the latter half came from a freezing wind, and the most welcome sound of the afternoon was the "ALL OUT"

| | | | |
| --- | --- | --- | --- |
| Place | Name | Peg | Weight |
| 1st | Jason Farmery | 18 | 18lb |
| 2nd | Simon Pepper | 46 | 10lb 10oz |
| 3rd | Ian Watson | 33 | 6lb 12oz |
| Sec 1 | Mick Farmery | 1 | 3lb 10oz |
| Sec 2 | Den Porter | 22 | 3lb 12oz |
| Sec 3 | Paul Cooke | 39 | 4lb 2oz |

Sanctuary Sweepstake 21/12/08

It was a case of like son, like father....! at a sweepstake on Sanctuary. Sundays match saw, father, Mick Farmery take 1st prize with 27lb 8oz from peg 12. This was just a week after, son, Jason Farmery had won the Chairmans League final on Colver!!! Jason was on holiday for this week....undoubtedly spending some of the proceeds from last weeks triumph...

In all honesty it was a pretty dour affair with the weights making the fishing look a lot better than it actually was. Mick caught just four Carp for his winning weight, with two fish at about 8lb apiece... Paul Cooke, in second place, weighed in with two Carp and a large Perch tipping the scales at 9lb 2oz. Chris Shaw managed to find two Chub, unusual for Sanctuary, and along with a few small silver fish Chris netted 5lb 7oz for 3rd.
The bites were pretty hard to come by and most anglers struggled. The water still had a little colour to it and it was expected to fish a lot better than it actually did. Members have been pleasure fishing this lake recently and catching good nets of silver fish, but, once again, it seems the pressure of an angler on every peg was enough to make the little blighters keep their mouths well and truly shut...
| | | | |
| --- | --- | --- | --- |
| Place | Name | Peg | Weight |
| 1st | Mick Farmery | 12 | 27lb 8oz |
| 2nd | Paul Cooke | 9 | 9lb 2oz |
| 3rd | Chris Shaw | 3 | 5lb 7oz |
| Sec 1 | Barry Crane | 1 | 1lb 6oz |
| Sec 2 | Keith Macfarlane | 10 | 7oz |
December Pike Match Cancelled

Unfortunately the Pike Match that was scheduled to be fished on 14th December was cancelled. Due to the uncertainty as to whether the lakes would be fishable, and the fact that two of the regular competitors were ill it was decided, by the organisers, that this would be the best course to take.
Den apologises for any inconvenience that may have been caused, and he tried to make all of the regular Pikers aware, but unfortunately didn't have everyones phone number.
The series will carry on as normal, with the next scheduled match on 18th January 2009, at Syston. The match that was cancelled will now be fished in March 2009, with the exact date to be confirmed. Once the new date has been decided it will be posted in the news section of the website.


Icy temperatures strike!!! 8/12/08

As the freezing temperatures continue, there is not much to report on the Broome scene at present... A sweepstake had been arranged for sunday 7/12/08, and Manor Farm was to be the venue. After arriving at the venue on sunday morning a thick layer of ice covered the entire lake. The ice was almost an inch thick in some places so the match had to be abandoned!
Myself and Simon Pepper went to Colver on Friday 5/12/08 and that was also covered in ice. The ice was not to thick at the roadside end of the lake so after manageing to break a hole with a landing net pole it was possible to fish close in.... It was rather slow as you might imagine but three small perch and a roach gave themselves up; however the ice was begining to melt, and once it was possible to fish the far bank the roach were coming thick and fast it was one a throw until darkness descended and put an end to the fun!! I only caught roach, with the odd small perch, but in the conditions it was nice to see the float disappearing a few times...

Simon, although not catching quite as regularly, managed to land two fine perch each getting on for the 2lb mark... along with some nice roach in the 4-6oz bracket it turned out to be a pretty good day!
Jason Farmery also fished the complex on friday, he managed to find an "iceless" swim on Jurassic and after a very slow start, Jason also caught well for the last couple of hours before darkness closed in.
So it is not all doom and gloom... if you can find a spot that isn't frozen, and you are prepared to be patient; then there are fish to be caught... you probably wont break any records, but it must be better than Christmas shopping!!!


Two Rod Rule relaxed at Meadow Lane 2/12/08

At the recent Half Yearly meeting, it was proposed that the current "two rod rule" at Meadow Lane, Syston; be extended to apply throughout the season. For those who are unaware, the current ruling is that two rods can be used between 1st November and 31st March only. The committee said that they had no objection to the "two rod rule" being relaxed, so long as anglers who want to use two rods do so unselfishly.
Two rods were allowed at this venue in the past, but after complaints from pleasure anglers that certain individuals abused the rule and persistantly monopolised swims; the rule was revoked.
After much discussion the matter was put to the vote, and passed unanimously by the members present. It has been stated, however, that should the rule be abused again, then, in the interests of all club members this rule will once again be revoked; most possibly permanantly. So if you want to keep the "two rod rule" then please use it wisely.


Jasons Lake sweepstake 9/11/08

You need to be a hardy soul, or slightly mad to sit for six hours fishing a match at this time of year....But eleven hardy madmen did just that on sunday!!!

Jasons Lake was the chosen venue for sundays sweepstake and, after the previous evenings torrential rain, conditions were as difficult as expected. Those who "stuck it out" for carp were the successful ones. After six hours of concentration, not to miss that vital bite, the top two anglers could not be seperated....Both Chris Crane and Den Porter levelled the scales at 9lb 6oz. Dave Hemmings had a last minute carp to thank for his 4lb 13oz section winning weight, whilst Mick Farmery took home the second section prize with 2lb 9oz.
The best news from the match was that Club Chairman, Alan Smith, made a welcome return to the banks. Alan elected to fish for small fish and his gamble nearly paid off. His net of twenty fish was easily the most caught on the day and weighing in at 2lb+ Alan just missing out on a section prize.
| | | | |
| --- | --- | --- | --- |
| Place | Name | Peg | Weight |
| =1st | Chris Crane | 4 | 9lb 6oz |
| =1st | Den Porter | 19 | 9lb 6oz |
| Sec 1 | Dave Hemmings | 1 | 4lb 13oz |
| Sec 2 | Mick Farmery | 15 | 2lb 9oz |

Our new Car Park
The new car park and road at the Frisby Complex is progressing well, as you can see from the picture below. This is an ongoing project, and quite expensive as well!! So, when funds allow, it is planned to improve the access around B.J.s Lake and on to Smiggy's Lake.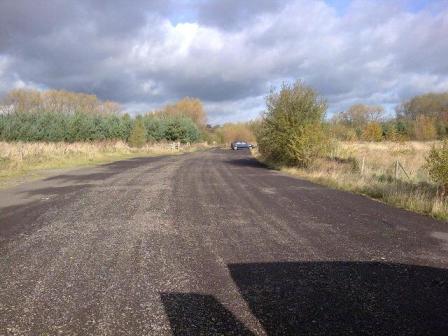 Sanctuary sweepstake 26/10/08

Six members fished a sweepstake at Sanctuary Lake on Sunday, and apart from Mick Farmery's catch, it turned out to be a pretty forgetable affair!!
Mick had a very creditable 19lb of carp from peg 12, and finished the match miles ahead of the field. For the rest it was a pretty dour struggle with bites at a premium. The recent, very cold, night time temperatures have made the Lake very clear, and it was patently obvious from the start that it was not going to be easy. Our intrepid heroes managed to stick it out for the full six hours knowing that one good fish would put them in the money....and that's just what Den Porter did! with one carp at 4lb 2oz and second place.
Well done to all those who took part, and here's hoping that things will improve next week....but with the arctic weather forcast for the next few days I think we can safely say that winter is well on its way!!
| | | | |
| --- | --- | --- | --- |
| Place | Name | Peg | Weight |
| 1st | Mick Farmery | 12 | 19lb |
| 2nd | Den Porter | 8 | 4lb 2oz |
| 3rd | Jason Farmery | 5 | 4lb 1oz |

Colver Barbel
Small Barbel that were stocked in Colver Lake a couple of years ago have been conspicuous by their absence in recent times. George Wood, however, has sent in this picture of a Barbel he landed a couple of weeks ago. Although not exactly a specimen, it is certainly thriving....lets hope that there are a few more Barbel of this size now ready to have a bit of a tug!!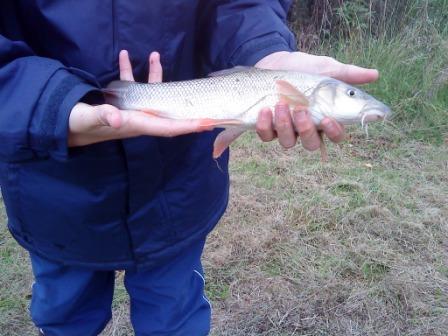 Many thanks to George for sending in his picture