Results
Pike League 9/2/20
Jurassic & BJ's
| | | |
| --- | --- | --- |
| Place | Name | Weight |
| 1st | Jason Farmery | 31lb 13oz |
| 2nd | Pete Felstead | 13lb |
| = | Mick Grey | - |
| = | John Caunt | - |
| = | Jamie Fergusson | - |
Jason takes the prizes
The final match in the Pike Match season has been fished. For the final league positions Click Here. Below is Pete Felstead's tale of the final match of the series...
As we finished into Storm Ciara the fishing finally picked up on Jurassic, even though three of the team decided to fish BJ's as the previous results had been so poor from Jurassic.
That just left me and Jason to fish the Lake by ourselves. It was Jason who started catching first. I tried my best to keep up with him but every time I caught one, he caught one bigger!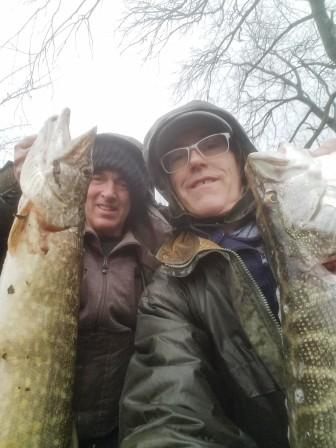 The weather slowly got worse as the day went on. At one point the rain was horizontal, and it was a case of step stepping back from the water's edge because the wind was so strong.
When the match finally came to the end. It was clear that Jason was the outright winner on the day and not only that to jump ahead and take the trophy on the overall matches.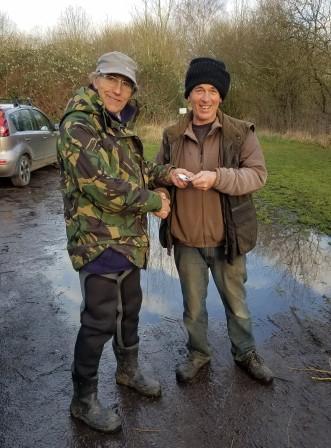 So well done Jason we enjoyed a good battle but it was clear he was the winner on the day. As for the other three guys they all blanked on BJ's so it was a good call to stay on Jurassic.
Jason caught six Pike at 6lb 2oz, 3lb 6oz, 7lb 15oz, 3lb 8oz, 2lb 10oz and 7lb 10oz. Whilst I had four at 3lb 12oz, 1lb 12oz, 3lb, 2lb and 2lb 8oz.
Congratulations to Jason. This is the first time that he has fished the Pike League, and it was the one thophy that he hadn't won. To get it in his first year is a good result.
Below is a picture from the previous Pike Match which shows most of the lads who have competed. Well done to you all in what have been, at times, challenging conditions!!